Vegetarian Treasury (Part – 25) : Rajasthani Zayaka (Dal Baati Choorma)
Dal Bati Choorma is a popular dish from Rajasthan that brings together a burst of flavours in three-in-one dish.
Dal baati choorma is a warm Rajasthani dish that you can enjoy the most during winter season.
Highlights
Rajasthani cuisine is popular for spicy curries
Dal Baati Choorma is one of the most loved dishes from the cuisine
Here's how you can make stuffed baatis at home
If there's one Indian place that boasts of royal traditions, culture, heritage and golden sand dunes, it has to be Rajasthan.
The state is also known for a tempting array of delicacies that forms an integral part of the rich heritage of the state.
From fiery meat curries to interesting kachoris, one can stumble upon various such delights while moving around in Rajasthan.
A large part of Rajasthani cuisine is influenced by its geography. Being a dry and hot region, most of the Rajasthani dishes are heavily dependent on milk, curd, butter, ghee and cream instead of water.
Dal baati choorma is one of the most popular dishes in Rajasthan. It is a three-in-one meal that brings together the goodness of lentil (dal), the crispy baatis and sweet choorma.
Dal Baati Choorma is a perfect traditional dish that will be the star dish on your dinner table. As per legends, the sweet is served along with the main meal in Rajasthan.
This quite explains the addition of choorma in this wholesome dish of dal baati choorma. It is made by grinding a mix of suji, whole wheat flour, sugar and ghee and when served with dal and baati, it is sure to give you a burst of flavours. The dal is traditionally made of urad but nowadays 2-3 dals are often mixed together for a heavy, nutritious dish.
Baatis are tikki-like flatbreads which are originally made with simple flour dough, but today, many people stuff them with spices and veggies to make them even richer and flavourful.
And if you are someone who wants to try it at home, we have the perfect stuffed baati recipe to begin with. The original baatis are deep-fried in ghee, this one is a healthier alternative since it is baked.
Baati is one of the most important parts of the dish.
Dal Baati Recipe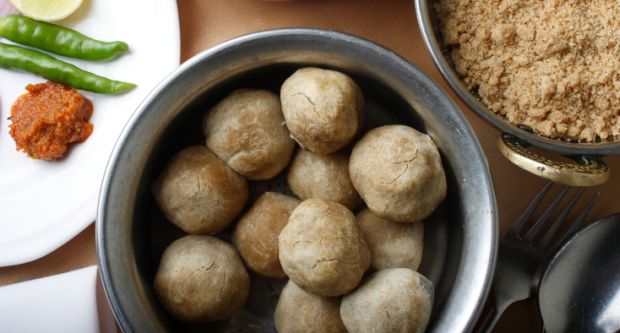 How to make Dal Baati
Rajasthan's favourite, dal baati is a heavenly combination often served with a sweet dish of choorma. Made with a dough, deep fried in ghee, dal baati is an ideal dinner option in winters. You can also make this recipe on special occasions and festivals and it will definitely please all your guests.
Ingredients Of Dal Baati
2 Cups atta
1 tbsp suji
3 tbsp ghee
1 tsp salt
1/2 cup milk
For the filling:
2 cups peas (shelled)
1 tbsp ghee
1 tsp jeera
1/8 tsp heeng powder
1 tbsp hinger, finely chopped
2 tsp dhania powder
1/4 tsp garam masala
1/2 tsp haldi
1/2 tsp chilli powder
1 tsp salt
1/2 tsp aamchoor powder
Ghee (kept hot to dip the baatis in)
How to Make Dal Baati
Make stiff dough with the atta, soojee, 3 tbsp ghee, salt and milk. Keep covered for 15 minutes.
Make the filling: heat the ghee and add jeera and heeng. Stir a few times and add the ginger.
When slightly brown, add the peas, dhania, garam masala, chilli powder, salt and amchoor.
Cook till tender and cool.
Shape dough into flat rounds, fill with peas' filling, cover and form into round balls.
Bake in a pre-heated oven for 45-50 minutes 10 minutes at 375 F, then lower the temperature to 350 F, till brown and crusty (if not brown on top, turn upside down and bake another 10 minutes.
Remove from oven and dip into ghee, and transfer onto a serving dish.
Key Ingredients
atta, suji, ghee, salt, milk, peas (shelled), ghee, jeera, heeng powder, hinger, dhania powder, garam masala, haldi, chilli powder, salt, aamchoor powder, Ghee (kept hot to dip the baatis in)
In the recipe, all you need to do is make a dough of atta, sooji (semolina), ghee, salt and milk, shape into flat rounds, stuff it with a cooked filling of peas, along with spices such as cumin, asafoetida (hing), ginger, coriander, garam masala, chilli powder, salt and amchoor and bake for about 50 minutes. Dip in some ghee right before serving with dal and choorma!
Churma Recipe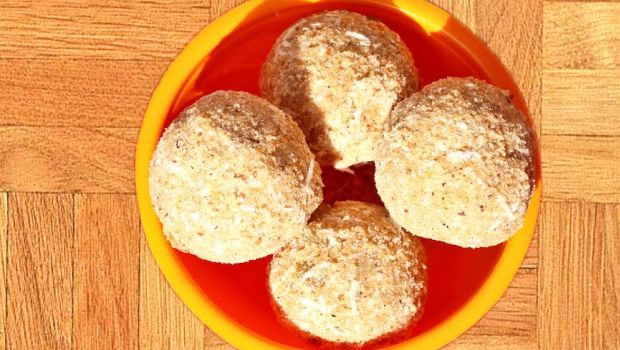 Choorma is a flour based traditional Rajasthani sweet. Ladoos made with whole wheat flour, gond and almonds.
Ingredients Of Churma
1/4 cup ghee
250 gm atta
60 gm gond
120 gm sugar-powdered
1/2 cup almonds-roasted and pounded coarsely
1 tsp cardamom powder
Ghee to fry
How to Make Churma
Rub the 1/2 cup ghee into atta then knead to a stiff dough.
Shape dough into flat rounds (need not be very smooth) and fry first over high heat, then low, till brown and cooked through and crisp.
When cool, powder in a grinder or by pounding, till a fine powder (some like to sieve it).
Fry the gond over low heat till cooked through (it should cut through easily).
Remove from ghee and grind while still hot.
Mix into the cooled powder, rubbing it well into the powder.
Mix the sugar, almonds and cardamom into the powder and shape into laddoos, or serve as a powder.
Note: Some people like to strain the powder through a fine sieve, before mixing the sugar and cardamoms.