Visit To New Delhi Very Important For Trump Will Give A Boost To His Re Election Chances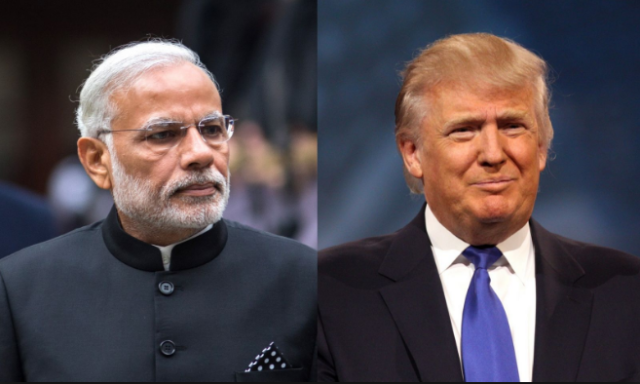 By
Colonel Awadhesh Kumar, Veteran
Trump is under impeachment trial in Washington. The Lower House has passed the Motion and the process has now moved to the Senate. Since the Republicans hold the majority, the Impeachment will surely be shot down. Still Trump is badly in need of an image booster prior to the Presidential Elections.
The brightest chances for this boost is possible through two things. First is, if Trump is able to fulfill his major campaign promise by withdrawing troops from Afghanistan and ending America's longest war. The second is, if he can prevail on Pakistan to end cross border terrorism on India and thereby receive a thumping chit from the Indian Prime Minister.
Since Trump is desperate for a Withdrawal from Afghanistan, the impending agreement between the US and the Taliban needs to be signed on top priority. Pakistan has agreed to control the Taliban and coax them to the negotiating table and even Russia is supporting the Agreement as confirmed by Russia's special envoy to Afghanistan Zamir Kabulov.
Due to the willingness displayed by Pakistan to coax the Taliban, it has suddenly gained much importance for the American Administration. Thus the US point-person on South Asia, Alice Wells, during her four-day visit to Pakistan starting 19th Jan,has articulated that perking up the US-Pakistan relationship would be dependent on Pakistan.
It needs to take continuous and irreversible action against all such groups that have the ability and the desire to Impede the upcoming agreement with. She knows that Pakistan is fully capable of playing a double game at any time during the ongoing negotiations.
A visit to New Delhi is also very important for Trump and dates for the same are still being worked out. In fact Allice Wells had visited Delhi first before visiting Pakistan so that wrong signals are avoided at all costs. To ensure a warm welcome from the Indian side for Trump,
USA ambassador to India kenneth Juster had also joined an Envoy Delegation visiting the Union Territory of Jammu & Kashmir a few weeks back. He found the ground situation to be quite normal and not what he had expected it to be.
In Srinagar, the diplomats met political leaders of different parties as well as a
group of civil society activists and media persons. Positive reports have been given out from this group of envoys that visited Jammu and Kashmir.
According to another diplomat "the situation in the union territory was not ideal, but much better than expected." India had outsmarted them as no country could ignore the invite by New Delhi to visit J&K after repeatedly requesting the Modi government to allow the situation there to be assessed first-hand.
With improvement in the situation the Home Ministry has also restored internet services on pre-paid mobile phones in most parts of the union territory, and many political leaders under house arrest have been released.The USA State Department had been clamouring for this and so now can claim that their concern has been looked into and acted upon.
However all three former chief ministers of J&K – sitting MP from Srinagar Farooq Abdullah, the sitting MP Srinagar, Omar Abdullah, and Mehbooba Mufti are still under under house arrest along with 16 other politicians.
We Indians admit that the clampdown on civil liberties is not ideal but it is better because it has prevented the small number of terrorists and separatists from spreading violence in the UT.
Many lives would have been lost in the firefight between the Separatists and the Security Forces. Though terrorists wherever they hide will be eliminated at all cost.
Releasing these three former chief ministers on the eve of Trump's visit would be the dream of Trump's administration but unlikely to happen. The release would depend on the political situation on the ground and not to please any Country or individual. Also Modi cannot be perceived to working under American pressure. So Trump will have to keep his fingers crossed on this and pray for improvement.
Though to restore normalcy with the neighbour, Delhi has hinted at inviting Pakistan to the heads of government summit under the aegis of the Shanghai Cooperation Organisation (SCO), likely to be held in New Delhi in October.
Prior to that both Prime Minister Narendra Modi and Imran Khan will be attending the July SCO summit in St Petersburg, Russia. Thaw in relations If any may be displayed there. Though India will certainly not compromise its tough stand on cross border terrorism and any interference in its internal affairs.
So during his visit to India, a step very important for Trump, he needs to be encouraged to refrain from saying anything stupid on, India's role and involvement in Afghanistan, the Gulf region, its relationship with Iran or the Indo Russian Arms deals and most important any advice on Kashmir or the CAA.
While in India, he should work on the possibility of a limited trade deal, as well as a civil aviation deal. He should also talk wit Modi to fast track sale of more P8I long range Maritime Recce aircrafts, Chinook helicopters, C130 Hercules transport aircrafts and if possible a few more C17 transport aircrafts from USAAF reserves.
Clearly a successful visit to New Delhi offers Trump many possibilities. Apart from a limited trade deal and a push to the Arms sale, It will certainly bolster his position at home.
When the Leader of world's largest democracy (population) shakes hands with the largest democracy (size) then rest of the world will certainly watch.