Why China Is So Upset About India's Predominantly Tibetan Special Frontier Force?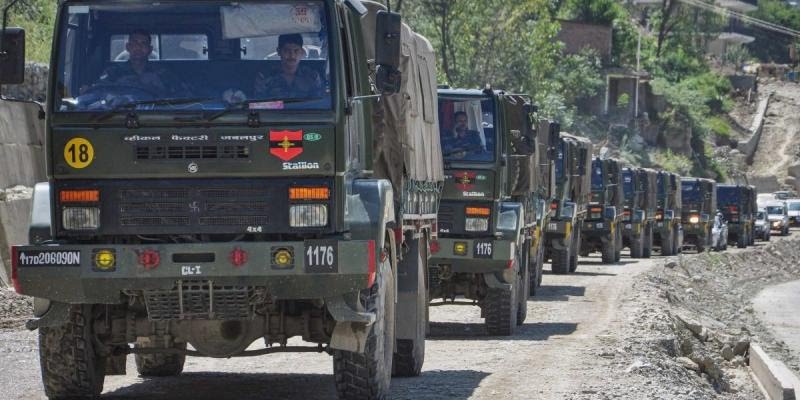 By
Rahul Bedi
The seemingly redoubtable PLA was effortlessly bested by soldiers owning enduring fealty to the 14th Dalai Lama Tenzin Gyatso, whose authority and standing Beijing has spent years denigrating and vilifying.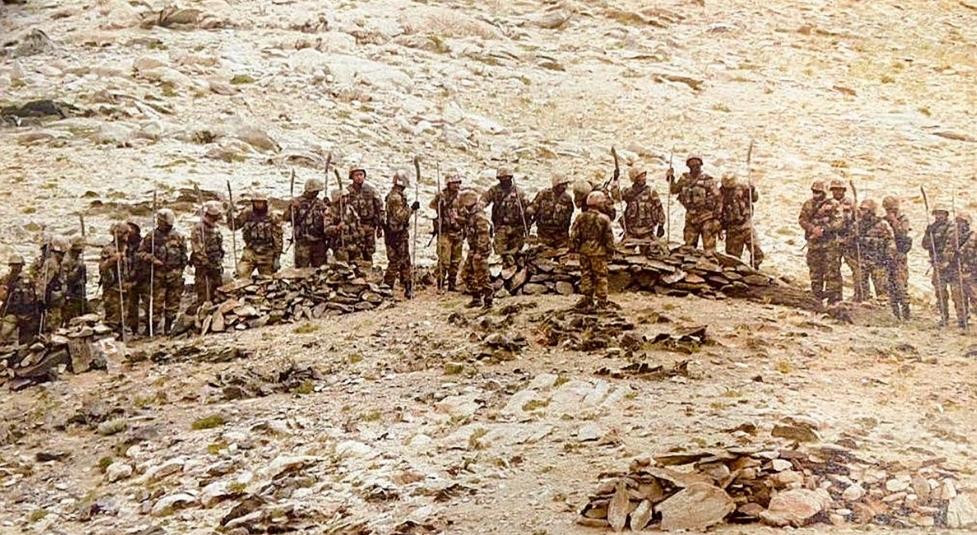 Indian Army convoy move towards Leh via Manali-Leh road, near Manali, Monday, September 7, 2020.
Chandigarh: China, it seems, protests too loudly over the Indian Army's predominantly ethnic Tibetan Special Frontier Force (SFF) securing tactical heights in late August along the southern bank of the Pangong Tso lake, along the disputed Line of Actual Control (LAC) in eastern Ladakh.
From various statements by Chinese officials in Beijing and associated Communist Party networks like the Global Times following the daring SFF operation in the critical Chushul sector, it seems that Beijing's irritation and frustration over it stems only partially from being militarily out-manoeuvred in the ongoing see-saw face-off between the rival armies since early May.
Senior Indian security and military analysts believe that a major proportion of Chinese ire and frustration emanates more from being outflanked by a force comprising mainly Buddhist Tibetans, a community China has ruthlessly oppressed and dominated for 70 years, and continues to subjugate after taking over their homeland in 1950.
But what is even more intrinsically galling for the seemingly redoubtable People's Liberation Army (PLA), is that they were effortlessly bested by soldiers owning enduring fealty to the 14th Dalai Lama Tenzin Gyatso, whose authority and standing Beijing has spent years denigrating and vilifying, but without total vindication.
According to some accounts of the SFF, raised in November 1962 immediately upon the conclusion of the disastrous border war with China in which India came off worse, a large number of its personnel still carry the 85-year-old Nobel laureates image on their person, a personality the PLA abhors. Ironically, the original SFF cadres were recruited from amongst the fabled Khampa warrior refugees, originally from Tibet's rugged mountainous Kham region, and who for centuries were the bodyguards of successive Dalai Lamas'.
The highly publicised official funeral in Leh, along with a 21-gun salute, accorded to the SFF Tibetan Nyima Tenzin, who died after stepping on a mine left behind after the 1962 war in the outflanking assault on the Pangong Tso lake ridgeline, too has reportedly aggravated China. The presence of senior BJP leader Ram Madhav at Tenzin's cremation further sent the Chinese leadership a subtle but galling message, that even the ruling party saluted the Tibetan soldiers sacrifice in fighting the Chinese.
"The essentially Tibetan SFF's success in the military action along the Pangong Tso lake on the night of August 29-30 has heightened nervousness amongst senior Chinese leaders who remain intrinsically nervous about Tibet, Buddhism and the Dalai Lama," said former Research and Analysis Wing (RAW) China specialist Jaiyadeva Ranade. The Chinese leadership fear this could provide some fillip or incentive to Tibetans to unite and resist the PLA in their oppressed homeland, added Ranade who currently heads the Centre for China Analysis in New Delhi.
The Amsterdam-based European Foundation for South Asian Studies, or EFSAS, concurs. In its September 4 newsletter, it declared that China was wary of a "peaceful uprising being encouraged within Tibet…and if India continues to be repeatedly provoked by China at the LAC, it may be forced to reconsider the reticence it has historically had to rake up the Tibet issue".
It further declared that as host to the Dalai Lama, the Tibetan government-in exile and tens of thousands of Tibetan refugees and its long border with Tibet, India possesses the right tools to encourage the creation of a popular movement that can evolve into quite a thorn for China in Tibet, especially with broader international support. The Foundation also stressed what many Indian analysts claim is China's enduring vulnerability with regard to Tibet: The legitimacy of Chinese rule over Tibet being seriously challenged under an evolving global anti-China drive.
The Chinese Communist Party mouthpiece, Global Times, reacted hysterically to the SFF, by calling its personnel the Indian Army's 'cannon fodder'. Apropos of no provocation, Qian Feng, director of the National Strategy Institute at Tsinghua University in Beijing, stated that "if India openly supported Tibet secessionism" on border issues, does it mean China can also "support insurgencies in the northeast". Unconscionably, Qian also frenziedly derided Tenzin's death as an indicator that the SFF was not 'special' and far from being elite.
History of the SFF
Based at Chakrata, 87 km north of Dehradun in Uttarakhand state, the SFF was originally under the purview of the Intelligence Bureau (IB), whose chief B.N. Mullik was one of its progenitors. Control of the SFF passed onto the RAW after its founding in late 1968 and the Force is presently under the overarching authority of the Directorate General of Security in the Cabinet Secretariat.
Chinas Peoples Liberation Army (PLA) soldiers approached towards Indian post near Mukhpari peak at about 6 PM, Monday, September 7, 2020. Photo: Government sources/PTI
And though headed by an Inspector General – invariably a two-star army officer – it is not part of the Indian Army. Consequently, in its initial decades it received step-child treatment in comparison to the army in terms of salary and numerous other service benefits, but these anomalies were resolved as recently as 2016, following a protracted legal battle.
In its early years, the primary task of the SFF was deployment against the PLA and gathering intelligence on China from either inside Tibet – where its personnel had a wide network of contacts and associates – or via cross-border reconnaissance missions or raids or both.
At the time of its raising in the early 1960s, Communism was anathema to the US and President John Kennedy seized upon the SFF as potential fifth columnists to undermine Chairman Mao Zedong's suzerainty over newly occupied Tibet. The Chinese were yet to launch their 'Sinicization' to ethnically, culturally, societally and linguistically dominate Tibet and the world naively believed the Plateau could be liberated.
Consequently, the Central Intelligence Agency (CIA) joined hands with the IB earlier, and the RAW later, to instruct SFF personnel as a lightly equipped and armed guerilla force in mountain craft, rock climbing, infiltration, sabotage and irregular warfare.
In 1964 the SFF began their airborne training at Agra, later transferring to their own 'dedicated' facility at Sarsawa near Saharanpur which still operates. The CIA equipped the SFF with M-1/2/3 sub-machine guns and continued to work alongside the RAW, training the Tibetans till the early 1970's, when Delhi's relations with Washington soured under President Richard Nixon who began cosying up to China after his first visit to Beijing in 1972. The CIA association thus ended.
But before it eventually concluded, the CIA joined hands with the IB in 1965 to lead an expedition of largely SFF personnel to the 23,640feet high Nanda Devi peak in the Garhwal Himalaya, a year after China had successfully conducted its first nuclear test in Xinjiang province. Their classified electronic intelligence (ELINT) mission: the installation of a nuclear-powered sensing device to monitor future Chinese nuclear activity.
Just short of the summit the climbing party, carrying the monitoring device weighing some 56 kg, including a 10-feet-high antenna, was hit by a blizzard. Expedition leader Captain Manmohan Singh Kohli of the Indian Navy opted to save his team and hid the device that included a generator and its fuel comprising seven plutonium capsules in a special container, in an unmarked cave.
When Captain Kohli returned with another expedition, also comprising SFF personnel, the following year in May 1966, to try and recover the device, including the plutonium capsules that were purportedly half the size of the atomic bomb dropped on Hiroshima and with a longevity of over 100 years, nothing was found. Varied accounts claim that the entire equipment was buried in snow following an avalanche, but thereafter the entire Nanda Devi area has virtually been closed for decades, supposedly for environmental reasons.
Another expedition on a similar mission was launched in 1967 that successfully placed an analogous device on the nearby 22,500 feet high Nanda Kot peak, but due to recurring snow storms it was rendered blind and an SFF team, led again by Kohli retrieved it a short while later.
In the intervening decades, the SFF participated successfully in the Chittagong Hill Tracts during the 1971 Bangladesh war with Pakistan and thereafter in numerous clandestine counter insurgency operations including Bluestar in Punjab in 1984 and several in Kashmir, acting primarily as an IB and RAW 'hit-squad'.
For several decades its recruitment was from amongst Tibetan refugees scattered across India in some 40 formal settlements and dozens of informal communities. In recent years, many Tibetan exiles are unwilling to join the SFF so the shortfall has been made up by recruiting Gurkhas.
Interestingly, in 1975 instructions allegedly proscribed the SFF from being deployed within 10 km of the LAC, unless under specific instructions. These reportedly emanated after the Force was allegedly conducting 'unsanctioned' cross-border raids and localised guerrilla operations. Perhaps, it time now to give the SFF its lead, since its already drawn first blood from the PLA.