At least 150 injured in Pakistani mosque blast, 44 killed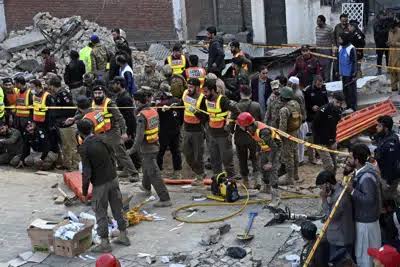 Police official Sikandar Khan said that the blast took place at the time when a large number of people had gathered there for a prayer
At least 150 people were injured in an explosion at a mosque in the city of Peshawar not far from Pakistan's border with Afghanistan, Reuters reports citing Mohammad Asim, a spokesman for the Lady Reading Hospital in Peshawar.
According to Mohammad Asim, the hospital has received 90 injured people, some of them in a critical condition.
Police official Sikandar Khan said that the blast took place at the time when a large number of people had gathered there for a prayer. "A portion of the building had collapsed and several people are believed to be under it," Khan said as quoted by Reuters.
Earlier, Pakistan's Geo TV reported about 50 people wounded in the blast. According to it, a suicide bomber struck inside the mosque.
At least 44 people were killed in the explosion in the Pakistani city of Peshawar, the Dawn newspaper reported Monday citing a hospital representative.
A total of 157 people were injured, the report says. A rescue operation is underway at the scene, because there may still be people under the debris, the report says.
According to national security agencies, a suicide bomber detonated an explosive device during a noon prayer in the mosque, where many people gathered, including policemen and servicemen. Up to 500 people could have been present at the mosque at the moment of the explosion.
According to Geo News, the Tehreek-e-Taliban Pakistan (TTP, "Movement of the Taliban of Pakistan," outlawed in Pakistan) – an organization, connected to the Taliban movement (outlawed in Russia) – took responsibility for the attack.