Albanese flags deals with India on defence and trade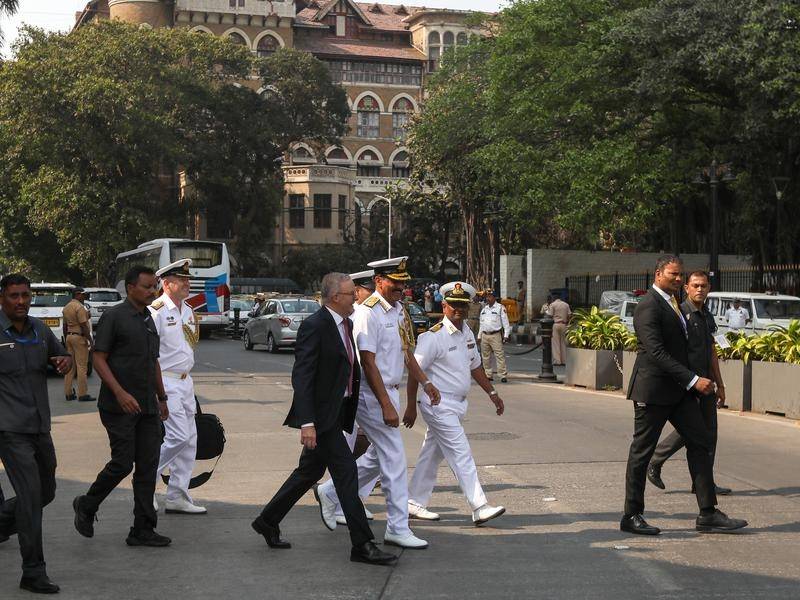 Anthony Albanese is set to sign agreements with India to boost defence, economic and cultural ties.
The prime minister addressed media in New Delhi on Friday, flagging an expanded trade deal between the countries could be agreed by the end of the year.
He revealed he expected to leave the Asian nation having penned three "major agreements" following talks with Indian counterpart Narendra Modi.
The pair will meet for their annual leaders' summit in New Delhi on Friday, following their triumphant lap of honour before the fourth Border-Gavaskar cricket Test in Ahmedabad on Thursday.
Mr Albanese had earlier toured a new aircraft carrier INS Vikrant – the first such vessel to be built in India – before he foreshadowed a new national security deal.
And clean energy will centre the economic pact, the PM citing Australia's solar muscle as playing a key role in India's decarbonisation push.
India has set ambitious goals of 50 per cent renewable energy and 30 per cent electric vehicle usage by 2030.
"There's enormous opportunities we have on solar," he told reporters.
"I spoke to one of the major Indian companies here yesterday, who are looking at billions of dollars of investment in Australia, including the manufacturing of solar panels … (that's) something we want to promote."
A free trade agreement between the countries only came into effect in January but has already borne fruit, with more than $2.5 billion worth of Australian produce hitting India.
Mr Albanese said that paved the way for an expanded agreement with progress towards one to move "very quickly".
"I would like to see a comprehensive agreement agreed in principle at least by the end of this year," Mr Albanese told reporters.
"I want to thank the businesses … who have travelled here as well. That's sending a big, big message to India that we believe India matters."
Later this year, Australia will host Exercise Malabar for the first time and India will make its inaugural participation in Australia's Talisman Sabre exercise.
The cultural deal expected to be signed will bring Bollywood and the Australian film industries closer together.
"For me, films are food for the soul … they tell stories, help us to feel, and reflect who we are and where we come from," Mr Albanese said.
"I look forward to seeing more Indian-Australian co-productions on our screens showcasing the best of both our cultures, landscapes and people."
The prime minister will lay a wreath at the cremation site of Mahatma Gandhi, who he labelled a "giant of the 20th century".
AaMr Albanese will also address the Indian Institute of Technology about opportunities to strengthen higher education links, holding a question and answer session with students.
The institute has partnerships with several Australian universities.