Austrian opposition leaves parliament hall in protest of Zelensky's address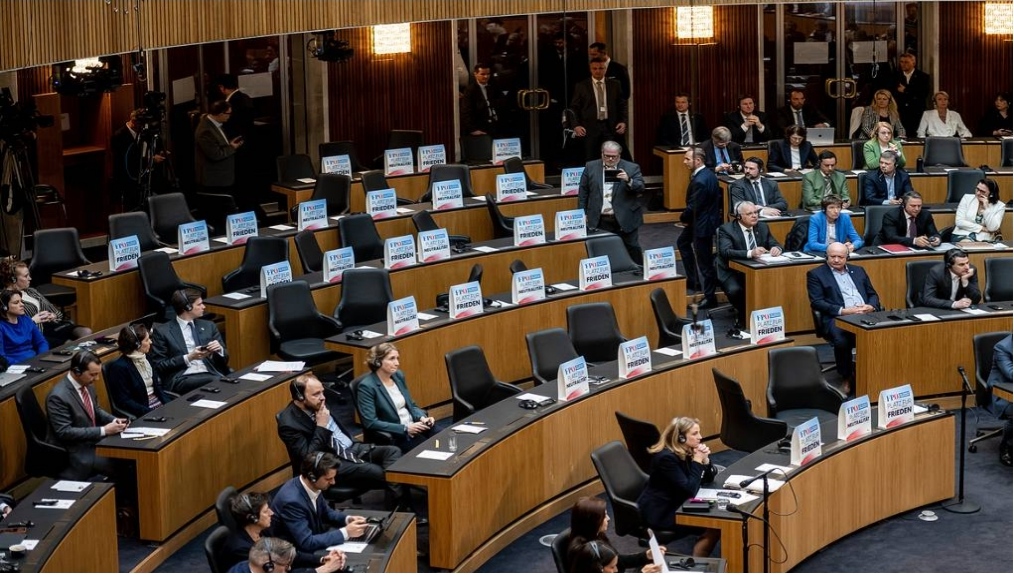 It is noted that the Ukrainian leader's speech also sparked a rally in front of the parliament building
Deputies of the opposition Freedom Party of Austria have left the National Council Hall (the country's lower house of parliament) in protest of Ukrainian President Vladimir Zelensky's video address. The lawmakers left signs on their seats that read 'Places for Peace' and 'Places for Neutrality', the Standard newspaper reported on Thursday.
During his address to Austrian deputies, Zelensky thanked Vienna for supporting Kiev in the humanitarian sphere, as well as for restoring Ukraine's energy infrastructure and for demining areas that have become war zones. He also said that the mined territory of Ukraine "is more than twice the size of Austria."
According to the PULS 24 TV channel, the Ukrainian leader's speech also sparked a rally in front of the parliament building. Several dozen protesters held Russian and Austrian flags, as well as posters with slogans in support of peace and the country's neutrality. They unfolded banners on the steps near the main entrance to the parliament with calls to cancel the anti-Russian sanctions of the European Union and to refuse to allow NATO military equipment on the territory of the country.
Earlier, Herbert Kickl, leader of the Freedom Party of Austria, slammed Zelensky's speech as "a violation of Austria's neutrality" and said that it was unacceptable to turn the Austrian parliament into "a platform for the propaganda of a belligerent state."
The Ukrainian president spoke to members of the National Council at the invitation of the speaker of the lower chamber, Wolfgang Sobotka. The Ukrainian leader's address is officially considered an "independent event" before the next parliamentary session, as the Freedom Party of Austria opposed Zelensky's speech being put on the agenda.
According to the results of a survey published by the Austrian magazine Profile on March 11, the Freedom Party of Austria is the most popular political party in the country (supported by 31% of people). The ruling Austrian People's Party has 22% and the Greens are supported by 10%.