Brisbane propaganda meet by Khalistanis fails miserably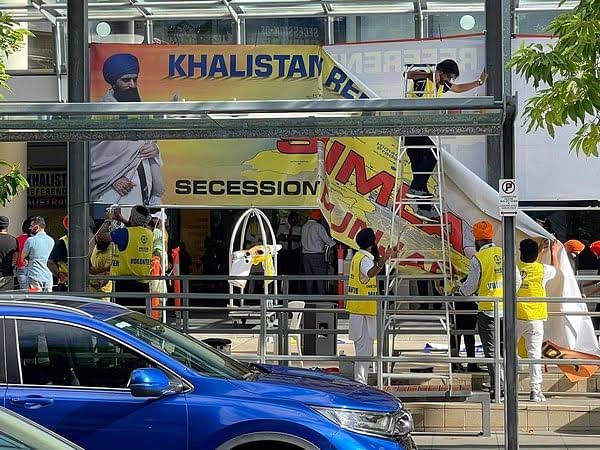 Shri Albanese PM of Australia, during his Press Conference in India had said " I gave him the assurance that Australia is a country that respects people's faith. That we don't tolerate the sort of extreme actions and attacks that we've seen on religious buildings, be they Hindu temples, mosques, synagogues, or churches. This has no place in Australia."
Now Khalistan sympathisers tried to hold a propaganda meeting in Brisbane by Sunday, calling it a referendum, has failed miserably because just a handful of people turned up.
The Australia Today, a news outlet focused on multicultural communities and the Indian subcontinent, whose reporters were on the ground reported "I wouldn't like to call it a Sikh referendum, it was a Khalistani referendum and it kind of miserably failed to garner support from the Sikh community. We have kind of 15,000-20,000 odd strong community here in Queensland (the state in which Brisbane is located)."
"However, on the ground, you can imagine almost 100-150 people were coming every hour and they had to shut down their voting at 4 o'clock, however, they wanted to do it up to 5 o'clock. There was absolutely nobody to vote. They had to shut it down at 4. That was the pathetic condition with their gloomy faces."
Editor of Australia Today also said that the handful of Khalistani supporters who attended the propaganda meet were trying to mobilise people to join in, but their outreach attempt too failed.
"Number of insiders told us they are trying to mobilise, calling to Gurudwaras to arrange some buses, calling hundreds of phone numbers asking them to bring their families. I think it was a great show of unity by the Indian community," Bharadwaj said.
"No one cares about Amritpal Singh here in Australia. Amritpal is nobody. If we talk about 200,000 plus strong Australian Sikh community, hardly one per cent would know about who is Amritpal. For us Indian Australians, we can always make fun of this guy whatever he is trying to be but on the ground, he doesn't mean anything."
Amritpal Singh leads "Waris Punjab De", a radical organisation started by actor and activist Deep Sidhu, who died in a road accident in February last year.
On being asked what the Indian Australian community has to say about this propaganda meeting, the larger community is not worried at all.
"Lot of them (whom I talked to) said we don't know much about him… They didn't know police has cracked down or something…Some may have seen his videos, but in the larger community nobody is worried if something is happening to Amritpal," he said.
In a quick follow-up, he was asked whether the self-styled radical elements could be termed non-existent. He said, "Definitely if the majority of the community don't even know him and his name then what does that mean? He is not there for all of them. He is not an important issue for which they spend their time and effort. He is non-existent of course."
In conclusion, he was also asked whether such radical elements could again try to organise propaganda meets in days to come.
"What they are going to do is their business. We are concerned that do not try to put poison into community, divide the community, they do not try to attack Australian Hindu community as they have done in last several weeks," he responded, adding their activities have no impact and meaning in wider world.
In the first week of March, Shree Laxmi Narayan Temple in Australia's Brisbane was vandalised by pro-Khalistan supporters. Earlier in January, Shri Shiva Vishnu Temple in Australia's Carrum Downs was vandalised with anti-Hindu graffiti.
On the evening of January 15, 2023, too, Khalistan supporters tried to draw support for their referendum through a car rally in Melbourne. However, they failed miserably as less than two hundred people gathered out of an almost 60,000-strong Melbourne community, as per reports. Less than a week before on January 12, the BAPS Swaminarayan Mandir in Australia's Mill Park was smeared with anti-India and anti-Hindu graffiti.