China Not Liking Growing Indo Australian Friendship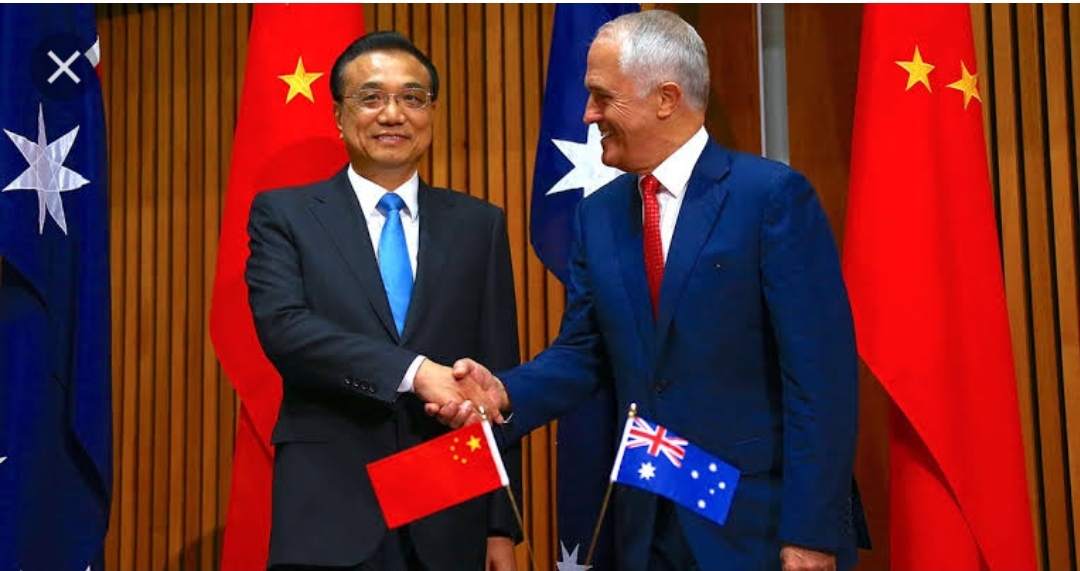 India and Australia on Saturday held their first 2+2 Ministerial Dialogue in New Delhi. Amid the dialogue, India and Australia discussed a series of issues, such as economy, defense and intelligence cooperation. The core of the dialogue was to strengthen India-Australia cooperation in terms of defense and military matters. The talks also involved the situation in Afghanistan and other regional hotspot issues, especially their coordination under the Indo-Pacific Strategy.

This move of India and Australia has now rattled China quite a lot. The Communist Party of China thinking which has been US centric, now is not liking this Indo Australian partnership. They now realize that this partnership by two Countries within the Region is actually more solid than formation of any QUAD with outside Powers like US. Chinese always thought that Indo Australian link was very weak. So right after Galwan attack on Indian Army where the PLA received a bloody nose, they declared a trade war on Australia.
Now this Indo Australian partnership will further increase the cooperation among the QUAD members. In fact, the dialogue is the first face-to-face summit since Covid started. September 24. The 2+2 dialogue between India and Australia will not only promotes bilateral strategic defense coordination, but also makes for a formidable trade relationship.

The Trump administration launched its Indo-Pacific Strategy at the end of 2017 to counter Chinese attempt of hegemony in the Indo Pacific. The triad of a rejuvenated Japan with USA and Australia was upgraded to QUAD with India too joining it. Japan and Australia as it is were the US' long-term allies, with long established comprehensive communication mechanisms. Now USA was hoping that India too would join as an ally. However a Country like India can never be a Camp follower, She follows her own independent foreign policy. Therefore India joined the QUAD as a friend based on equality and for the purpose of pursuing peace and cooperation in the Region.
However with the development of the bloc, India-Australia relations earlier at low key has now started strengthening. The Indo Japan relationship has already been strengthened. Both India and Japan held the first-ever ministerial-level 2+2 dialogue in 2019 itself.
India-Australia relations have developed rapidly in recent years, once Australia realized the power of India in all fields. It also realized that US is a external power but India is a resident power capable of providing security and stability to the entire region, as it had done over centuries.

However, with the intensified strategic competition of the US against China, Canberra and New Delhi have formed a consensus on the policy of jointly safeguarding the Indian Ocean Region and the Indo Pacific Region from all kinds of rivalries and ceremonies.

The first India-Australia 2+2 dialogue and the strengthening of their military cooperation is a big step made by the two countries in regional Security. They are promoting the establishment of a defense logistics system too.

For example, New Delhi and Canberra signed the Australia-India Mutual Logistics Support Arrangement in June, 2020. This allows both sides access to each other's military bases for logistics support. On September 9, 2020, India and Japan signed an Acquisition and Cross-Servicing Agreement that would allow the militaries of the two countries to exchange supplies and services on a reciprocal basis during exercises in which both participate. In future in case the peace in the area has to be enforced through a military operations then these agreements could provide India, Japan and Australia a mutual logistics supply network.

In particular, India has built a Coastal Surveillance Radar system in the Indian Ocean. By signing the White Shipping Agreement with various countries and the mutual logistics support agreements with Pacific-Indian Ocean coastal countries, setting up an information center for India' maritime domain awareness in Gurugram, all the civilian and military information in the Indian Ocean waters are under India's control. Like the days of Mauryas, Guptas and Cholas, peace can be enforced once again in the entire Indian Ocean Region and the Indo Pacific Region.

Thus India has gained stronger military intelligence collecting capabilities through its own Surveillance Systems and intelligence exchanges with friendly countries. So now China knows that it has to behave in a proper manner without violating International Laws of the Seas along with all other countries.