China Now Stares At Inflation Due To Trade War, As Usual Tries To Blame It On Costly Imports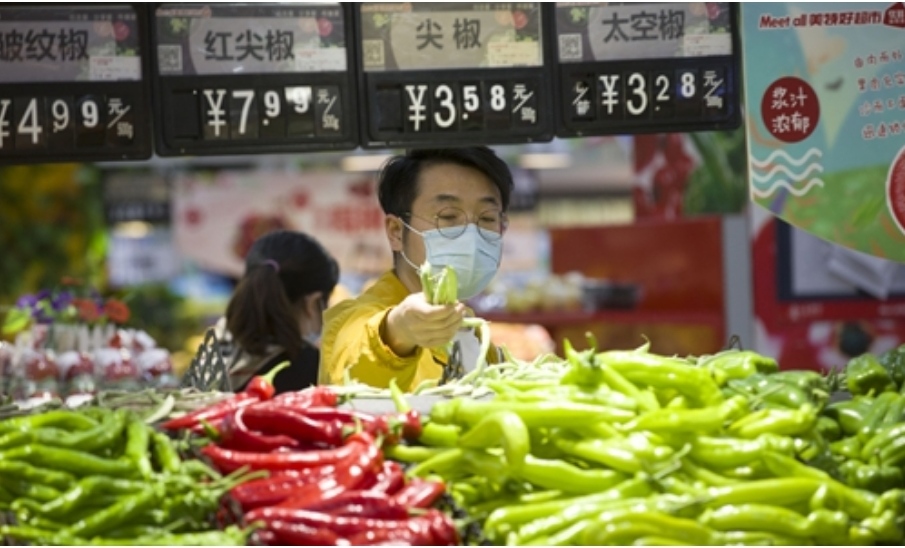 A consumer buys vegetables at a supermarket in Taiyuan, North China's Shanxi Province
China is In midst of a major Trade War with Australia and USA and subdued ones with European Union and India. China is huge country and imports a large quantity of food products, raw material for its factories and of course consumer goods from its trade partner all over the world. Bulk commodity purchases support the development of China's manufacturing industry and food products help feed its huge population.
China has banned imports of meat products, soybean and wheat and Wine among other products from Australia. So for instance, the price of soybeans which had stood at $359.17 per metric ton last May, the price in May this year was $643.92, an increase of 79.3 percent year-on-year. There is acute shortage of beef and mutton in China as even Argentina has a put a stop to it's export and prices are going through the roof.
The prices of crude oil, natural gas and coal all rose by more than 30 percent in the first quarter of 2021, and agricultural prices have risen 20 percent and are close to a seven-year high, according to an outlook released by the World Bank in April.
However instead of taking corrective actions against their own wrong policies, the Communist experts are saying that the inflation is a spillover effect. The analysts said that there could be risks of imported inflation in China, though it should not be a big problem. However, it seems that by sweeping the problem under the carpet, inflation is not going to vanish. This is making the leadership very uneasy, in this 100th Year of Celebrations of Communists.
Impacted by the pandemic, most manufacturing countries including China are finding it difficult to recover quickly. Though now countries like India have started to decouple from Chinese economy and many other developed countries too have commenced this process. Every major country wants to severe their dependence on Chinese manufacturing at the earliest. Therefore, a stronger yuan will translate China's inflation into a major problem for the Communist leadership.
 The highest inflation since 2008 in the US and the Federal Reserve's balance sheet hitting $8 trillion for the first time have combined to fuel fears of runaway inflation, with some market observers even suggesting that the US is approaching temporary hyperinflation. This will fuel more inflation in China and many food items will become more costlier.

"Since the Fed increased the monetary aggregate by printing more money last year, international commodity prices have risen, which is bound to affect China's producer price index (PPI) and consumer price index (CPI)," Wang Xingping, a finance analyst, told the Global Times on Monday, hinting at a rising CPI in the coming months.

According to research, about 21 percent of the year-on-year increase in global commodity prices was transmitted to China's PPI. As the transmission from the PPI to the CPI lags by two to three months, China's CPI in the first five months of this year remained relatively low, said Wang.

Analysts said that influenced by the Wuhan pandemic, the supply of bulk commodities is insufficient for the Chinese manufacturers and consumers. Also both labor and transportation costs are rising, leading to a sustained rise in commodity prices.

Ying Xiwen, deputy director of the Macro-economy Research Center at Academy of China Minsheng Bank, said that domestic inflationary pressures will pick up further in the second and third quarters.

"CPI growth is expected to pick up to the range of 1-2 percent, and the core CPI will gradually return to the range of 1-1.5 percent, reflecting the continued recovery of aggregate demand. 

"Domestic upstream industrial products will continue to face upward pressure in the short and medium terms. Therefore, the PPI will hit a plateau in the second and third quarters, and start to fall in the fourth quarter," said Ying.

Analysts said that China will face solid level of inflation, and if not handled properly, it may turn into a big problem. They also said that China's inflation will at the same time have an impact on the world.