Commissioning of India's aircraft carrier will ensure peace in both the Indian Ocean and Indo Pacific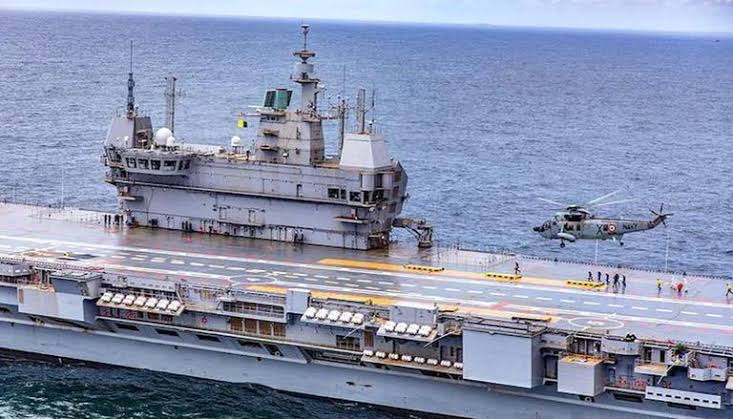 The commissioning of India's first home-built aircraft carrier on Friday received pretty much accolades from the entire World Media. A CNN report said the aircraft carrier has put India into "an elite league of the world's naval powers," and an AFP article hailed it as a milestone in India's efforts towards military assertiveness in the region.

Though a few see India's growing might a bulwark against China's growing Naval fleet which is taking baby steps to show its presence in the Indian Ocean. History says that only India can ensure peace in both the Indian Ocean and the Indo Pacific. India's first home-built aircraft carrier is the first step in this direction. However India has no intentions to create any anti-China forefront in the Indo Pacific, though it will ensure that there is freedom of navigation for everyone in all the Oceans of the World as per the UN Conventions. As it is Chinese Navy cannot face the Indian Navy within the Indian Ocean ever.

It indeed was a moment for India to celebrate its progress in indigenous shipbuilding capabilities. Building The INS Vikrant, whose name is the Sanskrit word for "powerful" or "courageous," hasn't been easy. It took 13 years to commission the indigenous aircraft carrier since the keel-laying of it was done in 2009. This is because the required grade of steel was not available from Russia or elsewhere. Then India decided to make the steel in the country itself. The carrier has filled the nation with "new confidence," Prime Minister Narendra Modi said at Friday's ceremony marked by fanfare at the Cochin Shipyard in India's southern Kerala state, declaring India has taken one more step toward becoming a developed nation. 

 Modi also unfurled the country's new naval flag without a British colonial symbol left over from India's colonial era on the commissioning ceremony, a milestone in India's de-Western colonialism. This, slap on the British however, was seldom mentioned in most Western reports.

China should never treat this moment as a military event against China. India has never regarded India as an Enemy till Galwan happened. Even here, in case China resolves the Indo Tibet and Tibet China border issue then things can go back to NORMAL. China's biggest drawback is the lack of freedom to its people, party dictatorship and insufficient development in many of its regions.

China may be ahead of India in terms of numbers of ships but quantity cannot match quality, determination and experience. China presently has two new carriers and one rust bucket Liaoning. They may be relatively bigger in tonnage, but have much limited combat capabilities and ranges, and certain technologies are still missing. All these have constrained the PLAN combat effectiveness and supporting power. In contrast the two Indian carriers have much bigger punch and the Indian Navy has been operating aircraft carrier since 1961 and has war experience too. Former INS VIKRANT had played a major role in Liberation of Bangladesh in 1971.

Even though Aircraft carriers are considered to be one of the most effective strategic tools to safeguard national maritime interests, India is not in a Arm race with any one. China should not view India's military progress from a perspective of zero-sum game. Both China and India are emerging economies committed to economic and social development. Their common interests far outweigh their differences. China and India should be partners for mutual success instead of adversaries of mutual attrition.