Ethiopian Prime Minister wins Nobel Peace Prize for ending 20-year war with Eritrea
Ethiopian Prime Minister Abiy Ahmed has won the Nobel Peace Prize for ending a 20-year-long conflict with neighbouring Eritrea.
War between the two countries began over border disputes in 1998.
At least 70,000 people died before the two sides signed a peace deal in 2000, but tensions remained high.
The conflict, which was described as "Africa's most senseless war" by mediators, saw the two impoverished nations spend billions of dollars on weapons.
When Mr Abiy took office last year, he freed political prisoners and signed an agreement with Eritrean President Isaias Afwerki.
The two leaders vowed to improve political, economic and diplomatic ties, and re-open the border.
When the deal was signed, family members divided by the dispute were able to telephone each other for the first time in two decades.
The Norwegian Nobel Committee said Mr Abiy "initiated important reforms that gave many citizens hope for a better life and a brighter future".
"As Prime Minister, Mr Abiy has sought to promote reconciliation, solidarity and social justice," it said.
The Nobel committee said the 2019 prize was "also meant to recognise all the stakeholders working for peace and reconciliation in Ethiopia and in the east and north-east African regions".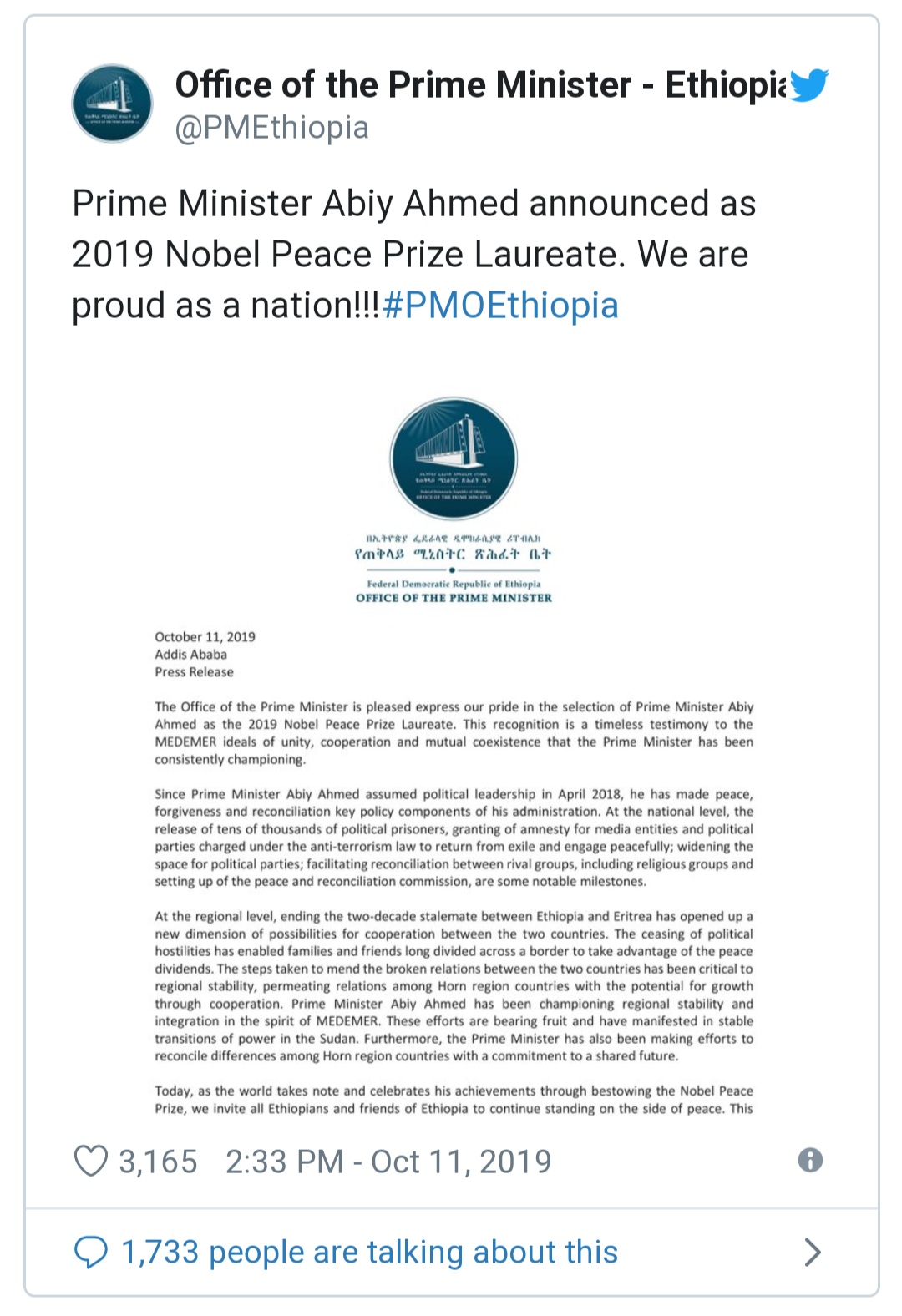 Mr Abiy's office released a statement calling on "all Ethiopians and friends of Ethiopia to continue standing on the side of peace".
"This recognition is a timeless testimony to the 'medemer' ideals of unity, cooperation and mutual coexistence that the Prime Minister has been consistently championing," it said using a local term for "unity."
The tweet containing the statement added: "We are proud as a nation!"
Mr Abiy's offer to end the military stand-off has reshaped the political landscape in the Horn of Africa.
After signing an agreement to restore ties, the countries have reopened embassies and resumed flights between the nations.
Eritrea agreed to open up its port to landlocked Ethiopia and soldiers from both nations started clearing landmines on the border.
Mr Abiy will receive the prize, worth 9 million Swedish kronor ($1,350,000) in Oslo on December 10.