First Phase Operation in Ukraine completed as planned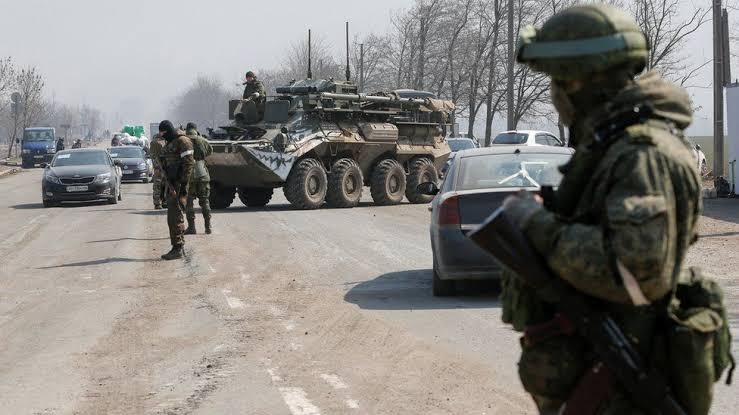 According to the Russian Defense Ministry, Ukrainian Armed Forces sustained serious losses
The Russia military operation in Ukraine unfolded according to the plan, all main goals of the first stage of the operation are in general complete, Russian Defense Ministry said during a briefing on Friday.
According to the Ministry, Ukrainian Armed Forces sustained serious losses: Ukrainian aviation and air defense is almost completely destroyed, while the Ukrainian Navy no longer exists; Ukraine forces have almost no organized reserves. Meanwhile, most of the Donbass territory has been liberated.
"In general, the main goals of the first stage of the operation are complete," Russian General Staff deputy head Colonel General Sergey Rudskoy said during a briefing.
He explained that the significant reduction of the Ukrainian military potential will make it possible to concentrate the main effort on the main goal: liberation of Donbass, while the operation itself will last until "total completion of goals, set by the commander-in-chief."
Russian forces blocked a number of major Ukrainian cities – Kiev, Kharkov, Chernigov, Sumy and Nikolayev. The Kherson region and most of the Zaporozhye Region are under their total control.
"The public, as well as certain experts, question what do we do around the blocked Urkainian cities. […] We did not plan to storm these cities from the start, in order to prevent destruction and minimize losses among personnel and civilians," Rudskoy said, noting that such option is not ruled out.
According to the military official, Russian weapons "have displayed high precision, reliability and ability to be used promptly."
During the first month of the operation, a total of 1,351 Russian servicemen died, while 3,825 were injured.
Ukrainian forces irrecoverably lost over 14,000 people, while total loss count stands at about 30,000 soldiers and officers, or about 11.5% of the entire Armed Forces personnel.
Ukrainian Air Forces and air defense systems are "almost completely destroyed," while the Ukrainian Navy "no longer exists," Rudskoy said.
According to Rudskoy, all 24 ground forces formations suffered "significant losses." Meanwhile, Ukraine has no organized reserves, which forces it to recover losses via mobilization of and territorial defense units that do not have proper training.
Ukraine also lost a significant portion of its combat vehicles: 65.7% of all tanks and armored vehicles, 42.8% of all field artillery and mortars, 30.5% of all multiple launch rocket systems and 82% of its S-300 and Buk-M1 missile air defense systems. A total of 85% of all Tochka-U tactical missile systems were eliminated.
Furthermore, three quarters of Ukrainian military planes and half of its helicopters are destroyed. Out of 36 Bayraktar TB-2 drones, only one remains in service.
Russian forces carried out strikes on 16 main Ukrainian military airstrips and destroyed 39 storage depots and armories, which stored up to 70% of military vehicles, equipment and fuels, as well as over 1 million tonnes of ammunition. High-precision weapons hit 30 key military-industrial complex factories.
During the first month of the operation, a significant portion of Donetsk and Lugansk People's Republics has been liberated – 54% and 93%, correspondingly. People's militias of both republics gained control over 276 settlements.
Ukrainian forces in Donbass lost about one quarter of its personnel – about 16,000 people, 7,000 of them – irrecoverably.
Currently, LPR forces fight near Severodonetsk and Lisichansk, while DPR forces continue liberation of Mariupol and offensive west of Donetsk.
Over 23,000 people from 37 countries expressed their readiness to fight for Donbass, and Moscow recommended the republics to accept this aid, but the republics refused this offer.
"They have enough forces and equipment," Rudskoy explained.
Russian forces hands over captured military trophies to the republic. In particular, the republics have already received 113 tanks and armored vehicles, 138 Javelin anti-tank missile systems and 67 NLAW anti-tank grenade launchers.
Western aid to Kiev
Since the beginning of the operation, Western states shipped over 100 artillery units, almost 900 man-portable missile air defense systems and 3,800 anti-tank weapons.
"We consider Western shipment of weapons to Kiev a huge mistake. This prolongs the conflict, increases the number of casualties and will not affect the outcome of the operation. The true goal of such shipments is not to support Ukraine, but to pull it into a prolonged military conflict 'until the last Ukrainian citizen'," Rudskoy said.
Moscow will not leave potential shipment of planes and air defense systems to Kiev without attention, and will "provide immediate proper response," should anyone attempt to establish a no-fly zone over Ukraine, Rudskoy underscored.
The number of foreign mercenaries and militants in Ukraine, which previously achieved 6,600, has started to decrease – not only thanks to high-precision strikes on their bases and training camps, but because they flee to the neighboring states. According to Rudskoy, in the past 7 days, not a single foreign mercenary arrived in Ukraine, while 285 militants fled.
Humanitarian aspect
Since the beginning of the operation, Russia evacuated almost 420,000 people from Donbass and Ukraine, Russian National Defense Control Center head Mikhail Mizintsev said, adding that one fifth of those people are children. In addition, Moscow assisted in evacuation of 9,000 foreigners without any involvement from Kiev.
The Russian side has been opening humanitarian corridors for evacuation of civilians every day and will continue to do so. Meanwhile, the Ukrainian side did not negotiate even a single corridor towards Russia.
Russian Armed Forces do not target civilian infrastructure, while Kiev destroys it, Rudskoy said. According to Rudskoy, all 127 destroyed bridges in Ukraine were destroyed by the nationalists in order to slow down the Russian offensive.
Mining of approaches to the ports of Odessa, Chernomorsk, Ochakov and Yuzhny is "yet another example of folly," Rudskoy said, adding that at least ten naval mines were torn from anchors and currently drift in the Western part of the Black Sea, which creates threat not only to military ships, but to civilian vessels as well.