Five Nations Joint Drill To Strengthen East Asian peace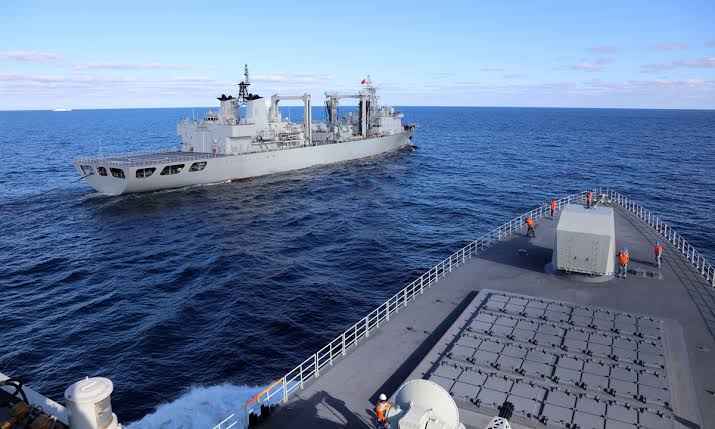 The joint exercise of the US, Japan, Australia, Canada and Germany in East Asia will surely strengthen regional peace and ensure freedom of navigation in the Indo Pacific. Regional countries will now be feeling more secure as the five countries began their ten-day exercise. 

Naval forces from Australia, Canada, Germany, Japan and the US will conduct the multilateral, multinational exercise ANNUALEX in the Philippine Sea from November 21-30, as per the US Pacific Fleet. 

During the exercise, the five naval forces will engage in enhanced maritime communication tactics, anti-submarine warfare operations, air warfare operations, replenishments-at-sea, cross-deck flight operations and maritime interdiction maneuvers, the fleet said.

There are nearly 34 warships in waters to the south of Japan's Shikoku island, including the US aircraft carrier USS Carl Vinson, Japanese helicopter destroyer Izumo, Australia's destroyer HMAS Brisbane, Canadian warship HMCS Winnipeg and German navy frigate Bayern.

The naval drills in East Asia is going To make the region more peaceful and stable, and the joint exercise does conform to the international cooperation, which is another to warn would be rogues.
ANNUALEX is a yearly naval training exercise led by the Japan Maritime Self-Defense Force. Naval forces from around the world are invited to participate to strengthen enduring relationships while sharpening naval proficiencies at all levels, according to the US Pacific Fleet's website.

Japan has taken on the Chinese bluff and bluster and has organized these drills to deter China. Experts have noted that all the Countries in the region have firmly decided to defend their sovereignty, security and development interests when it comes to their core interests.

East Asian countries victimized by Chinese incursions into their EEZ and even territorial waters will now always remained vigilant against any Chinese expansionism.
To assert themselves even the Chinese People's Liberation Army (PLA) Navy also sent a Type 052D guided missile destroyer and a Type 054A guided missile frigate through the Tsushima Strait, after three PLA warships, a Type 052D guided missile destroyer, Type 054A guided missile frigate and a Type 903 replenishment ship, sailed through the Miyako Strait on Friday.