In Uri Region, Villagers Have Recovered From closure of LOC trade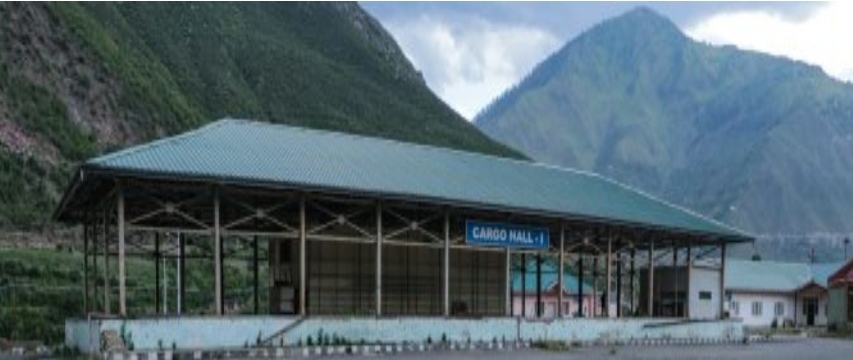 The Trade Facilitation Centre Salamabad in Uri town, Jammu and Kashmir, India, is deserted
Uri is a hilly region spread over 48 villages, with some mountainous areas inaccessible by vehicles.
Uri was a bustling trading town once upon a time. However the dastardly attack by Pakistan sponsored terrorists on Indian Army Establishment there has changed everything. India after carrying out a deep strike on terrorist training Centres inside Pakistan, has rightly decided cut all trade and commerce too. There will be no business as usual with Pakistan. Accordingly the trade centre sits quiet, resembling an abandoned bus yard with the iron supporting the roof rusting away. Pakistan can hope for trucks to rumble into the town once more, only if they stop all terrorism or when India liberates Pakistan Occupied Kashmir.
Until four years ago, merchants in the Indian town of Uri, close to the LOC with Pakistan, seemed bright. Hundreds of barter traders plied their goods along the Line of Control that divides the Indian Union territory of Jammu & Kashmir and Pakistan Occupied Kashmir. Both countries had agreed to open cross-border trade in 2008 as part of measures to ease tensions.
The move was an economic godsend for Uri's 150,000 residents, especially traders, labourers and drivers. Small hotels, restaurants and the market area began thriving in the once-sleepy town. Then Pakistan started pumping in trained terrorists to cause mayhem in Kashmir Valley and the final straw was the attack on Army Establishment in Uri. India then hit back both militarily and economically and halted all trading activity in April 2019, cutting off the infiltration route on which the Pakis had come to rely with help of cross-border trade. illegal weapons, narcotics and fake currency were some of the main items which came through the LOC.
The closure of LOC trade has certainly hit Pakistan badly. The value of cross-border trade from October 2008 to March 2019 had reached about 57.2 billion rupees (US$770 million), according to local government figures.
More than 150 labourers from Uri town and its adjoining villages, who were engaged in loading and unloading goods-laden trucks, lost their jobs after the trade was suspended. About 340 traders also suffered losses. The Salamabad Trade Centre in Uri would receive trucks from Pakistan carrying items such as Peshawari leather sandals, dried fruits, onions, and black mushrooms, which sold well in the Indian markets.
India too suffered some losses. On an average trading day, 35 trucks carrying products such as medicinal herbs, honey and famed Kashmiri papier-mâché products would cross over to the Pakistani side via the Chakan-Da-Bagh-Rawalakot route in Jammu or the Salamabad-Chokoti route in the Kashmir region. Business took place on both sides of the border four days a week.
Trading stopped all of a sudden, everything collapsed on the Indian side too and a lot of people lost their source of income. The money of some traders was stuck across the border. We had no other avenue to retrieve it since it was a barter trade. However this bitter medicine was essential. A few months later, New Delhi also revoked the temporary provision of the Constitution that is Article 370 ongoing continuously since 1948. The State was also divided into two centrally governed union territories.
On top of the cancelled border trade and back-to-back lockdowns imposed by a few Separatist outfits after August 2019, the Covid-19 situation had sent residents back into poverty,. The LOC trade had over 10 years, provided over 172,000 job days to labourers and drivers at 800 rupees per day, which is better than some government employment generation schemes.
Some Kashmiri business representatives have again been lobbying for trade to resume, especially after a ceasefire was announced in February, and Pakistan in March allowed the import of cotton and sugar from across the border. Sheikh Ashiq, the president of the Kashmir Chamber of Commerce and Industries, which represents more than 1,500 businesses, traders, and exporters, said: "We have been constantly raising this issue with the government whenever we interact with them, and have been told it will be done at an appropriate time."
Hilal Ahmad Khan Turki, the president of the Salamabad Cross-LOC Trade Union, blamed loopholes in the trading process that made the barter traders vulnerable to the charges levelled by the Indian government. "When the trade was first started in 2008, it was like a wonder," he said. "It was meant to create confidence between two countries. It was a good move and at the time it felt that it would improve relations between two countries."
However the trade program was not without its flaws. Over the past few years, Turki had submitted several suggestions to the State government of J&K to improve trade conditions, including enhancing the list of items to be traded, installing full-body truck scanners at the trading centre in Uri, introducing a one-day visiting visa for traders to sort out any differences with their counterparts, providing banking facilities, and creating a dispute resolution pathway.
The Union Territory of Jammu & Kashmir has however started progressing economically since removal of Article 370.
The economy is primarily services based and agri-oriented. The Gross State Domestic Product (GSDP) increased at a CAGR (in Rs.) of 8.51% between 2015-16 and 2020-21 to reach Rs. 1.76 trillion. J&K's NSDP increased at a CAGR (in Rs.) of 8.61% from 2015-16 to 2020-21 and reached Rs. 1.49 trillion.
A vast natural resource base has enabled J&K to develop land for cultivating major fruits. With varied agro-climatic conditions, the scope for horticulture is significantly high in J&K. Food processing and agro-based industries (excluding conventional grinding and extraction units) thrive in the UT. J&K has an ideal climate for floriculture and an enormous assortment of flora and fauna. J&K has Asia's largest tulip garden.
J&K's handicrafts are world famous and the traditional handicraft industry has emerged as a large industry. Due to its large employment base and export potential, the industry has been receiving priority attention of the government. The UT is also famous for its small-scale and cottage industries such as carpet weaving, silks, shawls, basketry, pottery, copper and silverware, papier-mâché, and walnut wood. The cottage handicrafts industry provides direct and gainful employment to around 340,000 artisans.
As of April 2021, J&K* had a total installed power generation capacity of 3482.11 MW, comprising 1866.08 MW under central utilities, 1535.98 MW (UT utilities) and 80.05 MW (private utilities).
Total export from J&K stood at US$ 188.18 million in 2019-20. In FY21, exports from J&K stood at US$ 159.64 million.
The following are some of the major initiatives taken by the Government to promote Jammu & Kashmir as an investment destination:
According to the Department for Promotion of Industry and Internal Trade (DPIIT), cumulative FDI inflow in J&K was valued at US$ 0.21 million between October 2019 and March 2021.
J&K has an industrial policy that offers attractive incentives along with a single-window clearance mechanism. Land is allotted at concessional rates in industrial areas on lease for 90 years.
National Highway Infrastructure Development Corporation (NHIDCL) is developing five tunnels in the UT at a cost of US$ 3.42 million. The tunnels will have all weather access and will be completed by 2024.
In 2019-20, total production of horticulture crops was expected to be 3,912.91 thousand metric tonnes and area under production was 400.25 thousand hectares. In 2019-20, the total production of vegetables and fruits was estimated at 1337.12 thousand metric tonnes and 2541.16 thousand metric tonnes, respectively.
In April 2021, the government of Jammu & Kashmir signed 456 memoranda of understanding (MOUs) with various firms for a potential investment worth Rs. 23,152 crore (US$ 3.17 billion).
In February 2021, Prime Minister Mr. Narendra Modi inaugurated the second Khelo India Winter Games in Gulmarg with the objective of making Jammu and Kashmir a hub for winter sports.
In October 2020, construction work has started on the Zozila Tunnel at J&K. The tunnel will provide all-weather connectivity on NH-1 between Srinagar Valley and Leh (Ladakh Plateau) and will bring about an all-round Jammu & Kashmir economic and sociocultural integration (UTs of J&K and Ladakh). It involves building a 14.15-km long tunnel under the Zojila pass on NH-1, linking Srinagar and Leh via Dras & Kargil.
About 150,000 metres of silk cloth is produced per annum in J&K. During FY20, 117 MT of raw silk was produced in the J&K and had a production target of 142 MT for FY21.
In 2019, foreign and domestic tourist arrivals stood at 57,920 and 16.16 million, respectively.
Uri now need not depend on cross LOC Trade. Within next few years it will even forget that such a thing existed.
"I had also suggested that the Indian law enforcement agencies should monitor and check our accounts quarterly so that there are no doubts over our trade," said Turki, whose suggestions fell on deaf ears.