India Now Becomes UNSC Non-Permanent Member For 2 Years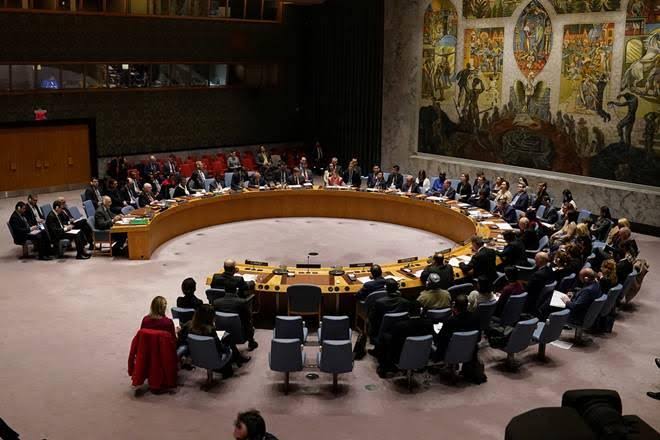 Dated : 04 Jan 2021 (IST)
India took over as a non-permanent member of the United Nations Security Council (UNSC) from January 1 for a two-year term. India's key focus will be on reforms, strong action on terrorism, peacekeeping among others.
India will be entering the UN security council for the 8th time. During the next 2 year, India should be contributing to more cooperative and inclusive decision making process in the security council. "The team in permanent mission of India in New York is all geared up for the security council and I am confident our team will do India proud.
We are grateful for the fullest support we have received from the honourable PM Modi as well as our External Affairs minister S Jaishankar and the foreign secretary Harshvardhan Shringla who has himself served in New York earlier" stated Shri T S Trimurti, Permanent Representative.
Beginning first of January 2021, India will be taking its seat on the security council as an elected member, India brings legitimacy to council's deliberations and decision making. We look forward to our presidency of the UNSC in the month of August 2021.
"It is coincidental, while India is on the council, India will also be celebrating, 75th anniversary of Indian Independence. Please join us in this historic journey.
We are all excited, we are all well prepared. Our teams are in place, both in New York and New Delhi. We look forward for a very substantive and productive 2 year term at the council" said Shri K Nagaraj, Deputy Permanent Representative.
India's flag will be installed at the United Nations Security Council stakeout on Monday as the country begins its two-year tenure as a non-permanent member of the powerful UN body.
India's Permanent Representative to the UN, Ambassador T S Tirumurti will install the tricolour and is expected to make brief remarks at the ceremony.
Along with India, the incoming UNSC members are Norway, Kenya, Ireland and Mexico. They will join non-permanent members Estonia, Niger, Saint Vincent and the Grenadines, Tunisia and Vietnam and the five permanent members China, France, Russia, the UK and the US.
India will be the UNSC President in August 2021 and will preside over the Council again for a month in 2022. The presidency of the Council is held by each of the members in turn for one month, following the English alphabetical order of the member states names.

The ceremony was unanimously confirmed by all 15 UNSC members to become an annual tradition of the Security Council, Umarov had said.
Security council is a political body and the decision of the security council are largely political in nature. Africa and West Asia issue dominate the council's agenda. For India progress and prosperity of Africa, conflict free west Asia is important. India's approach on the security council is guided by an emphasis on building on international system that based on respect, dialogue, cooperation, peace and prosperity for all.
In its efforts to promote responsible and inclusive solutions to the challenges to international peace and security, India will bring to the security council its strong commitment to multilateralism and fare, equitable and rules based international system.
Widespread concern that the inadequacy of the existing multilateral institutions to deliver results or meet new challenges. World order needs to be contemporary to remain credible. That is why India has called for reformed multilateralism and we will work towards this goal. This will be one our focus areas at the security council. Through bilateral assistance to member states and continue contributions to UN funds and programmes, India's approach to addressing the underline causes of conflict is also supporting demand driven and nationally owned projects.