India – UK free trade agreement not viable with UK permitting Anti India forces to operate on its soil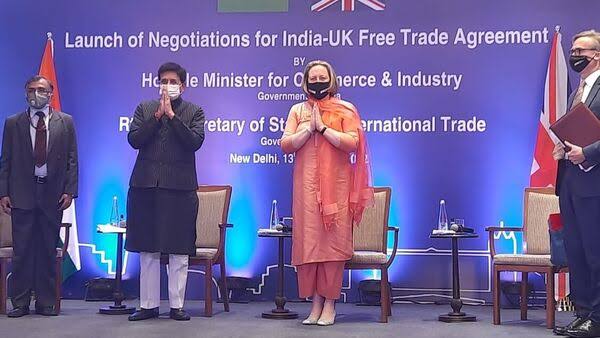 UK Foreign Secretary James Cleverly is very eager for quick signing of the India-UK Free Trade Agreement. As per him it will deliver practical, real-world benefits for businesses in both countries and that this will give a strong message to the world that the two countries are committed to building closer partnerships.
Cleverly said the above while addressing the gathering at the Confederation of Indian Industry's (CII) Special Plenary Session of India Europe Business and Sustainability Conclave in New Delhi on Wednesday. Union Minister Piyush Goyal also attended the session.
Though Cleverly acknowledged that India was 5th largest economy in the world (US $ terms) and wanted UK to work closely together to contribute to the world's economic security and prosperity. However he should know that for this to happen Britain has to ban all Anti India forces operating from British soil. UK also has to stop activities such as recent BBC documentary and also hand over all economic offenders who are presently hiding in Britain.
The UK Foreign Secretary said during the session talked about geopolitical competition. He also blamed Russia for invasion of Ukraine which as per him has sent shockwaves through global economy and across the world which was seeing the ripple effect of that in food prices, energy prices, global insecurity. Though he didn't utter a word on the foolish unilateral sanctions which USA, UK and other NATO countries have imposed on Russia causing all the current problems for the rest of the world.
He further added: "I am also going to echo the wise words of Prime Minister Modi who was right when he said to Putin, "today's era is not an era of war." Vladimir Putin must listen to those words and heed those words. Sadly, he is not doing so yet."
When Mr Cleverly acted clever saying that in times of social and economic turbulence, trusted partners need to work even closely together, he forgot that Russia was much trusted partner of India than UK. During 1971 Indo Pak War even the British had sent a squadron of Naval ships to the Arabian sea to intimidate India in conjunction with the American Flotilla in the Bay of Bengal.
Shri Piyush Goyal rightly countered by saying that developed and developing countries must have different goals and timelines while being sensitive to each other's needs, potential goals and roadmap towards sustainability. Goyal highlighted that India has been one of the top 5 performers when it comes to benchmarking our work and meeting the Nationally Determined Contributions (NDCs).
'Technology, finance and sustainable lifestyles are going to play an important role in ensuring sustainable growth', he opined.
Goyal urged world leaders to recognize that everyone must contribute their fair share in improving energy efficiency, reducing waste, boosting the circular economy and in achieving green goals by transitioning and helping other nations transition to green growth to make the world a better place to live in. "India's partnership with the UK and the EU is significant in the global effort to make the planet safer and greener," he said.