Indian Army Stops PLA  Troops' Bravado In No Time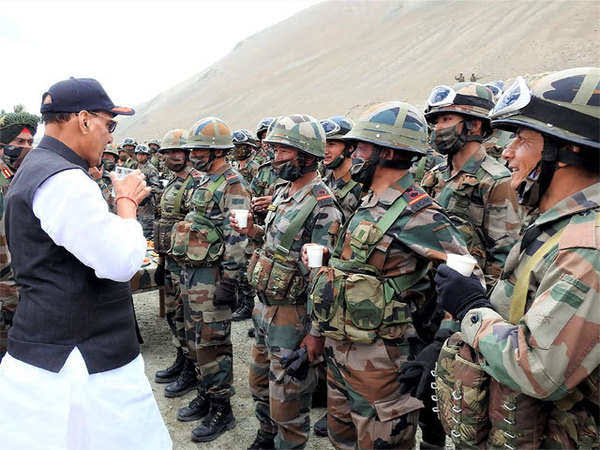 PLA  troops again illegally crossed the Line of Actual Control (LAC) into the   region near the south bank of Pangong Tso Lake on Monday. They then outrageously fired warning shots at the Indian Army posts.  However seeing that Indians were firmly entrenched on higher ground and ready to hit back, the  Chinese border patrol troops were forced to beat a hasty retreat. Though    a spokesperson of the Chinese People's Liberation Army (PLA) Western Theater Command carried out unsubstantiated propaganda as usual.
The  Chinese spokesperson pointed out that the acts of the Indian army are of a very vile nature. China has demanded the Indian side to immediately withdraw its troops that  crossed the LAC and to  strictly investigate and deal with those who fired the provocative shots.
As is known to all, that there is no marked Indo Tibetan Border. Since 1962, China has been in illegal possession of a large tract of Indian territory  Though the LAC area has  largely maintained an uneasy peace for over 40 years. There were cases of military standoff, which didn't lead to serious military conflicts, because the two sides have conformed to an agreement not to use firearms in conflicts. Although the fierce physical clash in June caused casualties on both sides, neither side ever fired a shot at that time.
The PLA after killing a score of Indian soldiers still thinks that there is going to be business as usual, then they are highly mistaken. Now if there is any intention violation of LAC  then China should be prepared  for a new era of bloodshed along the border.
Chinese  side has recently  tried to behave  arrogantly over border issue during  the ongoing talks but now is unable to do anything as Indians are in more advantageous positions. Beijing is now aware that  Indian Army has now established posts  on two commanding heights near the southern bank of Pangong Tso Lake, further  placing the  Chinese troops within visual artillery  range. In addition, the Indian side has clearly told  the  Chinese that the two countries' overall diplomatic ties will be badly affected.
After the border clash with casualties in the Galwan Valley in June, the Indian government gave "complete freedom of action" to commanders deployed along the border. Indian Prime Minister Narendra Modi and Minister of Defense Rajnath Singh then visited the border area in July. This time if the PLA attacks, then India is fully determined to not only defend India at all costs but also take the battle into Tibet for its liberation.
China has been warned  seriously: You have crossed the line! Your frontline troops have crossed the line!  Your policy toward India  has crossed the line! You are over-confidently provoking the Indian Army  and the  people  of India.
Sticking to the principle of not using firearms in border areas was  the goodwill of the Indian Army  but now no more.
Though India  doesn't want a  war with China. But if the Chinese  side misinterprets Indian intentions and attack then this time Tibet will surely get liberated.
India  is trying hard to solve border disputes peacefully.  We have shown extreme forbearance, but we are ready to  correct PLA  forces' misunderstanding with practical actions.