Indo-Pacific nations vow to fortify supply chains for critical items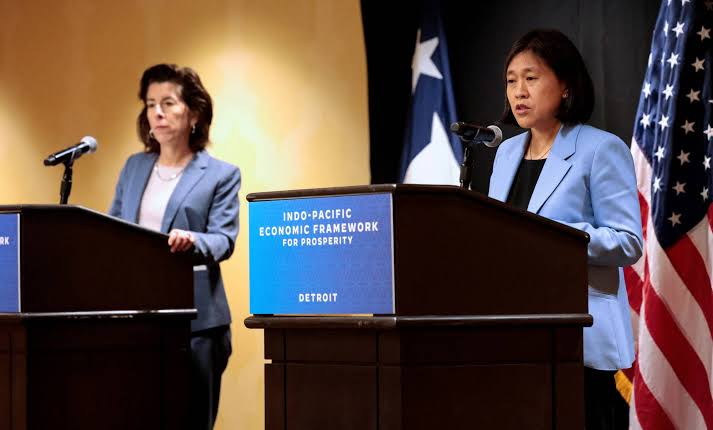 The IPEF represents about 40 percent of global gross domestic product. It currently groups Australia, Brunei, Fiji, India, Indonesia, Japan, Malaysia, New Zealand, the Philippines, Singapore, South Korea, Thailand, the United States and Vietnam.
The Indo-Pacific Economic Framework for Prosperity (IPEF) was launched in May2022 with Australia, Brunei Darussalam, Fiji, India, Indonesia, Japan, the Republic of Korea, Malaysia, New Zealand, Philippines, Singapore, Thailand, USA and Vietnam.
This framework is to advance resilience, sustainability, inclusiveness, economic growth, fairness, and competitiveness for our economies. Through this initiative, the IPEF partners aim to contribute to cooperation, stability, prosperity, development, and peace within the region.
This framework will offer tangible benefits that fuel economic activity and investment, promote sustainable and inclusive economic growth, and benefit workers and consumers across the region. The 14 IPEF partners represent 40 percent of global GDP and 28 percent of global goods and services trade.
The launch began discussions of future negotiations on the following pillars: (1) Trade; (2) Supply Chains; (3) Clean Energy, Decarbonization, and Infrastructure; and (4) Tax and Anti-Corruption. The IPEF is designed to be flexible, meaning that IPEF partners are not required to join all four pillars.
Ministers from the 14 Indo-Pacific nations agreed Saturday to strengthen supply chain resilience for critical items such as semiconductors and medicines to respond more promptly to emergencies. The agreement on essential goods and technologies was reached at a meeting of the Indo-Pacific Economic Framework in Detroit and is the initiative's first tangible outcome since launching in May last year. It is hoped the move will reduce overreliance on China, which has been increasing its economic clout in the region.
Following the conclusion of negotiations, Japan's Economy, Trade and Industry Minister Yasutoshi Nishimura told reporters that the multilateral agreement is the "first of its kind on supply chains."
According to a statement released afterward, the IPEF partner states plan to develop a system for collectively identifying significant supply chain risks, with each partner monitoring and marking out their own critical sectors.
They also aim to ensure the timely delivery of critically important goods during crises by improving coordination and response procedures between IPEF partners, the statement said.
While the statement did not specifically mention which goods are considered essential, a Japanese official said the aim is to target critical minerals, semiconductors, new energy technologies and other resources or equipment that could significantly impact society if supplies were halted.
Among other things, the agreement seeks to "increase the resilience, efficiency, productivity, sustainability, transparency, diversification," and "security" of supply chains through collaborative activities, as well as the individual actions of IPEF partner countries, the statement said.
The issue of supply chain disruption, especially concerning goods such as food, energy and key industrial products, has come under the spotlight following the COVID-19 pandemic and the uncalled for Western Sanctions on Russia.
Supply chain resilience is one of IPEF's four pillars, along with fair trade, clean energy and proper taxation and anti-corruption.
On clean energy, interested IPEF partner countries will introduce a regional hydrogen initiative to encourage the widespread deployment of renewable and low-carbon hydrogen, as well as its derivatives, in the region.
With issues around tariff-cutting and market access excluded from the negotiations, the IPEF partner countries appear to be seeking a comprehensive agreement in November to coincide with the leaders of the Asia-Pacific Economic Cooperation forum gathering in San Francisco.
At the first ministerial meeting in Los Angeles last September, the IPEF partner states agreed to begin formal negotiations on building a rules-based economic order in the fast-growing region.
The IPEF with India, Japan m Indonesia and USA as its member also regarded as a symbol of the world's largest economy's reengagement in the region.