Kangara Valley Tea – A Panacea of COVID-19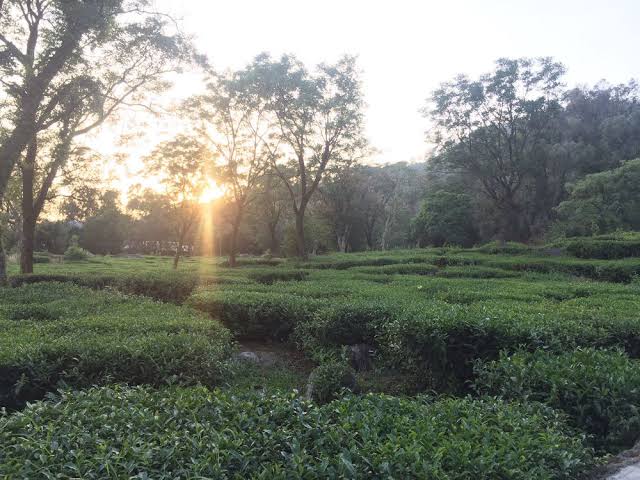 By
Colonel Satish Singh Lalotra
"Only in the darkness can you see the stars"… Martin Luther king.
For ages India's northern frontiers guarded by the mighty Himalayas have been a refuge for one and all seeking the life's mysteries. Life's journey full of twists and turns and rough and tumble can only turn heady if supplied with copious amounts of elixir.
What better elixir to kick start your day than a steaming hot cup of tea with its aroma wafting into your nostrils awakening your very being to take on the highs and lows of the day with gusto. Tea has been one of the strongest potions ever discovered by mankind weaving its magic irrespective of caste and creed.
The journey of tea in the Indian subcontinent has been laced with numerous anecdotes starting from its mainstay i.e the North east of India. India incidentally contends with China for the world's largest producer of tea .There are more than one lakh tea estates employing millions of tea workers. Da is so much ingrained in the fabric of India's culture that 70 per cent of the tons of tea produced is consumed by its own people.
The three main regions where tea has held its sway without any challenge in India are mainly found in Assam, Darjeeling and the Nilgiri hills of the south each defined by its unique geographical and climatic conditions. The largest tea plant variety 'Camellia Sinensis Assamicatwas discovered by an English explorer and botanist in 1815 known as Robert Bruce and by 1870, the British had started to establish machinery to help speed up tea production process with less labour.
Separated by a wide distance of about 2,000 Km west of Darjeeling on the opposite side of the subcontinent lays a scenic valley of Indian state of Himachal Pradesh called as Kangra valley. Steeped in Hindu mythology Kangra valley is nestled in the Dhaula Dhar mountain range of western Himalayas of the ancient land of Trigata where Rajput kings of Katoch dynasty ruled from the great fort of Kangra. Geographically cut off from the plains of Punjab by mighty rivers, hilly terrain and fierce armies of local kings, Kangra became part of British India in 1849 at the end of 2nd AngloSikh war of Sobraon.
In the same year as Kangra's accession, British botanists conducted a survey of Kangra valley to see what could possibly be grown there commercially. Ma was a hot item during those days with ongoing trial plantings in full swing in places like Darjeeling, Dehradun, Almora and the south. China tea trees (SinensisSinensis) were brought in from nurseries in the United provinces and planted at four locations in Kangra valley.
These tea plants thrived mainly at Palampur and Dharamshala a part of Kangra Valley. For ages tea has been known to act as an elixir to boost the immunodeficiency of humans. Cut to the present times the world has been reeling under the corona scourge for months now unleashed by the Chinese activities in Wuhan, some say are a direct result of its Bio warfare plans.
The world over countries have been thick in action to find a way to counter it lest it turns out like the infamous Spanish flu of the early 20th century. Indian pharmacompanies too are not far off in cracking the code to tide over this scourge of Covid19.
After the well known herb Ashwagandha now, Kangra tea has been marked as a potential corona virus blocker.
A senior research professional associated with a reputed bio resource technology institute has claimed that Kangra tea well known for its other medicinal properties may be able to boost immunity against corona virus by blocking the virus activity better than anti HIV drugs currently being used as a preventive care for patients and health care professionals.
According to a latest communication released by the ministry of science and technology, India's premier research institute, the IC1VIR/Indian council of medical research is considering replacing Hydroxycholoroquine (HCQ) with antiHIV drugs to improve immunity and possibly reduce viral replication.
But here comes the ultimate surprise in the form of Kangra tea as a panacea. The chemicals in Kangra tea act as an effective catalyst in boosting the immunity and can block corona virus activity better than anti-HIV drugs, as claimed by Dr Sanjay Kumar, Director of IHBT (Institute of Himalayan Bio Resource Technology) based in Palampur in neighbouring Himachal Pradesh. Dr Kumar made the claim during a webinar organized at IHBT on the occasion of the international tea day.
The claim along with a comparison with HIV drugs and Hydroxychloroquine comes at a time when the center has decided to expand its use as a preventive medication for asymptomatic health care workers who are engaged in providing services even at non-Covid19 hospitals for frontline staff who are deployed on surveillance duty in containment zones.
The endorsement of Kangra tea as a potential virus killer or fighter comes days after a group of researchers of HTDelhi revealed that as wagandha contains certain bioactives that interact with SARSCo2 virus in a way that prevents it from multiplying.
According to experts on similar lines of Kangra tea, As wagandha an ayurvedic concoction which is also popular as an aphrodisiac, has a natural compound called as withanone (WIN) with the potential to block Covid19's enzymes responsible for replication. It is being stated that As wagandha if used along with an active ingredient of propolis called as Caffeic Acid Phenethyl Ester (CAPE) can block the replication process.
IHBT, Palampur has been at the forefront in peddling the benefits of Kangra tea along with its medicinal properties on human health as also the latest technologies being developed by the institute to include computer based models wherein 65 bioactive chemicals or polyphenols that could bind to a specific viral protein more efficiently than commercially available anti-HIV drugs approved for treating covid19 patients. These chemicals block the activity of the viral protein that helps the virus to thrive inside human cells.
EHBT a constituent of CSIR /Council of scientific and industrial research has also produced and supplied the alcohol based hand sanitizer containing tea extract and natural aromatic oils through its technology partners. The institute has also developed herbal soap with tea extract, natural saponins (phytochemicals found in most vegetables) and without SLES (Sodium laurethsulphate) as also the mineral oil.
This soap provides anti fungal, anti bacterial cleansing and moisturizing benefits.Tea catechins production process are natural antioxidants that help prevent cell damage and provide other benefits. As stated in the quote in beginning its only in darkness (corona pandemic) that we see stars(Kangra tea).
All in all the need of the hour for India, is to look within its own treasure house of centuries old medicinal knowledge and combat the scourge of corona virus on its own terms and in a time bound manner.