Morrison's 'Economic Coercion' Remarks Irks The Chinese Communist No End
Canberra has commenced its decoupling from Beijing'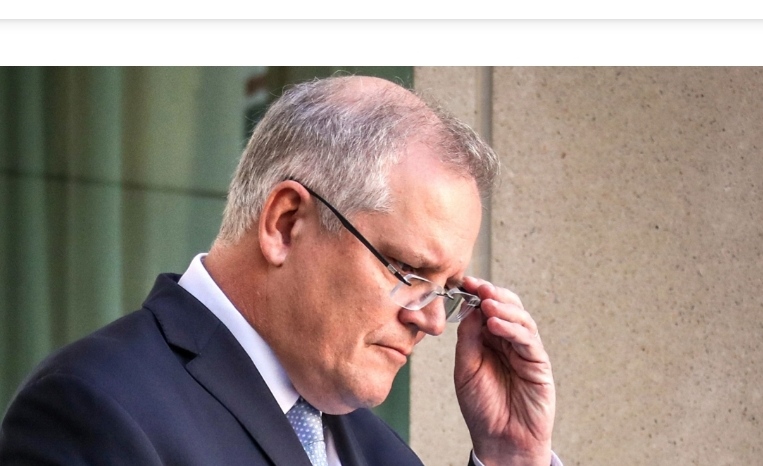 Australia's Prime Minister Scott Morrison during a press conference at Australia's Parliament House in Canberra
Chinese observers have indirectly signaled the obvious, that is, the Chinese Communists are now angry blue and red with what the Australian Prime Minister Scott Morrison's said during a Press Conference. They Said that the provocative remarks made by Morrison could push China-Australia relations deeper into the abyss.
However now the Australians have tightened their belt and ready to take on the Chinese menace, No wonder Morrison called for G7 nations' support of reforms to the World Trade Organization (WTO) to blunt "economic coercion", he clearly meant China.

Australia's trade disputes have increased further and relations are souring continuously with What used to be its largest trading partner – China. Morrison made the remark at the Perth USAsia Center on Wednesday ahead of the G7 meeting that the global rules-based order is "under renewed strain".

"The most practical way to address economic coercion is the restoration of the global trading body's binding dispute settlement system," he noted, arguing it was the best way to blunt Beijing's campaign of "economic coercion" against Canberra and counter Chinese competition in the Indo-Pacific region.
This comment showed that Australia is ready to join the battle with China and in this war has begun to seek allies from every possible corner. Australia is now getting ready for economic decoupling with China, because of the Beijing initiated coercive actions, creating tension between the two countries.
After the initial shock now Canberra is urgently seeking help from its Western partners to rewrite the rulebook on the global economic order based on its interests.
Many other countries too have faced this "economic coercion" by the Chinese directly or indirectly and therefore this call for WTO reforms aims to politicize and weaponize the organization to fight the Chinese Coercive tactics.

Australia's trade with China have further plunged, including bulk commodities such as iron ore, beef, wine, wool, food grain, milk products etc causing initial Panic throughout Australia's economy – especially after China's top economic planner indefinitely suspended all activities under the China-Australia Strategic Economic Dialogue on May 6.
However, Australia has already bounced back and many new markets have opened their doors for the Australian Products.

It is China which will finally face the sharp and of this declining trade. China's imports from Australia was still worth $14.86 billion in April though the growth was just 13% from the previous month. The monthly growth in March was 28% from previous year. This trend clearly indicates that trade decoupling just cannot be afforded by China.
Their pushes for diversification efforts amid icy bilateral relations with Australia is not succeeding. Due to Beef export ban by Argentina, the Chinese are already facing a solid shortage, which may force them to have many meatless days in a week. Unless of course they start getting Australian beef.

The remarks toward China by Australia has been welcomed by Many World leaders. Australia has become the vanguard for the World's fight against Chinese coercion. A campaign, is intended to create a public awareness and gain the backing of like-minded Western countries of the G7 group.

During the G7 meeting, the Australian prime minister will surely try to win support from the US-led G7 nations to unify their stances and policies against China and strengthen the fight against dominating tactics of China. 

China must learn to work with developing countries, especially India and must stop its hegemony in international relations, the cold war of international politics. It must try for a more cooperative global economic and trade cooperation at BRICS summits and G20 meetings instead of going in for trade wars.

The G7 has already invited the Australian prime minister to discuss the Australian Chinese trade Spat. The Taiwan question is also very likely to be covered during the meeting.
India has already started to decouple its economy from China in a phased manner and so has USA. Soon the European Union too may start diversifying. It is then when Chinese will start feeling the heat.