Multi polarity being established : Navies of India, Mozambique conduct joint EEZ Surveillance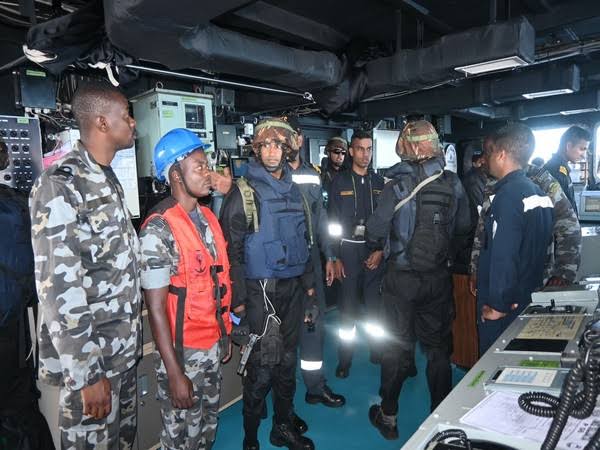 As part of establishing the fact that now it is a multipolar world, The Indian Navy along with Mozambique Navy conducted joint Exclusive Economic Zone (EEZ) surveillance off the Mozambique coast. INS Sujata along with Mozambique Navy undertook maiden joint Exclusive Economic Zone (EEZ) surveillance off the Mozambique coast from March 21 to 23.
Mozambique naval officers embarked onboard INS Sujata during the surveillance and activities, including interrogation, investigation of merchant and fishing vessels, visit Board Search and Seizure (VBSS) operations, and training of Bridge and Machinery watch keepers, Indian Navy said in a statement.
The joint EEZ surveillance will enhance maritime cooperation between India and Mozambique and is in line with Prime Minister Narendra Modi's vision of SAGAR that demonstrates India's commitment towards security and growth for all in the Indian Ocean region.
Indian Navy spokesperson tweeted, "#INSSujata undertook the maiden joint Exclusive Economic Zone (EEZ) surveillance off #Mozambique coast 21-23 Mar 23 with the Mozambique Navy. Visit Board Search & Seizure ops, trg of Bridge & Machinery watchkeepers were undertaken."
In another tweet, the Indian Navy spokesperson said, "The joint EEZ surveillance will enhance #maritime cooperation b/n the two countries & is in line with the @PMOIndia Shri @narendramodi's vision of #SAGAR that reflects India's commitment towards Security And Growth for All in the Region."
INS Sujata, a ship based at Southern Naval Command, Kochi, visited Port Maputo, Mozambique as a part of Overseas Deployment from March 19-21.
The ship was received by Captain Nitin Kapoor, DA Pretoria, Commandant NRN Siva Babu, Coast Guard Afloat Support Team and Captain Florentino Jose' Narciso from Mozambican Navy amidst the fanfare of Mozambican Navy Band and traditional dance performances at the jetty, the Ministry of Defence said in a press release on March 21.
About 40 personnel of the Mozambican Navy visited the ship for Cross deck training, which included a walkaround of training facilities, briefing about diving ops, training on VBSS and light weapons, visual communication and maintenance of machinery and hygiene onboard, according to the press release.
Various other activities such as combined morning yoga sessions and soccer matches were organised between the personnel of the Indian and Mozambican Navy. A reception was also hosted onboard Sujata which was attended by several Indian, and Mozambican dignitaries and diplomats. The Ministry of Defence in the press release noted that the INS Sujata's visit to Mozambique further enhanced the mutual cooperation and bilateral ties between the two navies.