NDTV Frauds & P Chidambaram: A Book Review Commentary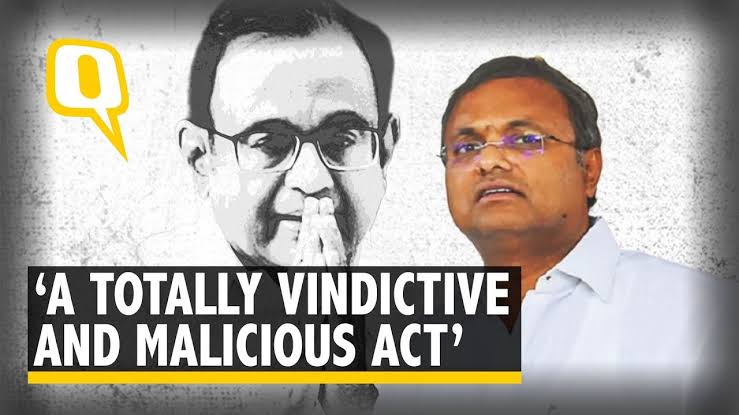 By
Yashovardhan Sinha
With all the drama involving Mr. Chidambaram playing out I decided I must fast-track a book that I had recently added to my Kindle library: NDTV Frauds ver2.0 by Sree Iyer.
As the name suggests, it is quite an explosive book. But Mr Iyer is an NRI computer scientist and it is obvious that writing is not his forte! The presentation leaves much to be desired.
The book exposes various frauds allegedly committed by Pronoy Roy and his faithfuls like Barkha Dutt and Vikram Chandra. It also casts very dark shadows on Chidambaram. And, surprise surprise, puts Arun Jetley also under cloud.
NDTV was set up in the 1980s and its questionable conduct began almost with its setting up. In 1988, NDTV got a contract from Doordarshan to produce a famous weekly show that we all looked forward to, The World This Week, which was anchored by the owner Prannoy Roy.
Doordarshan paid Rs. 2 lakhs per episode to NDTV, which was a princely sum in those days. The head of Doordarshan at that time was Bhaskar Ghose and his son- in- law journalist Rajdeep Sardesai became the No. 2 in NDTV. DD virtually hand-held NDTV and its resources and infrastructure were freely used for the fledgling's growth.
Prannoy Roy appointed sons, daughters, in- laws, nephews and nieces of top officials and politicians in NDTV as journalists. This show of nepotism in journalism changed the style of journalism as access to corridors of power became easy for media houses.
To quote the author, "Hiring a novice reporter of Times of India, who was barely drawing a monthly salary of about Rs. 7,000 (Rajdeep Sardesai) for about Rs. 75,000 a month as Political Editor of NDTV because he got married to the only child of incumbent Information and Broadcasting Secretary (Bhaskar Ghose, IAS West Bengal) or an incompetent small time stringer (Abhisar Sharma) for his IRS spouse Shumana Sen for a whopping salary of Rs. 70,000 per month are but a few instances of sinecure appointments or, to be more accurate, an alternate way of paying bribes."
After inking favourable deals with Doordarshan, Roy received help from key people in Government in 1997 to clinch a deal with Rupert Murdoch's Star TV (it may be noted that Roy had not yet launched his own news channels). Roy's benefactors made it clear to Rupert Murdoch: if you want business in India,
you must ally with NDTV. A five- year contract was signed between Star and NDTV for a regal sum of 20 million dollars per year. The launch of the Star News channel happened at the then Prime Minister I K Gujral's official residence in February 1998. A top official of Doordarshan who helped Prannoy Roy build his empire was Ratikanta Basu, who later got a plum job with Star News. This was a clear case of quid- pro- quo.
But soon after this, misuse of Doordarshan resources got reported and in 1998 the CBI registered a First Information Report against Prannoy Roy and several officials in the ministry of I&B and Doordarshan for conniving to siphon off public money. Investigations revealed malpractice of around Rs. 5 crores by Roy and others from Doordarshan's exchequer.
But luck came Prannoy Roy's way, when his long-time friend Arun Jaitley became the Information and Broadcasting Minister in October 1999 in the Vajpayee Government. All CBI moves to act against NDTV and Prannoy Roy for causing loss to Doordarshan were put in the deep freezer.
Support for NDTV cut across party lines. Even the Left parties supported it because Radhika Roy is the sister of Brinda Karat. And although NDTV is known as a Congress supporting channel, the fact is that many BJP leaders including the late Pramod Mahajan and Sri LK Advani have supported the company.
In fact the NDA regime of Vajpayee granted it two licenses to run news channels in India– NDTV 24×7 and NDTV India. These English and Hindi news channel licenses were granted to NDTV and Prannoy Roy, even though he and NDTV were under CBI investigation for cheating public broadcaster Doordarshan.
But it was always under Congress rule that NDTV really flourished. Its clout reached ridiculous levels when in 2013 President Pranab Mukherjee went to the extent of allowing NDTV to conduct its 25th anniversary in Rashtrapati Bhawan! This was the only instance when Rashtrapati Bhawan was thrown open for a private function.
Iyer lists out various dodgy financial deals and transactions of Roy. For example in 2008 Income Tax department found that NDTV received Rs 642 crores from NBC Universal Inc and Universal Studios International BV in USA. This money was routed via Bermuda and then through a shell company in Netherlands named NDTV Networks International Holdings BV.
Even more curious than the route was the fact that these American investors paid Rs. 7015 per share, which was 159 times its face value of Rs. 45.
This illegal money routing happened when Chidambaram was the Finance Minister and the money came from two subsidiaries of US giant General Electric (GE) viz. NBC Universal Inc and Universal Studios International BV. If it was a legitimate deal, the US Companies would have remitted directly to NDTV's India office.
So what was really happening? Those days in 2006 to 2008, GE was trying to bag a Rs. 16,000 crores deal from Indian Railways (then under Laloo Yadav). Union Minister P Chidambaram had been the lawyer representing GE in India till he became Minister. Many cabinet ministers were supporting this deal.
Needless to say that GE's proposals had the blessings of the then Finance Minister P Chidambaram.
Without Finance Minister's support huge contracts worth more than Rs. 16,000 crore would not have seen the light of the day. It is probable/possible that NDTV was the conduit for speed-money. (The deal fell through as from 2010 onwards, the country started witnessing a huge wave of anti- corruption movements after the exposure of 2G Scam.)
Some of the deals described by Iyer are so layered and convoluted that I found it impossible to follow the thread. But one involving ICICI Bank and its first MD & CEO KV Kamath held my attention. NDTV had taken a loan from India Bulls. But it was reporting losses and its share value had tanked. Therefore India Bulls called up the loan. Enter ICICI Bank.
By now Pronoy Roy had formed a shell company in his and wife's name– RRPR Holdings Private Limited. RRPR expands to Radhika Roy Prannoy Roy. In October 2008 ICICI Bank gave RRPR Holdings a loan of Rs. 375 crores, part of which was used to repay India Bulls. The sanctioning of this loan flouted all lending norms and the loan itself has since been classified as an attempt to defraud the bank.
In 2015 the IT Department found that in October 2008 itself Prannoy Roy and wife siphoned off Rs. 92 crores of this ICICI Bank loan into their personal accounts as interest free loans (the company had borrowed from ICICI Bank @ 19%).
Soon Income Tax also found that in March 2010, Prannoy Roy siphoned off another sum of around Rs. 54 crores to his personal account. The total amount siphoned off from this loss-reporting company to the personal accounts of the Roys comes to Rs. 146 crores.
The author feels that so many of NDTV's dubious transactions are in the public now that the Roys and their collaborators will find it impossible to escape conviction. But there is a wide gap between public knowledge and court-acceptable evidence and by experience we know that it is in this no-man's land that the big boys rule. So let's wait and see which way the cookie crumbles.