Pakistani establishment scared as Chinese National Arrested in Pakistan on Blasphemy Charges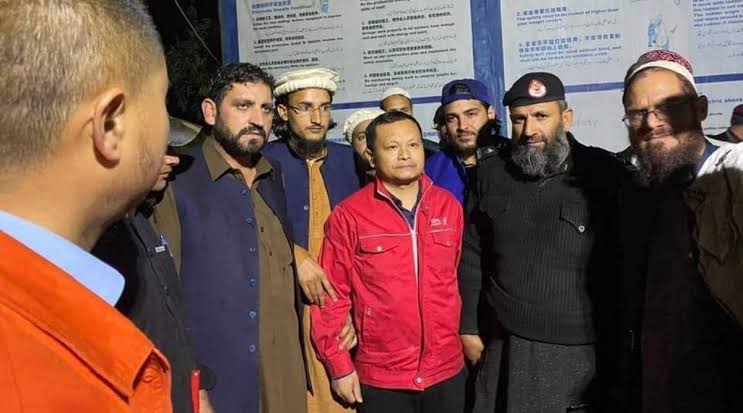 A Pakistani worker alleged that his Chinese supervisor scolded him for dodging work under the pretext of Ramzan prayers. Both work for the Dasu Dam hydroelectric gravity dam which is under construction in Kohistan district.
Preliminary reports confirms this incident that a Chinese officer in Dasu Dam scolded some employees for spending more than the designated time for Tarawaeeh prayers which led to an argument and a false blasphemy accusation.
The Chinese national was then arrested on charges of blasphemy. He was shifted from Upper Kohistan to Abbottabad in a Pakistan Army helicopter on Monday afternoon over safety fears, as per Komila Station House Officer Naseeruddin.
The above has totally scared the Pakistan Govt as any mistreatment of Chinese national will surely invite grave reprisals.
While confirming the arrest, SHO Naseeruddin said that a first information report (FIR) had been registered against the Chinese national at the Komila police station.
The complaint, a copy of which is available with Dawn, invokes Section 295-C [use of derogatory remarks, etc., in respect of the Holy Prophet (Peace be Upon Him)] of the Pakistan Penal Code.
Blasphemy is a hugely sensitive issue in the country as even rumours of sacrilegious remarks can incite lynch mobs and deadly violence.
The accused, who works at the Dasu Hydropower Project, was taken into custody by the Komila police on Sunday night after labourers at the site accused him of blasphemy, reported Dawn.
Police identified the man as Tian from China and said he was arrested on Sunday night, hours after hundreds of residents and labourers working on the project blocked Karakoram Highway and rallied to demand his arrest, reported Pakistan Today.
Hundreds gathered again on Monday morning and stormed the main district police station, believing the man was hiding in the building. But officials, fearing the man might be attacked, had moved him to another district by military helicopter.
A local administration official in Dasu, around 180 kilometers north of the capital Islamabad, said the army and paramilitary troops were deployed "to ensure the safety of the engineers," reported Business Recorder.
The Dasu Dam construction contract was awarded to the China Gezhouba Group Company in 2017, and the project is shrouded by tight security.
Mob attacks on people accused of blasphemy and even lynching attacks are common in Pakistan. Rights groups say blasphemy accusations have often been used to intimidate religious minorities and settle personal scores.
In February 2022, a middle-aged man was stoned to death by a mob over the alleged desecration of the Holy Quran in a remote village of Khanewal district.
The killing had come on the heels of an identical incident in Sialkot, where a Sri Lankan engineer was lynched by factory workers on Dec 3, 2021, on blasphemy charges, reported Dawn.
In January 2022, the Centre for Research and Security Studies (CRSS) in a report stated that as many as 89 citizens were killed in 1,415 accusations and cases of blasphemy in the country since independence. The report said that from 1947 to 2021, 18 women and 71 men were extra-judicially killed over blasphemy accusations. The allegations were made against 107 women and 1,308 men.
Out of the total, 1,287 citizens were accused of committing blasphemy from 2011- 21. "The actual number is believed to be higher because not all blasphemy cases get reported in the press," the report had said, adding more than 70 per cent of the accused were reported from Punjab, reported Dawn.
The report had said misuse of blasphemy laws is often described by courts as an unlawful act. It had said the Islamabad High Court had previously suggested to the legislature to amend the existing laws to give equal punishment to those who level false blasphemy accusations.