PM Modi and PM Dahal jointly flag off cargo train from Bathnaha to Nepal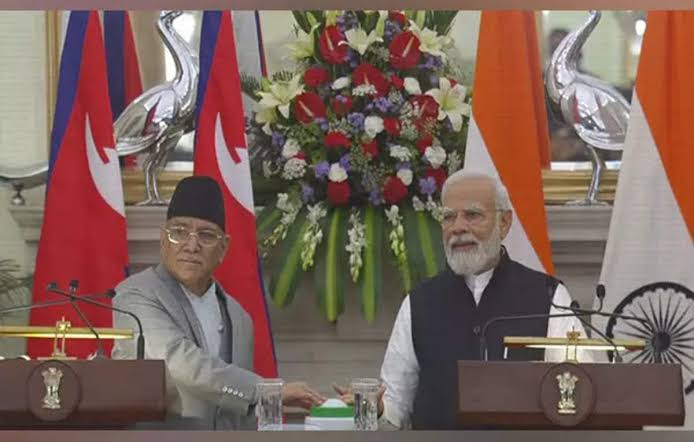 Nepal Prime Minister Shri Pushpa Kamal Dahal 'Prachanda' arrived in New Delhi on Wednesday. Upon arrival, he was received by Union Minister Meenakashi Lekhi. Prime Minister Dahal Prachanda had assumed office in December last year is on an official visit to India from May 31-June 3. This is his fourth visit to India.
The Ministry of External Affairs official spokesperson Arindam Bagchi tweeted, "Nepal PM Pushpa Kamal Dahal arrives in Delhi, receives warm welcome by MoS Lekhi, PM @cmprachanda of Nepal arrives in New Delhi on his first overseas visit after assumption of office. Warmly welcomed by MoS @M_Lekhi at the airport. The visit will impart renewed momentum to the close and unique India-Nepal relationship."
PM Modi welcomed 'Prachanda' at the Hyderabad House and both had talks for deepening the bonds of friendship and cooperation between the two countries. Earlier in the day, Nepal Prime Minister Pushpa Kamal Dahal 'Prachanda' laid a wreath at Raj Ghat in New Delhi. He also wrote in the visitor's book at Raj Ghat.
After the talks, there has been exchange of seven agreements between India and Nepal in the presence of PM Modi and Dahal on infrastructure development, connectivity and people-to-people ties.
The exchange of MoU took place between the Institute of Foreign Affairs, Nepal, and the Sushma Swaraji Institute for Foreign Service, India. Exchange of MoU between two sides for the development of ICP at Dodra Chandani. An exchange of project development agreement of Lower Arun hydroelectric project.
Thereafter Prime Minister Narendra Modi and PM Pushpa Kamal Dahal 'Prachanda' jointly unveiled the e-plaque of the Kurtha-Bijalpura section of the Railway. Both leaders jointly flag off the Indian Railway cargo train from Bathnaha in Bihar to Nepal Custom yard.
They also jointly inaugurated the integrated check posts at Rupaidiha in India and Nepalgunj in Nepal, built with India's assistance. The two leaders also unveiled the integrated check posts at Sanauli in India and Bhairahawa in Nepal.
They also jointly set into motion the Gorakhpur-New Butwal substation 400 KV cross-border transmission line. The two leaders laid the foundation stone of Phase II of the Motihari-Amlekhgunj Oil Pipeline between India and Nepal.
The two leaders inaugurated the projects after the delegation-level talks. The agenda in the talks included bolstering the ties between India and Nepal in the economy, energy, infrastructure, education and people-to-people contacts.
Ministry of External Affairs official spokesperson Arindam Bagchi tweeted, "Delegation level talks led by PM @narendramodi and PM @cmprachanda of Nepal get underway. Agenda includes bolstering our age old ties through enhanced connectivity in areas of economy, energy, infrastructure, education & people to people contacts."