Russian Defence supplies to India now well streamlined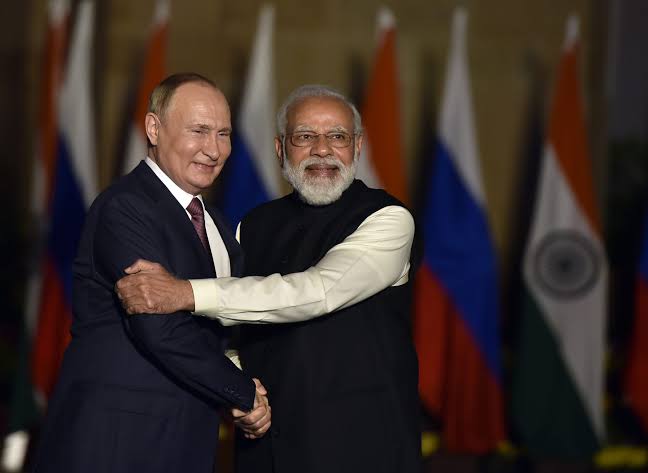 India, had no choice left but to turn to Russian armoury in the early 1960s when UK started playing games in selling the latest weapon systems to India. Soon even the USA followed suit. Western Arms and Equipment were out right denied or solid strings were attached or they we're just too costly. Though the same people were supplying these same items free of cost to Pakistan, their CENTO friend.
As a contrast, Soviet Union offered the latest and at the cheapest rate possible, with no strings attached. During the 1971 war, the weapon systems bought from Soviets not only helped create Bangladesh but also hammered out the much vaunted latest Western equipment in the hands of Pakistani Armed Forces.
Thereafter Soviet Union followed by Russia also helped out India to establish indigenous production of many of the weapon systems. Russians helped us in making a world beater BRAHMOS and even in making of our own nuclear powered Submarine ARIHANTand of course the cryogenic rocket engines.
Today we are designing our own systems and have started producing them even for export, all thanks to our solid friendship with Russia. yearUSA on the other hand had nearly succeeded in sabotaging our Cryogenic project.
Now some ignorant are deliberately trying to spread misinformation that about 90 percent of the Indian Army's equipment comes from Russia, while the Indian Navy's share of Russian equipment is estimated at 40 percent. Around 70 percent of the equipment of the India Air Force (IAF) is of Russian origin. These are clever half truths being spread out by US think tank Stimson Centre, to break the Indo Russian friendship.
Like the West, in India we don't discard and throw away something just after some usages, we use it till they can be used. So even today when we have started indigenous production of nearly every thing required for defence, Some 10% of the equipment may still be of items imported from Russia and another 40 % of the items in service are of Russian design but assembled / license produced in India.
Of the rest just about 15% are imported from the West but balance 35% are Indian designed and manufactured items. So over a period of say next 15 years most of the foreign supplied systems will have Indian replacements.
Yes, the nine-month-long Ukraine war has come as a disrupter to our defence imports as Russia is still the biggest source of defence supplies to India. However initial hiccups have been overcome. Now half of the crucial S 400 missile systems are already in and well deployed, rest is in pipeline.
This has taken place in spite of the Ukraine conflict and the famous IMPERIAL FARMAN of the USA the CATSA. The delivery of S-400s faced initial delays but now are well streamlined. Even with the Ukrainian war prolonging, the Russian supply chains impacted initially are now fully functional.
The two Talwar Class Frigates under construction in Russia should be joining the Indian Navy soon. The delay has been just for six months. Even the two Talwar Class being built in Goa are progressing well. Still no doubt the Ukraine war has hastened India's defence indigenisation push is beyond doubt.
In March this year, India issued a list of 107 subsystems that are to be banned from import and indigenised over the next six years. Several of the items on the list are meant for T-90 and T-72 tanks, warships, helicopters, infantry combat vehicles, missiles, ammunition and radars, among others, all of which are procured from either Russia or Ukraine. The Department of Military Affairs is collating information from all the three services to understand the full volume of Russian supplies.
The above has nothing to do with the Indo Russian solid friendship but resolve for ATMANIRBHARTA given the two-front tensions that India faces, including an ongoing, two-year-long battle of attrition with China in Ladakh, where we need to attain full offensive capabilities to liberate Tibet and even East Turkmenistan.
The Western world is now even resorting to fake news regarding S400 defence system that it is not as infallible as thought earlier. Indians don't get swayed by such news, we know what MiG21 Bison did to F16 and in 1965 and 1971 what happened to the Patton tanks. So Indian Armed Forces are not perturbed by news that Ukrainian aircraft and missiles have managed to regularly pierce the anti-access bubbles supposedly created by the Russians over their troops or military bases.
Former IAF chief R K S Bhadauria rightly said "We too have heard of this attack, but there is no confirmation. However, India has its own plans to defend S-400 systems. After all, our enemies have a better attacking arsenal than Ukraine, but Indian defenders are also better placed." The super Ukranian fighters are even claiming to have destroyed over 2000 Russian Tanks. So now why is NATO still worried about the Russians. They must celebrate.
However the aim of spreading such news is just to sell the US Javelin anti-tank missiles and UK-produced next-generation light anti-tank weapon missiles (NLAWs). "Javelin and NLAW are very potent," Nick Reynolds, research analyst in land warfare at the Royal United Services Institute (RUSI), England, told BBC, adding that "without this lethal aid, the situation in Ukraine would be very different". India will not these anti tank missiles even with a barge pole. We have better ones of our own and ofcourse the the still going strong Russian ATGMs and Air Defence missiles whose shelf life has been extended by Indian Scientists. So Konkurs anti-tank-guided missile (ATGM), Kornet ATGM, OSA surface-to-air missile (SAM), Pechora SAM, Strela SAM and the Igla SAM. Besides, Smerch and Grad, the multiple rocket launcher systems in use with the Indian Army, are still going strong.
West is able to understand the large-scale, blockbuster deals for equipment such as fighter aircraft, submarines and India's flagship aircraft carrier, the repurposed Admiral Gorshkov that now sails as INS Vikramaditya. However what gets the American goats is that deals with Russia have often included lower-scale projects based on domestic development and production, such as the recent $677 million arrangement to jointly produce over 600,000 AK-203 assault rifles in India, the most popular gun in the hands of Indian soldiers.
In a March 2022 Australian think tank Lowy Institute, said "Militarily, a Russia at war (or on a war footing) will be less capable of providing India with critical defence equipment… Moreover, economic transactions of all kinds with Russia will be more difficult amid wide and severe international sanctions involving virtually all US allies. There are also political implications: it will be harder for Russia to provide support or even neutrality to India in the event of a China-India clash given Moscow's growing economic and political dependence on Beijing."
West forgets the true meaning of word WORLD or INTRRNATIONAL. With India and China not being part of it, there is nothing left of the WORLD or INTERNATIONAL. So In spite of US and its Allies sanction on Russia, India is now buying 24 % of its oil from Russia whereas earlier it used to be just 2%.
So West should stop all such nonsense with India and just try to be friends on basis of equality.