Sab Kuch Ram Bharose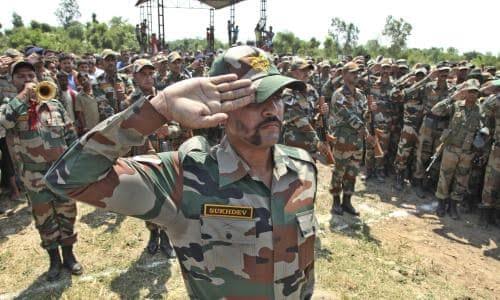 By
Colonel Harjinder Singh, Sena Medal (Retd)
I was commissioned in July 1988 into 9 JAT located at Chaubattia (Uttarakhand). On completion of attachment at Jat Regimental Centre, Bareilly I was asked to join the unit and a 1 Ton ( military vehicle) was sent to pick me up. My buddy in Centre was from 9 JAT too. He warned and cautioned me to be careful since I was to be driven to the unit by a driver with the name of *Sepoy Ram Bharose*.
Finding me little tense during journey, Ram Bharose broke his silence and said, "Saab Ghabrao nahi, mera naam zaroor Ram Bharose hai par aap unit safety se pahunch jaengay". There was little more interaction and I soon realized that Ram Bharose was quite sharp and shy but intelligent. I reached unit safely and got busy with regimental life.
Few years later suddenly Sepoy Ram Bharose was in news. My buddy excitedly broke the news "Saab, Ram Bharose ney 2IC saab ki jeep thokh di". That was the end of Ram Bharose since 2IC was CO (designate). I met Ram Bharose and assured him all would be well.
A few years down the lane I was appointed Adjutant of my battalion. Once I had settled in the chair, I detailed Ram Bharose to undergo a pre-course on weapons. He did extremely well on the pre-course but the CO refused to send him on course for reasons best known to him.
Few years passed by when one day while I was on staff posting I received a special BRO of my unit, which read "Commanding Officer was pleased to inform that Havildar Ram Bharose has been awarded AX grading in Platoon Weapons Course". For me, this was an excuse to open my Old Monk. When I returned to 9 JAT after my staff tenure I was received at the railway station by non other than Ram Bharose, who was the MT Havildar of the battalion. We celebrated his AX grading along with his promotion with the MT Platoon boys. After few drinks I asked MT JCO " Dhuli Saab, MT Platoon kaise chal rahi hai", and prompt came his reply "Saab, sab kuch Ram Bharose chal raha hai".
In Sept 2002, polling for assembly elections were taking place in the UT of Jammu & Kashmir. Due to proximity to enemy, Commanding Officer had warned everyone to be careful of enemy's sinister designs to disrupt the polls. Due to paucity of officers Naib Subedar Ram Bharose was made in-charge to coordinate the security of rear area. On 16 Sept 2002, at around 3 pm we suddenly heard a massive exchange of fire from the general direction of the rear location. No one knew what was happening. I inquired from Adjutant, he too was lost and said, "Sir, sab kuch Ram Bharose hai". After some time Adjutant was on line saying " Sir, Ram Bharose ney teen ko thok diya hai". Ram Bharose with four other drivers of MT Platoon had rushed towards village Manpur where grenades had been hurled on the polling booth by terrorist. Going beyond the call of duty, Ram Bharose led his team from front and without worrying about his safety knocked down three terrorists in just about ten minutes. Naib Subedar Ram Bharose was awarded Chief of Army Staff Commendation Card for his act of bravery. Till date, I feel he deserved much more recognition then what he got, probably he was destined for this recognition only.
In the year 2006, I took over the command of 34 Rashtriya Rifles (JAT). In one of interview parade, to my surprise, I found Ram Bharose standing with his posting order. Having been promoted to Subedar he was sent for RR tenure.
In the evening, I called for Ram Bharose to my office, and inquired about our unit. While leaving my office he had a request, "Saab, mujhe MT mein maat dalo, mai bhi kaam kar sakta hoon". I asked about his choice, prompt came his reply, "Saab, aap ki QRT".
Despite reservations by Adjutant and Subedar Major, Ram Bharose's journey as boss of CO QRT commenced. Operation after
operation Ram Bharose ensured CO's QRT was never at Ram Bharose's mercy but always well prepared for every operational task. During number of firefights, I noticed he maintained his cool and showed no fear on his face. He proved beyond everybody's expectations but yet joke in the battalion was "CO Saab, Ram Bharose chal raha hai". He finally bid good bye to 34RR (Jat) in 2009 after earning three outstanding operational reports.
Four years later in 2012, Four JCOs from 9 JAT were under review in DPC for the rank of Subedar Major. Everyone in 9 JAT was putting their stakes on the other three JCOs. When result was finally declassified, it was only Subedar Ram Bharose who was approved for the rank of Subedar Major.
Having been Subedar Major of 9 JAT for four years Ram Bharose finally retired as Honorary Captain with full military honour and respect of each one of us.
*Lessons from the story*.
*Lesson No 1*. Never judge a person by his name, colour, creed or caste.
*Lesson No 2*. While your name is given by your parents, it is you, who decides your journey and its destiny.
*Lesson No 3*. Never blindly go by anybody's judgement on a person unless you have physically seen and met him yourself.
*Lesson No 4*. Life never denies you your legitimate right and honourable place provided you have the zeal to excel.