Surprised China Questions India's capacity to produce high-quality vaccines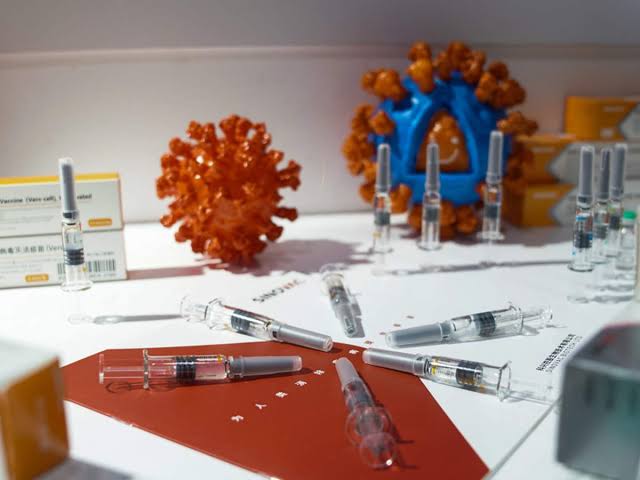 China had got used to the Americans backing down at the lat minute against the Chinese "onslaught " in various arenas. So nonchalantly they went for landgrabbing at Dokalam in Bhutan and got the first surprise in decades. With the Indian Army standing firmly to help Bhutan, the PLA could do nothing except pulling back.
Then to teach India a lesson, in the guise of a massive military exercise in Occupied Tibet, the PLA suddenly turned aggressive and tried to exert extraordinary pressure in parts of Ladhak occupied by them. India was indeed surprised a bit and but then the PLA carried out an attack on Indian Army troops at Galwan, across the LAC.
The Colonel Commanding and 19 Indian soldiers laid down their lives but not before inflicting 40 dead and over 45 as wounded on the PLA. And then India took immediate action to neutralize all the initiatives of the PLA. This was yet another surprise to the PLA, who through Communist propaganda had been led to believe that they are the most superior fighters on this planet. They were shown their exact condition by Indian Army hardened by battles over the years.
Similarly since the last few months Chinese thought that they were way ahead than the Europeans and the USA in the race to manufacture Covid 19 vaccine. For them India was nowhere. Suddenly the world and China have been surprised by India producing two very effective Vaccines and way ahead of others. India started its first stage of vaccination on 16 January and by 24 January had even gifted considerable quantities of these vaccines to most of its neighbouring countries who always maintain solid friendly relationship with India.
In between there was a news, surprisingly it made headlines in certain media group, that there was fire in one of the Covid 19 manufacturing facilities. Unfortunately six people lost their lives in this incident. However this fire had taken place in a building under construction, though located in the same campus. So the sad incident otherwise did not affect the on going production in any way.
However, how happy the Chinese Communist Party was on hearing this news of fire, that their Observers and Chinese Party netizens even questioned India's capacity to manufacture and produce high-quality vaccines. They thought that the fire ravaged the plant totally and India's biggest vaccine makers had come to a stabdstill.

Pictures and videos circulating online showed the blaze, but Indian media reports and the company itself, the Serum Institute of India (SII), said the accident would not affect the production of COVID-19 vaccines.

There will be no impact on vaccine production as the company has other facilities "kept in reserve to deal with such contingencies," Adar Poonawalla, the firm's CEO, tweeted on Thursday night. Naturally, there will be no effect, as the fire took place in a building under construction.

But some Chinese netizens have questioned how such a fire could not affect stockpile plans. This shows that mentally Chinese have accepted defeat

"The fire was likely caused by some electronic fault, which would affect the company's functioning. This is a basic supply chain problem," an Twitter user said.


Murlidhar Mohol, mayor of Pune city in southern Maharashtra state where the SII plant is located, said that the extent of the damage was not immediately clear, AP reported, noting that dozens of company workers in lab suits were leaving the compound as firefighters worked to extinguish the blaze.

Analysts said that as the accident occurred at India's largest vaccine manufacturer, it may affect people's confidence in high-quality vaccine production. …….This is what the Chinese want the world to believe.

Fires are not uncommon at factories in India, and are mainly caused by electricity faults, Tian Guangqiang, an assistant research fellow with the National Institute of International Strategy at the Chinese Academy of Social Sciences, told the Global Times on Friday.

Also, many companies do not have the capacity to produce qualified vaccines, and they cannot increase capacity quickly, Tian said, adding that the coverage from the Indian media is mainly intended to stabilize the situation and ease fears.

India started one of the world's toughest inoculation projects on Saturday, aiming to vaccinate 300 million people by July with the SII-produced Covishield and Covaxin, made by another local firm, Bharat Biotech. The country has also offered its vaccines to nearby countries, including Bhutan and the Maldives, followed by three million doses offered to Nepal and Bangladesh, Aljazeera reported.

Some Indian people have expressed dissatisfaction about India's "vaccine diplomacy," saying India should distribute vaccines to Indians first.

It's clear that India's vaccine production is not enough to match its ambition, Tian said. "Vaccination of 300 million people by July needs 600 million doses, which means that India needs to produce at least 100 million doses per month, without counting exportation."

SII is producing more than 50 million doses a month according to the BBC, and it also plans to supply 200 million doses to Covax, a WHO-backed effort to procure and distribute inoculations to poorer countries, Aljazeera said.

India's vaccines are mainly supplied to South Asian countries, as a form of gift. Many countries now seeing the effectiveness of the vaccines vis vis established Western brands are now placing orders for the Indian vaccines whose price too is quite affordable and not a LOOT like others. As far as Chinese Vaccine is considered, the world is aware of the quality !!!

Though The All India Drug Action Network, a rights group formed by lobby of Medicine Companies from Europe and USA, has already struck back by saying "the approval of SII-produced Covishield has been rushed as the manufacturer has not completed a bridging study for the vaccine. The company has said it will try to conduct the bridging trial of the vaccine in India in February", according to the BBC.
So even the Western Companies cannot stomach the fact that an Indian Company has beaten them in their own game. Price wise too, the Indian Vaccine costs just Rs 200/- compared to nearly 1500/- and Rs 5500/- of two famous international companies if the West.