TEJAS fighter nixes US Dream of selling F35 to IAF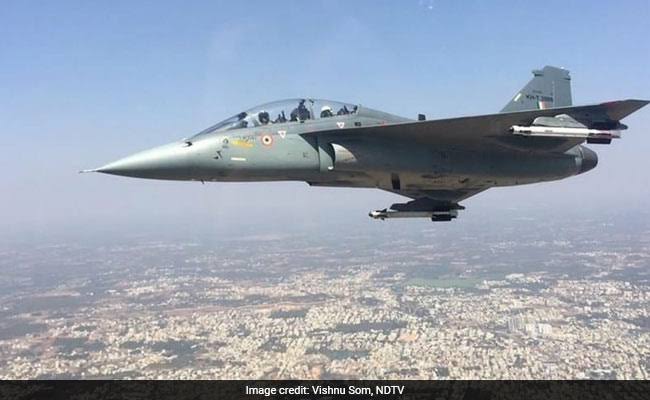 After realizing that IAF had absolutely rejected the obsolete F21 a dressed up version of F16, the US began plans of selling the overhyped and the same time highly priced F35. Aim was to somehow lure India and turn QUAD into a military bloc. However the success of Tejas series has ended all this but still Biden and General Electrics of USA should be happy because their F404 and F414 engines will still be in demand by India in large numbers for sometime at least.
Presently Indian designed/Made in India component of the IAF fighter comprise two Tejas Mk1 Squadrons, three MiG21 Bison Squadrons, four Jaguar Squadrons (out of six) and 12 Sukhoi 30 MkI Squadrons (out of nearly 15) ie total of 21 Squadron. It implies that out of 33 fighter Squadrons currently in service, 66.6% have been manufactured / assembled in India by HAL.
So the initial aim of having at least 50% of the fighters to be Made in India has already been achieved. The next aim to be set should be having 75% of the fleet with indigenously designed fighters.
In this the TEJAS as a design has been a huge success. With HAL having shed its sloth and inefficiency, it has received enthusiastic support also from the Indian Air Force. Senior IAF Commanders, Squadron Commanding officers,, and pilots all now are eagerly waiting to see at least 75% of the fighter strength of the Air Force being equipped with indigenous combat aircrafts.
The 'Made in India' program has been changing the Ethos of the defence industry since 2014. Starting as an initiative to have more of the components for the military platforms locally manufactured, today 'Made in India' has started changing the entire eco system of Indian defence.
The minimum requirement for a two front war is 54 Squadrons. Therefore our aim should be to reach as close to this figure as possible by 2030. HAL has already established a capacity to manufacture 24 Tejas per year with effect 2025-26. So with little bit of push from all stakeholders right from Parliament downwards, HAL should be able to achieve production of indigenous 120x Tejas Mk1A, 80x Tejas Mk2 and at least 16 x AMCA aircrafts by 2030 ie addition of 11 Squadrons.
However out of existing 33 Squadrons, by 2030, three remaining Bison Squadrons and two of the six existing Jaguar Squadrons will have retired. So even with the new Squadrons, the IAF will still have only 39 Squadrons. This means that we have to coax the Russians to give us that MiG29 squadron, already ordered, at the earliest to bring the total to 40 Squadrons.
Next the French will have to be ordered to supply four more Rafale Squadrons through Make in India and similarly the Russians to supply four Squadrons of SU57 MkI through Make in India. This will ensure that by 2030 we have 48 Squadrons of fighters.
With things progressing as per plan, the IAF line up in 2040 should be
8 x Tejas Mk1A Squadrons
10 x Tejas Mk2 Squadrons
9 x Tejas Mk3 squadrons ( with Indian engines )
12 x AMCA Squadrons
14 x SU30 MkI squadrons
6 x Rafale Squadron
4 x SU 57 MkI Squadrons
Thus with 63 Squadrons the IAF should be able to not only defend a two front war but also carryout deep strikes on both the fronts. Also 81 % of the fleet will have become indigenous. By this time the first of our AHCA should have taken to the skies and soon start replacing the aging Su 30MkIs.
The MiG-29 M still remains a very formidable unbeatable adversary for any Chinese naval fighter which PLAN can dare send into the Indian Ocean. The numbers available with Indian Navy can equip both INS Vikramaditya and INS Vikrant. However around 8 x Naval Tejas on each aircraft carrier should be able to provide complete air defence CAP over each Carrier Battle Group, leaving the MiG29Ms free for strike missions.
A naval Tejas has already carried out the first landing on the deck of INS Vikrant. This has led to a debate within Naval HQ whether they should order 16x naval Tejas fighters.
An Army Colonel who has written a book with Naval perspective NAVIGATING DANGEROUS WATERS has recommended in his latest article ordering of two Squadrons of Naval Tejas Mk1 straight away. One squadron to be utilized for shore based training and the other on board the two carriers. Thereafter he says that four more Squadrons of Mk1A version of this naval fighter should be ordered @ one squadron for each naval command including Andaman Command for providing shore based support. Later a squadron each of Mk1B version can equip the six 75000 ton Carriers which the Indian Navy will invariably will have to be provided. For these Carriers the TEDB fighters under development will be the combat Squadrons. The first of these Carriers should be entering service by 2033.
The hopes of the US, to launch their F18 from the deck of INS Vikrant have been dashed. Although IN is likely to get 26 naval Rafales for its Carriers to fill the gap till arrival of TEDB fighters.
The 5th generation AMCA the under development jet should as per plans lead to the MK-2 version which will be a sixth -generation fighter. All the key systems of the aircraft are currently being developed – the stealth technology, the avionics, the sensors and the cockpit, the armament, and the power unit.
TEJAS variants are soon going to enter even the international market. There are many airforces with small budgets for whom these formidable fighters at a much cheaper price will be very attractive.