Tough Military Posture By India Stops PLA In Its Tracks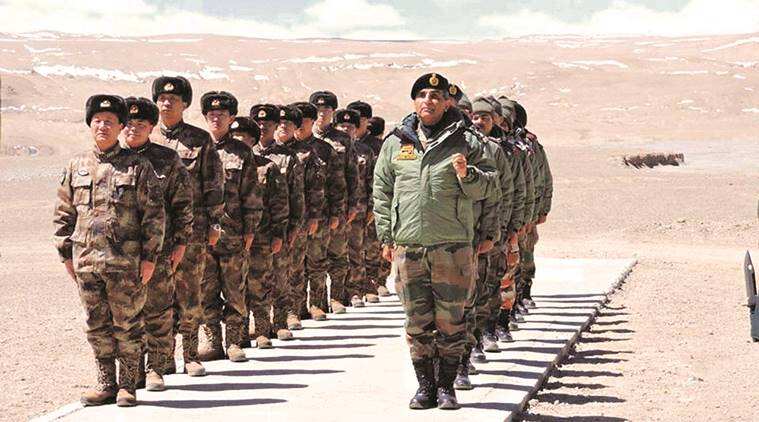 By
Colonel Awadhesh Kumar, Veteran
India has now started wielding a joint diplomatic – military initiative to tackle the belligerent expansionist China. Therefore as Chinese PLA has been deliberately stalling their withdrawals on the Indo Tibetan Border, the Indian Chief of Defence Staff General Bipin Rawat said that "military options to deal with transgressions by the Chinese army in Ladakh are on" if the ongoing diplomatic and military talks with China don't yield any results.
Chinese analysts by now have closely observed India's recent military moves along the Line of Actual Control (LAC). They know that Indian Army has remarkably ramped up its deployment of troops and weaponry, including tanks and artillery, into various sensitive areas.
They along with senior PLA Commanders also have come to realize that there is now no gap in the military capability between China and India. In fact along the Indo Tibetan Border, India is in a better position, not only to defend but also to take the battle into Tibet.
However India will not launch any attack unilaterally. The Indian military will surely use such rhetoric and moves as leverage in its negotiations with China. However if situation changes then there will be no hesitation in creating a situation where the Tibetan Government in Exile is able to get an free enclave in Tibet to function from.
Although the Indian military has expressed its tough position, the Indian government remains hopeful that tensions could subside. Indians are now aware that by attacking at Galwan, the Chinese have bitten more than they can chew upon.The biggest crises lie within China with COVID-19 and economy putting considerable pressure on the administration of XI Jinping. Not only the Chinese people are wary and disillusioned, there is a rift within the Party itself.
China has also drawn battle lines with most of the Countries in the Indo Pacific including Japan and Australia. It is also in a big trade and diplomatic war with USA and most of the Western Europe. Even the Arab world has turned against China because of its growing closeness with Iran and Turkey.
The economic decoupling started by India has started gathering speed and many other countries have started to follow it. Most of the Multinational companies are in the process of shifting their manufacturing from China to India and some of them have already done so.
India has started to talk of "military options" in sharp contrast to its earlier call for communication to deal with differences because Chinese do not listen to any peace overtures. India's tough stance toward China is the result of total synergy between the Political, Military and the Diplomatic leadership of the country.
China's attitude, on the other hand, is completely Opaque. China has shown its aggressiveness but at the same time now it does not want conflicts with India to break out. It hopes to sweep the problems under the carpet through prolonged negotiations and subterfuge. At present, the dialogue is open and going on. China feels that it can lull every one on the borders and at the same time continue with its trade and commerce with India with advantages.
However India has made it quite clear that there will be no business as usual, till complete resolution of the Indo Tibetan border.
India has also started to strengthen its various bilateral agreements with other friendly countries and this includes matters security. New Delhi will sign an important military logistics agreement, the Acquisition and Cross Servicing Agreement, with Tokyo in September. New Delhi has already signed a military agreement with Canberra recently, and Australia reportedly will also be invited to participate in the Malabar naval exercises.
These bilateral actions are for creating a more peaceful world and not directed towards any third country. It has no intention to contain China but now onwards China too will not be permitted to bulky any one big or small.
In general, PLA has miscalculated badly once again by creating the Galwan episode. Using a wrong military strategy PLA has deviated from the right path. The CPC should know that India will develop a close relationship with USA but only on equal terms. It will never join any military block and will never be a vassal state to any one.
Therefore In this respect, China should treat its relationship with India in a more objective and rational way. Military means won't help be of any help to China. In fact there is a big chance that if next conflict occurs then what to talk of Aksai Chin, the Chinese Occupation Army will have to vacate both Tibet and Xinjiang. Hence China should resort to communication, cooperation, and maybe also some common sense.
China and India have many common interests and they are complementary in terms of market and economic development. So after resolving the Indo Tibetan Border issue, China and India should find more common ground.