UK deputy prime minister quits after bullying investigation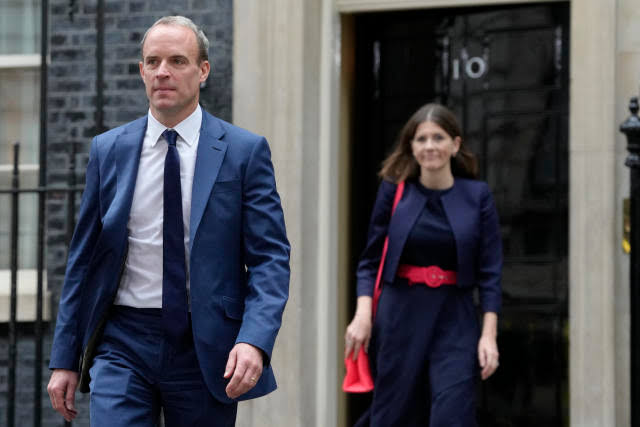 Britain's Deputy Prime Minister Dominic Raab arrives at 10 Downing Street in London, on Jan. 18, 2022.
Deputy Prime Minister Dominic Raab resigned Friday after an independent investigation found he bullied civil servants, though he criticized the report as "flawed."
Raab's announcement came the day after Prime Minister Rishi Sunak received findings into eight formal complaints that Raab, who is also justice secretary, had been abusive toward staff members during a previous stint in that office and while serving as Britain's foreign secretary and Brexit secretary.
Raab, 49, denied claims he belittled and demeaned his staff and said he "behaved professionally at all times," but said he was resigning because he had promised to do so if the bullying complaints were upheld.
The investigation made two findings of bullying against him and dismissed the others, Raab said in his resignation letter. He called the findings "flawed" and said the inquiry "set a dangerous precedent" by "setting the threshold for bullying so low."
Raab said he quit because he was "duty bound" to resign since he had promised to.
The resignation spares Sunak the difficult task of deciding the fate of his top deputy.
If he fired Raab, he would open himself to criticism for hiring him in the first place; if he kept him in the job, he would be criticized for failing to follow through on his promise to restore integrity to the Conservative government.
Sunak received the investigation report Thursday morning and didn't immediately make a decision. Spokesperson Max Blain, speaking before Raab's resignation, said Sunak still had "full confidence" in Raab while he reviewed the report.
The ministerial code of conduct requires ministers to treat people with respect and have proper and appropriate relationships with colleagues, civil servants and staff. It says harassment, discrimination and bullying will not be tolerated.
Raab was elected to Parliament in 2010 and unsuccessfully sought to become Conservative Party leader in 2019 before throwing his support behind Boris Johnson. Appointed deputy prime minister under Johnson, he briefly took charge of the government when Johnson was hospitalized with COVID-19 in April 2020.
Raab said in his letter that he had "not intentionally belittled anyone" and "genuinely sorry for any unintended stress or offense that any officials felt."
He noted the inquiry concluded he had not "sworn or shouted at anyone, let alone thrown anything or otherwise physically intimidated anyone."
The bullying inquiry is the latest ethics headache for Sunak, who vowed to restore order and integrity to government after three years of instability under predecessors Johnson and Liz Truss. Multiple scandals brought Johnson down in summer 2022, and Truss quit in October after six weeks in office when her tax-cutting economic plans sparked mayhem on the financial markets.
But Sunak has struggled to shake off opposition allegations that the Conservative government remains mired in scandal and sleaze.