United States to remain most powerful deployed Force in Asia for maybe next 5 to 7 years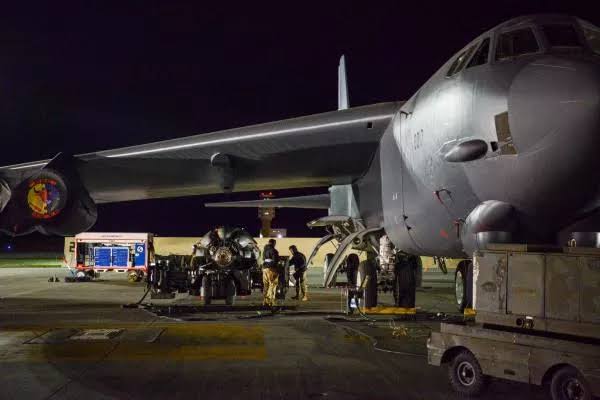 The Lowy Institute foreign policy think tank has released its annual Asia Power Index, according to which they believe that the US still retains its top position and remains militarily and economically stronger than China because of military capability, defence networks and cultural influence.
Lowy says that it analyses the heft of countries across the region but like all Western Institutions gets everything quite wrong about India. These so called analysts still think that India though a important Power in the region still just remains below USA and China in the next tier below along with Japan.
Just because India does not try to act like a bumbling Bulldog akin to USA in the World's affair these Worthies from Lowy are of the view India has failed to leverage its size, and in Japan's case it has weakening economic fundamentals which means its economic influence in the region is declining much faster than it is establishing its new security role.
The 2022 Lowy report ranks Japan as the third most powerful country in Asia after the United States and China. India follows in fourth place, while Russia is ranked fifth, followed by Australia, South Korea, Singapore and Indonesia. Lowy had been steadily upgrading China, inching it closer to the United States since 2018, when the Lowy Institute first conducted the analysis, but remaining totally oblivious of India. Even the Doklam and later the Galwan crisis probably were just not taken into account or totally / deliberately missed out.
The current new analysis of Lowy's has found that the United States remains the most powerful country deployed in Asia, while China's strength has been eroded by its strict COVID-19 lockdowns and border closures. The pandemic has slowed China's rise over the last two years.
Though China still remains the largest trading partner for most countries across the region, but China's overall economic influence had been sapped by its strict COVID-zero measures, which the ruling Chinese Communist Party only eased late last year. There was a sharp decline in China's connectivity and connections with the rest of Asia because when its borders were closed it wasn't having the same level of people exchanges, cultural exchanges [or] ties between businesses. Investment to and from China also dropped off as well during that period. So that is what really sharply curtailed China's economic influence, as well as its soft power as per Lowy.
The Lowy project leader for the Asia Power Index, Susannah Patton, said China's diplomatic influence in Asia narrowly eclipsed that of the United States in 2022, partly because Beijing had wooed most countries across the region more assiduously than the Biden administration had. However Patton seems to have forgotten that India stood like a rock against China and stared it down during both Doklam and Maldives crisis when PLA dared not enter Bhutan and the PLAN Flotilla turned tail right after crossing into IOR at Sunda Strait. At Galwan it lost over 40 personnel and refuted the losses but has been accepting them now in bits and places.
For Lowy the United States retains the top spot in the 2022 power index because it also remains stronger than China across several other measures. American power had overall proven "quite resilient" and the US enjoyed a much more favourable demographic outlook than China, which was grappling with an ageing society and plumbing birth rates. The United States has also been intent on expanding its strategic footprint across Asia, for example by signing an agreement last week which will give its military access to four more military bases in Philippines. But both the US and China – like almost all countries tracked by the survey – saw their overall power ebb in 2022, as supply chains were battered by the COVID pandemic and Russia's invasion of Ukraine. Though Patton seems to have totally discounted the fact that USA ran away like a big coward out of Afghanistan abandoning all its supporters. That India paid no attention to the American threat of CAATSA over purchase of S400 missiles from Russia, and that threat turned to cajoling and then pleading and finally whimpering. That India rejected Western Europe's, Japan's and the American stance on Russia Ukraine conflict and kept importing Russian oil as it pleased. That India has started bilateral trades with quite a few country in bilateral currencies, rejecting US$ as currency of trade. If these things do not indicate rise in power both military& economic then what is power….producing movies Hollywood style ? Here too India has equal power now in terms of Bollywood !
As per Lowy, despite Japan's military power growing in 2022, its overall strength ebbed considerably. That is partly because it is struggling with anaemic GDP growth and a rapidly ageing workforce.
Well Lowy seems to have overlooked the growing indigenous military power of India and that now its missiles cover entire China and if push comes to shove can hit back at any part of the World. India is already the third largest economy in PPP terms which is the true indicator of comparative wealth rather than comparing things with value eroding American dollar. Also Lowy seems to have forgotten that India has the youngest and highly talented population in the world which is going to push down China in all aspects within the foreseeable future.
Lowy should have taken into account that it is only India which has good bilateral relations with both Saudi Arabia and Israel, with Egypt, with UAE, with Iran, with all the ASEAN countries, with France, Japan and Australia. It is equally balanced with both Russia and USA. It has shown China its true place. It has told USA too in no uncertain terms to mind its own business when it comes to purchase of oil and weapons from Russia a very close friend. USA has not dared to use its CAATSA against India because it knows that it will badly hurt the USA itself.
As per Lowy while India improved both its cultural and diplomatic influence across Asia, the index found its economic influence waned in 2022 due to New Delhi continuing to turn its back on key regional trade agreements. What a finding…..clearly shows the standard of research and the stupidity of the researchers. India has deliberately told all concerned that it will not join any trade block where China is there. However it has gone bilateral trade agreements thereafter with Saudis, UAE, most of ASEAN countries and also Australia. However it will negotiate each and every aspect of FTA with Europe and the British may never get a FTA because they are acting too clever. Brits can no more give shelter to anti India forces in name of " free speech " etc and at the same time go for FTA. The days of GREAT GAME is over. Even Europe has been given back its sermon which it was trying to give to India over Ukraine conflict.
Even China has been told in no uncertain terms that things between the two countries cannot be back to usual unless the Indo Tibetan border and China Tibet border is firmly marked on ground.
Surprisingly Lowy thinks that Australia, has managed to hold steady in the 2022 index. As per their research, Australia is the only significant country in the region to have a score which is comparable to what it was before the pandemic. Australia has many natural advantages — a relatively strong economy, a favourable geography. They also have good relationships for the most part with their neighbours, and experts also gave the Albanese government good marks for its approach to Asia — much better than the Morrison government received the previous year.
What Lowy has forgotten to advice Australia that now the rising Star of IOR and the Indo Pacific is India which always ensured peace in the region right up to 17 th Century.