USA tries to threaten those engaging Russia : India will do what it wants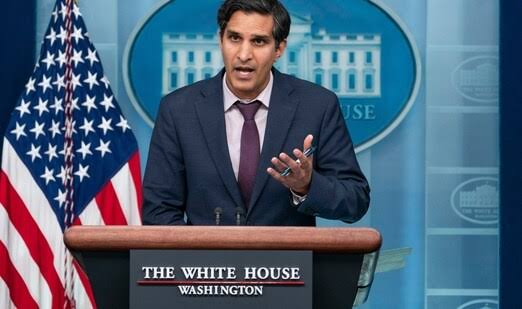 The US on Thursday has very unwisely made a threatening statement saying that there will be consequences for countries actively attempting to "circumvent or backfill" American sanctions against Moscow for its invasion of Ukraine.
It has now openly said it would not like to see a "rapid" acceleration in India's import of energy and other commodities from Russia. We Indians now openly give a challenge to the USA that " Do what you can, we will do what we want ". The YANKS think that they own the world and can dictate what they want. Now they will find out that India, China, Russia and many others will do what they want and USA and NATO can no longer dictate matters.
In fact in front of a combined India -China-Russia, the West is nothing.
The American US Deputy National Security Adviser one Daleep Singh, seemingly has an Indian name but has probably mortgaged his brains somewhere else. Referring to the "no limits" partnership between Moscow and Beijing, said India should not expect Russia to come to its defence in case China violates the Line of Actual Control (LAC). Does this so calked Security Advisor of Biden has no knowledge about the tenacity of the Indian Armed Forces. Even In 1971, INDIANS would have taken on the USA itself if that rouge Nixon had made the mistake of turning his threat into reality. Also unlike Others, India can handle any economic sanctions, it will be the USA which will be the biggest loser. Militarily too, India is fully capable of defending itself against any adversary in this world.
After holding meetings with NSA and Harsh Vardhan Shringla, Foreign Secretary ( this Daleep Singh should have been permitted to meet only one of the Deputy NSA instead ), this chap also said that the US would not like to see any country engaging in financial transactions with the Russian central bank. He said India's current import of Russian energy doesn't violate any of the American sanctions, but at the same time added that Washington would like to see its allies and partners find ways to reduce their reliance on an "unreliable supplier".
Mr Daleep needs to be encouraged to see things in a perspective different from Washington's. India is neither an USA ally nor its poodle. Yes we are ready for friendship based on equality and a bilateral relationship without any ifs and buts.
Soon India and Russia will set up mechanisms that are designed to prop up the rouble, this will naturally undermine the dollar-based financial system and also circumvent the Yankee financial sanctions on Russia. Russian Foreign Minister Sergey Lavrov has already discussed on a rouble-rupee payment mechanism for bilateral trade including New Delhi's purchase of Russian Oil.
Soon there is going to be a rapid acceleration of India's imports from Russia as it relates to energy or any other any other exports that are currently being prohibited by the US or by other aspects of the Western sanctions regime. India is just not worried about a similar type of NO LIMIT bilateral set up between Russia and China.
In fact USA needs to be encouraged to have similar bilateral set up with India without shouting about They & Us Camps.
Daleep says that "I don't think anyone would believe that if China once again breaches the Line of Actual Control, Russia would come running to India's defence, ". So he wants to say that USA will come running to aid India in such a scenario. Our advice will be " Daleep go and help out Taiwan. India is fully capable of looking after itself ".
The US Deputy NSA said the impact of the Russian aggression if not checked will be devastating…… yes it is already so for the USA based " world Order " and it seems that Americans are not willing to accept the same. Does a declining power have a choice ? The American kind of peace and security all over the world, has helped not one country till date.
The Western meddling in Eastern Europe in general and sanctions on Russia in particular has resulted in serious consequences for the world. There are consequences, for the rest of the World in energy prices, here in India and certainly all over the world.
Consequences are there in food prices, refugee flows, trade disruptions. The root cause of these consequences is the Americans trying to dictate to the rest of the World. They continue to sow chaos all over the world right after the Second World War.
Till now the only official response from External Affairs Ministry has been that the two sides discussed the India-US economic cooperation and strategic partnership. US Deputy National Security Advisor for International Economics & G20 Daleep Singh called upon the Foreign Secretary and Discussed India-US economic cooperation & strategic partnership. Look forward to working together on global issues of mutual interest,  including in G20.