Video : Kargil Heroes
THEY WALKED THOSE COLD JAGGED ROCKS
-Neil John-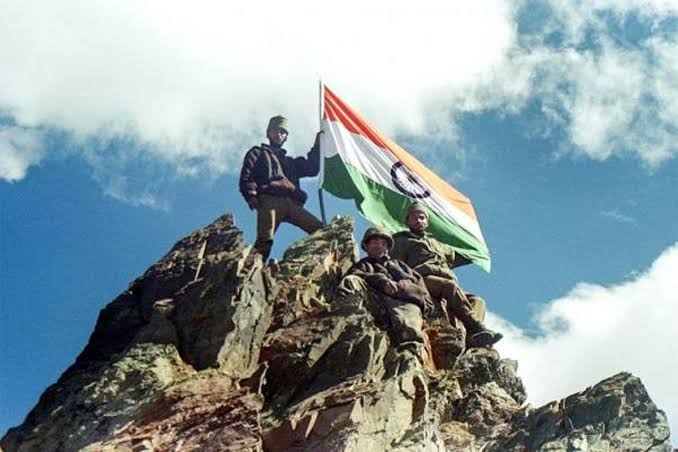 KARGIL … the epic battle.
They looked up into the depth of black,
Just making out the silhouette of the jagged rocks,

Not one knew how many hid on those heights,
Which bullet or shrapnel was written with their name.
Anxiety, filled their minds,
Their stomach made gurgling noises unheard of before,
Every soul climbing knew,
They would be heroes or stories of folklore.
Goaded with whispers of aagey badho,
They climbed inch by inch,
The sound of the big guns reverberated in their ears,
Every minute was an eternity of hope.
A wailing cry,
Someone hit, the buddy bleeding,
Night absorbing the shrillness and the pain,
In the darkness … many fell,
But that young Major that gawky captain, that indomitable spirit of junior leadership,
Stole the moment.
Rifles blazing, bayonets drawn,
They broke cover in the dawn,
Fighting close combat,
Brutal wounds,
But the taste of indomitable victory,
Could not be resisted.
Every charge was for the nation,
Every war cry for a comrade fallen,
Every enemy fallen a revenge for those that were killed by cowards brutally.
The Tiranga was hoisted,
The nation watched,
A victory through sheer guts and glory.
It wasn't an aar paar ki ladai,
It was young boys climbing icy slopes … one way,
Knowing very well that the light machine gun pointed at them.
Against all odds.
The media watched,
The country celebrated,
But in some houses the lamp never burned the same again.
527 were called above by the gods,
1363 lost limb and sight,
84 days of battle …
Never before such valour seen or displayed.
The Indian army my friends,
Who are sitting there wondering what we actually do …
Spend a weekend with us,
Cause the truth is but sweeter than honey,
We promise you an insight,
Where we bring together seamlessly …
HEAVEN & HELL.
Our own we save selflessly,
The enemy we kill steel faced.

By -Neil John-