20 killed, hundreds injured as quake rattles southern Pakistan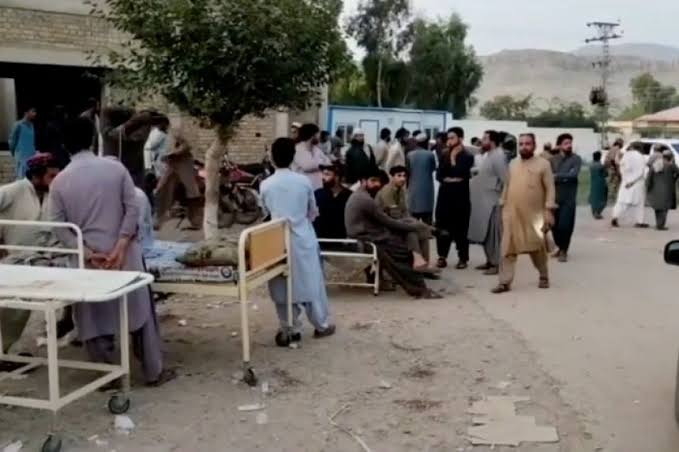 Map locating a 5.7 magnitude earthquake that hit southern Pakistan in the early hours of Thursday.
Around 20 people were killed and more than 200 injured when a shallow earthquake hit southwestern Pakistan in the early hours of Thursday, with rescuers trying to reach coal miners reportedly trapped underground.
Many of the victims died when roofs and walls collapsed after the 5.7 magnitude quake struck in Balochistan province, with a power cut forcing health workers to treat the injured using flashlights.
"We are receiving information that 20 people have been killed due to the earthquake," said Balochistan's home minister Mir Zia ullah Langau.
"There are reports that some 15 coal miners are trapped in a mine on the outskirts of the town due to the quake," he added.
A rescue team was being sent to the mine, while helicopters were due to be dispatched to support the rescue effort and evacuate the injured.
– Hospital works by torchlight –
Before daybreak, "we were operating without electricity with the help of torches and mobile flashlights," Zahoor Tarin, a senior official at the government-run Harnai hospital, told AFP.
"We have imposed an emergency in the hospital and are providing them with medical treatment."
The US Geological Survey said the quake had a magnitude of 5.7 and struck around 3 am at a depth of around 20 kilometres (12 miles).
Pakistan straddles the boundary where the Indian and Eurasian tectonic plates meet, making the country susceptible to earthquakes.
The country was also hit by a 7.6-magnitude quake in 2005 that killed more than 73,000 people and left about 3.5 million homeless, mainly in Pakistan-controlled Kashmir