A country for all seasons: When's the best time to visit Canada?
From wildlife to festivals, empty beaches to freezing snow, outdoor adventures to culture-packed cities – Canada has something for everyone, all year round
Blooming lovely

Tiptoe through the tulips in Ottawa, Canada's capital, during the Ontario city's 11-day Canadian Tulip Festival. Held each May since 1953, the Canadian Tulip Festival came into being to commemorate the Dutch royal family's gift of 100,000 tulip bulbs, sent to Ottawa in 1945, to express their gratitude for Canada's provision of refuge for the exiled Princess Juliana and her family during the second world war; Queen Wilhemina pledged to send 10,000 tulip bulbs to the country every year thereafter. Today, this seasonal blaze of colour attracts more than 650,000 visitors. The Garden Tulip Experience, one of four festival locations, comprises 300,000 tulips blooming along the shores of Dow's Lake, along with music, food and art.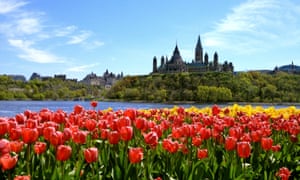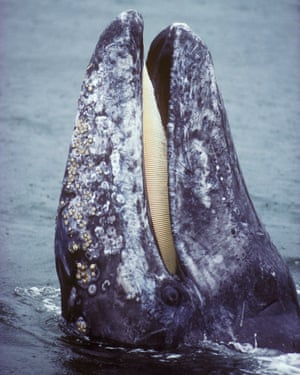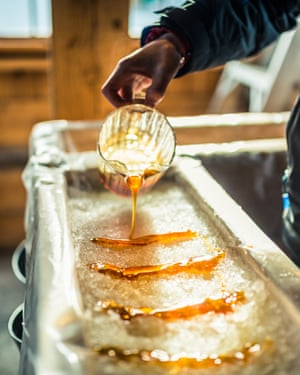 Tulips blooming in Ottawa, a blue whale in British Columbia and hot taffy being poured on to snow.
A whale of a time

Thousands of Pacific grey whales pass British Columbia's Vancouver Island each spring, in one of nature's great migrations. After mating and calving off Mexico's Baja Peninsula, from early January they begin an epic round-trip of up to 14,000 miles to rich Arctic feeding grounds. Take a boat trip from Tofino to see these gentle giants in March or early April, when numbers peak. Or spot beluga, humpback and fin whales on boat tours in Quebec's Saguenay-St Lawrence Marine Park.
Canada's Maritime provinces are heaven for lobster lovers. Fishing towns Barrington in Nova Scotia and Shediac in New Brunswick both claim the title of lobster capital of the world, Shediac bolstering its claim by erecting a huge sculpture called the World's Largest Lobster (although Australia has a bigger one) and hosting a lobster festival in late June/early July. Tuck into freshly caught crustaceans from late April until early July. At Peggy's Cove, in Halifax, Nova Scotia, you can join a fishing boat to help haul traps and dine onboard.
Sugar baby

Quebec produces more than 90% of Canada's maple syrup, and springtime is sugaring-off season, when the sap starts to rise, trees are tapped and the rich harvest is evaporated down. At traditional sugar shacks, such as this one, feast on maple-flavoured dishes, maple syrup desserts and hot maple taffy poured straight on to snow and eaten like a lolly.
Summer
Hit the beach

Don't forget your cossie; beach bunnies can bask on sandy coastlines all across Canada. British Columbia's inland Okanagan region boasts more than 30 lakeside beaches, including city beaches in Kelowna and Vernon, with facilities for the whole family. There are more city beaches to be found in Vancouver; of its nine beaches, English Bay Beach and Sunset Beach are walkable from downtown. If jumping waves is your thing, head to Prince Edward Island; sea temperatures top 25C in August, making its 90-plus beaches the warmest north of the Carolinas. Quebec's remote Magdalen Islands, on the other hand, are perfect if you want to find a beach all to yourself – it has some wonderfully beautiful beaches.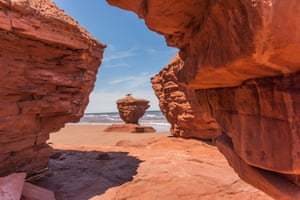 Ride 'em, cowboy

Calgary, Alberta's largest city, rejoices in its rootin', tootin' Wild West heritage for 10 days each July. The Greatest Outdoor Show on Earth, as the Calgary Stampede is billed, is over a century old. Besides its downtown parade and a rodeo featuring bareback and saddle bronc (not bronco) riding, bull riding, steer wrestling, roping and chuckwagon racing, there are evening concerts and fairground attractions aplenty.
Chill out in cottage country

Escape the city hustle and bustle and do what the locals do by renting a cottage in central Ontario's serene Muskoka region. Kick back by the shore of one of the area's many lakes (there are more than 900 of them) in a Muskoka chair – known as an Adirondack chair south of the border. Alternatively, take to the water in a canoe, or aboard North America's oldest operating steamship, the Segwun, or replica sister ship Wenonah II.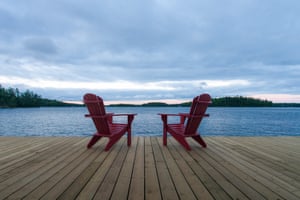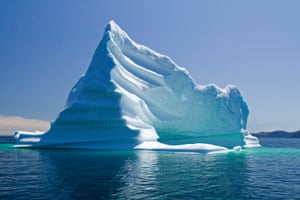 Icebergs ahoy

Marvel at frozen leviathans off Newfoundland and Labrador from spring until late July. These 10,000-year-old monsters calve from Greenland glaciers or Arctic ice shelves and drift south along Iceberg Alley, often getting trapped in coves to tower over the land. View them from boat trips, kayaks or the shore at locations including Newfoundland's Twillingate and Quirpon and Fogo Island. You may even spot a migrating humpback whale.
Autumn
Aurora magic

Autumn is a great time to witness the spectacular Northern Lights in Canada, when the nights lengthen and temperatures are crisp, but not too cold for outdoor viewing. Stay at a lodge near Yukon's Whitehorse and watch in comfort – the Northern Lights Resort & Spa offers glass chalets as well as log cabins.
Canada's autumn foliage display is kaleidoscopic, largely thanks to the ubiquitous maple. See dazzling reds, yellows and oranges in September and October on Eastern Canada driving routes, including the Cabot Trail on Nova Scotia's Cape Breton Island, Prince Edward Island's Confederation Trail and New Brunswick's Fundy Trail, as well as in Quebec's Eastern Townships and Mont-Sainte-Annearea, and Ontario's Algonquin Park.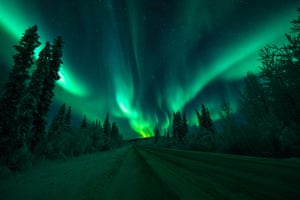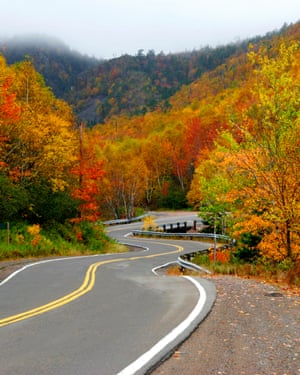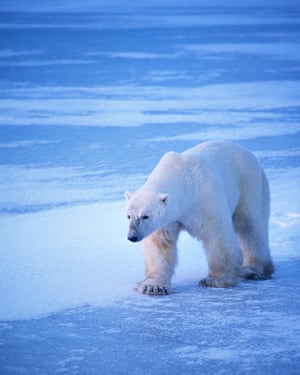 Polar (bear) express
Churchill in Manitoba is polar bear central. Every autumn its resident population of about 900 is joined by almost as many migrating bears, making it the best place for a close encounter of the furry kind, and October and November the prime time. Combine a hotel stay in Churchill with day bear-viewing trips on a Tundra Buggy or stay nearer where they gather, in the Tundra Buggy Lodge, for longer viewing opportunities. For a more accessible polar-bear experience, pay a visit to Assiniboine Park Zoo, home to the Leatherdale International Polar Bear Conservation Centre.
Dark skies
Look up and wonder at the stars over the Rocky Mountains during October's Jasper Dark Sky Festivalin Alberta. One of the world's largest dark sky preserves, Jasper hosts a 10-day festival that includes a Symphony Under the Stars orchestral performance, a variety of talks, a VIP stargazing reception featuring former astronauts and noted scientists, guided stargazing, and a photography workshop.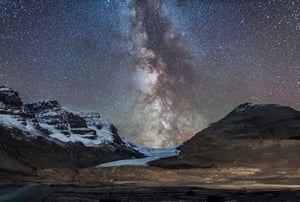 Winter
Ice, ice baby

Join Quebec City's sash and red hat-adorned Bonhomme snowman mascot for some joie de vivre during its annual winter carnival. Held since 1954, Carnaval de Quebec takes place on 8-17 February in 2019 and will feature activities for all ages, including a canoe race across the frozen Saint Lawrence River, night parades with floats and giant effigies, an ice slide, ice sculptures, concerts and Bonhomme's Ice Palace. Brrr!
Going underground

It might be cold outside, but winter is a time for celebration in Canada. It's perfect for visiting Canada's two biggest cities, Montreal and Toronto, which both have light festivals in winter. And when not above ground, you can stay snug in their subterranean passageways. Montreal's Underground City has 20.5 miles of tunnels connecting nine hotels, six shopping centres, restaurants, offices and train and metro stations. Toronto's PATH, officially the world's largest underground shopping complex, has 19 miles of shopping arcades linking 1,200 shops, six subway stations, two major department stores, eight hotels and a railway terminal.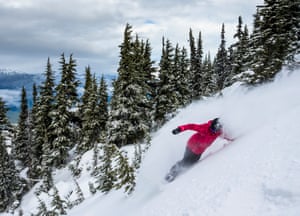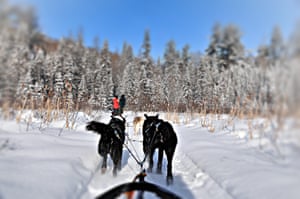 Slope off

Pack your skis and head to North America's largest ski area, Whistler-Blackcomb. British Columbia's twin mountain resort offers 3,306 hectares (8,171 acres) of skiable terrain, almost 40 lifts and 200 trails, catering to everyone from experts to families. Its two mountains are linked by the Peak 2 Peak gondola, while the new Cloudraker Skybridge, spanning Whistler Peak to the West Ridge, and the Raven's Eye Cliff Walk cantilevered walkway test nerves. After skiing, enjoy shops, restaurants, bars and cafes in the pedestrian-only Whistler Village.
Sleds, tents and snowmobiles

Try your hand at mushing on a dog-sledding trip in Ontario's Algonquin Park. A day-trip includes a 90-minute orientation session and four-hour mush while weekend trips combine two days of dog sledding with a night camping in a heated tent. Alternatively, rent a snowmobile in Quebec – where the sport was invented – and explore snowy forest trails, or take a snowmobile tour in British Columbia's mountain adventure hub, Revelstoke.