As Raksha Mantri, Rajnath Singh Rightly Gave A New Twist To NO FIRST USE POLICY, Let India's Enemy Shiver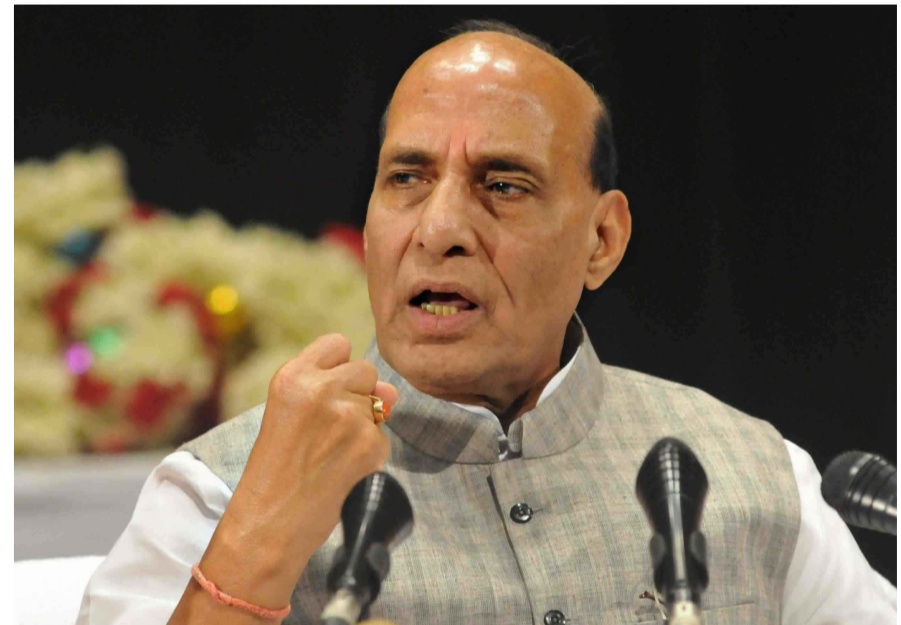 By
Colonel Awadhesh Kumar, Special Forces
For decades, India's defence policy was "strategic restraint", which many knew that it just coincided with MEAKNESS. Our political leadership lacked the most important thing and that was WILL POWER. Nehru was rooted in his own worldview.
Therefore even when the Chinese had not even entered Assam but had halted at Bhalukpong in Arunachal, he bade Good Bye to the people of Assam over the All India Radio. In today's India, PM Modi will certainly not permit such a scenario.
There shall be no moral aversion to the use of force, we shall not hold fire in the face of provocation, instead the evil doers will be chased and punished. As shown by PM Vajpayee, India went ahead and carried out the nuclear tests in 1998.
During the Kargil War of 1999, India clearly told all mediators to lay off and told them that we will stop only after getting back our occupied land. During Operation Parakram, after the 2001 Parliament attack, Indian troops massed at the Line of Control tried to stare down the Pakistani army.
Subsequently, to teach a solid lesson to any would be adversary, the Indian Army developed the "Cold Start" doctrine, or a strategy of quick, limited strikes across the border. During development of this doctrine, the Army rightly cloaked it in official denial. The Congress Governments could never pick up the courage to strike Pakistan where it hurt them most. This kept them encouraging to keep striking at us in Kashmir or Mumbai, any place as they chose.
That came to an end in 2016, when the Indian army was given permission from the highest echelons of the Govt for a covert strike on militant launch pads in POK. After successful return of the Striking Force, this Surgical Strike was announced to the World. It gave out our resolve as a Nation, that we are willing to defend ourselves, no matter what.
The political courage to own up was liked immensely by the people of India and they very naturally voted accordingly In the ensuing elections in various States.
In spite of the Surgical Strike, Pakistan failed to see the clear writing on the Wall. They again tempted fate by carrying out killings at Pulwama.
This time their military posts were prepared for stopping any surgical strike from the Indian side. So they were totally surprised by the Balakot air strike which killed nearly 300 hundred of Jaish-e-Mohammad operatives across the border.
Pakistan officially went into a denial mode and surprisingly so did many of our Indian political parties sitting in the Opposition. They even questioned the official announcement made by the Director General of Military Operations ….what a shame.
While Pakistan came to know that now India means business, the people of India taught the opposition parties a very valuable lesson in the ensuing General Elections. The people of India are now so happy that they did it. The new Government has now caught the rampaging Separatist Bull in Kashmir by its horn and taken out all their "bullness" by removal of temporary provision of the Constitution that is Article 370.
Only a few weeks prior, Mehbooba Mufti, a former CM had boasted that any tinkering with Article 370 will make the State explode. Today both Jammu Region and Ladhak Region are celebrating not only the removal of Article 370 but also the reoganization of the State of J&K. In Kashmir Region only a minuscule are sulking rest are happy. Though Pakistan has gone mad, running around like a headless chicken and China seem to be encouraging it. China itself is also involved in illegal occupation of part of Ladhak, a part of Gilgit and of course construction of its road and economic corridor through POK.
Pakistan has always been threatening India with a nuclear war even when India's stated policy was NO FIRST USE. It 's strategy to internationalize Kashmir issue always takes the nuclear route. It runs around telling mostly the Western Powers and the Arab World that there will be a nuclear war over Kashmir, so they better pressurize India to vacate Kashmir.
Now our Raksha Mantri Rajnath Singh while speaking at Pokhran, India's nuclear test range, announced that there may be a change in our policy on use of nuclear weapons. We may carry out a preventive nuclear strike — of course only against a rouge nuclear power.
His comments should not come as a surprise. Our old passive policies are changing. A few so called experts feel that such change will do nothing for India's credibility as a responsible nuclear power committed to keeping the peace in the World. Well if Other nuclear armed powers can have such a policy and still remain responsible then India too will have such a policy. we are not threatening anyone but just displaying our WILL to defend ourselves.
Pakistan has condemned Singh's remarks as "irresponsible" and "unfortunate" as usual. However why does not Pakistan repeat its own position on the subject ? For years, Pakistan has refused to commit to no first use. Pakistan says that its nuclear weapons programme are for deterrence and, if that fails, denying India victory in a war through a first use of nuclear weapons. Now India has calked its bluff.
For India abandoning its no first use policy, a key safety valve for stability, Pakistan too must state the same policy. Otherwise India is willing to spend more on anti ballistic missile defences and make Pakistan follow. It will mean end of Pakistan financially.
India will show all the restrains but the final signs of readiness to go into strike mode by Pakistan may invite a preemptive strike by India. Pakistan now has a clear choice….renounce first use of nuclear weapons or live with India's new stated policy which happens to be same as that of Pakistan.
We as Indians have no qualms to keep any moral superiority by being meek – we are responsible nuclear power but at the same time ready to defend ourselves.