Attempts of G7 nations to turn G20 Meet into anti Russia meet, fully thwarted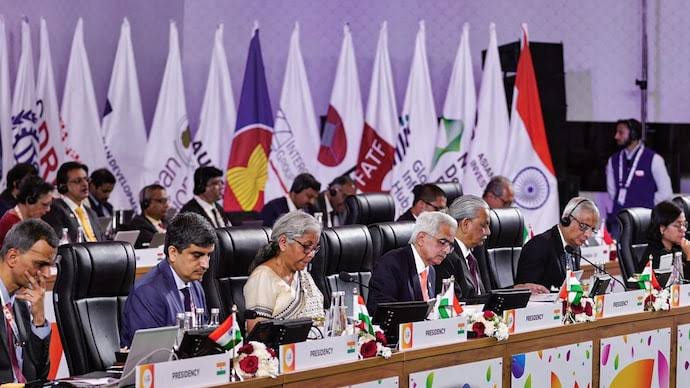 West European Nations and USA tried their best to destabilize the activities of the G20 and turn it into an anti-Russian forum but failed miserably. Thus the meeting of finance chiefs of the Group of 20 leading economies concluded at Bengaluru without a consensus on the Ukraine war. While G7 nations condemned Moscow for its war on Ukraine, India, China and Russia and many others declined to sign a joint statement.
Despite India's reluctance to bring up the topic of war, Western nations insisted on condemning Russia as a necessary condition for supporting any outcome of the meeting hosted by India as chair of the Group of Twenty (G20) economies. However they could not impose their will in a joint statement.
Naturally Russia accused the West of destabilising the G20 meet by trying to force through a joint statement on Ukraine which however stalled because of disagreements.
Moscow accused the United States, the European Union and the G7 nations of having 'disrupted the adoption of collective decisions' by trying to impose their 'diktat' by what they said was 'clear blackmail'.
Their aim had been to impose their interpretation of the Ukraine conflict in the joint statement by means of lobbying and "ultimatums", said the ministry statement.
The ministry called on the West to "renounce its destructive policy as soon as possible, to acknowledge the objective realities of a multipolar world".
"The G20 must remain an economic forum rather than encroaching on the security sphere," it said.
Seeing the lack of consensus among G20 members India resorted to issuing a "chair's summary and outcome document" in which it simply summed up the two days of talks and noted disagreements.
"Most members strongly condemned the war in Ukraine and stressed that it is causing immense human suffering and exacerbating existing fragilities in the global economy," it said, citing disruption of supply chains, risks to financial stability and continuing energy and food insecurity.
"There were other views and different assessments of the situation and sanctions," it said, referring to measures put in place by the United States, European countries and others to punish Russia for the invasion and to starve it of revenues.
The outcome was similar to that of a G20 summit in Bali last November when host Indonesia also issued a final declaration acknowledging differences. The G20, formed over two decades to tackle economic crises, has increasingly struggled to reach the consensus needed to issue an official end-of-meeting communique.
"Although there was not what we would call a communique, but only an outcome statement, we still think we've made some progress in having all the ministers on board," Indian Finance Minister Nirmala Sitharaman was quoted as saying by news agency Reuters.
German Finance Minister Christian Lindner said China's refusal to join the declaration was "regrettable".
On the sidelines, the International Monetary Fund (IMF) held a meeting on Saturday with the World Bank, China, India, Saudi Arabia and the G7 on restructuring debt for distressed economies, but there too there were disagreements among members, said IMF Managing Director Kristalina Georgieva.
"We just finished a session in which it was clear that there is a commitment to bridge differences for the benefit of countries," Georgieva, who co-chaired the roundtable with Indian Finance Minister Nirmala Sitharaman, told reporters.
One delegate told Reuters that some initial progress was made, mostly on the language around the issue, but restructuring was not discussed in detail.
May be time has come to dissolve the G20 Forum and replace it with an enlarged BRICS.