China Does Not Like Competition From Australia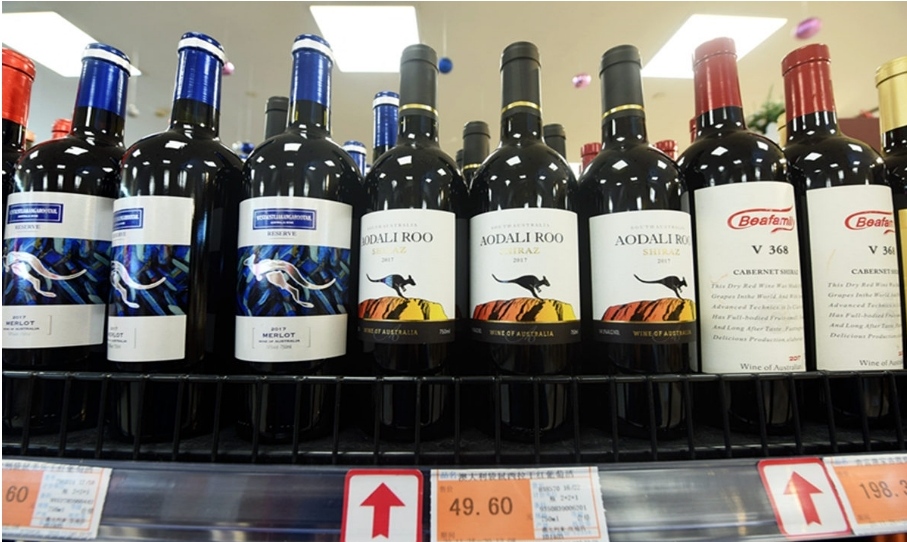 Bottles of Australian wine on the shelf of a supermarket in Hangzhou, East China's Zhejiang Province on November 27, 2020
Instead of improving trade ties with China, Australia's Morrison administration is advocating a return to Strategic Competition and has proposed a "China-plus" strategy to diversify Australia's export destinations. The Chinese experts have viewed the move economically unwise and strategically erratic to the detriment of the wellbeing of the Australian economy.

"Australia is on the frontline of the new strategic competition… Our task is to prepare for and manage this competition. And in this new world, economic resilience is key," said the Australian Treasurer Josh Frydenberg in a speech in Canberra. He said businesses should redirect their products to new markets in order to reduce reliance on Chinese market, which is "essentially adopting a 'China-plus' strategy."

The Chinese have been quick to criticize by saying "Frydenberg's speech is fraught with misidentifications and miscalculations. It parrots [US Secretary of State] Blinken by positioning Australia in a self-perceived engagement in strategic competition with China. Australia's economy has performed badly and their trade relations with China are in unprecedented disarray,"
There have been no new trade disputes between China and Australia lately. "The treasurer's unprovoked war-cry of a trade severance with China is odd, economically unwise and strategically erratic," have reacted the jittery Chinese.
Australian relations with China soured after Canberra, banned Chinese tech giant Huawei from its 5G network rollout in 2018, citing so-called national security concerns. Ties have deteriorated further since the middle of last year after Canberra called for an independent investigation into the origins of COVID-19.

Australian barley and wine exports to China have encountered higher duties since last year, after the Chinese allegation of dumping in the Chinese market.

In March, China started to impose anti-dumping duties ranging from 116.2-218.4 percent on Australian wine. According to the ruling, dumping and subsidies have occurred in imported Australian wine, which caused substantial damage to the Chinese wine industry. Since May last year, China began imposing an anti-dumping duty of 73.6 percent and an anti-subsidy duty of 6.9 percent on Australian barley.

Now the Chinese are terrified of Australia's 'China Minus ' strategy. Soon Australians will realize that the Australian business and economy could sustain growth even without China. This decoupling from China is bound to, hurt the Chinese economy interests as China accounts for over 30 percent of Australia's total trade.

Australia's two-way trade with China edged down 3 percent last year to A$245 billion ($176.97 billion), outperforming a 13 percent decline in Australia's global two-way trade. Its goods and services exports to China fell 6 percent year-on-year to A$159 billion in 2020, data from the Australian Department of Foreign Affairs and Trade showed.

Frydenberg has stressed that Australian trade and businesses will rebound resiliently without interacting with China. Though Australia is facing strong economic headwinds resulting from recent Delta variant outbreak across the country. In addition, a huge proportion of Australian exports to China have been going downhill, with tourism and education stalled due to the international travel restrictions. If iron ore is discounted, Australia's trade with China actually has fallen by more than 27 percent.