China got whacked by India for trying to shift LAC Unilaterally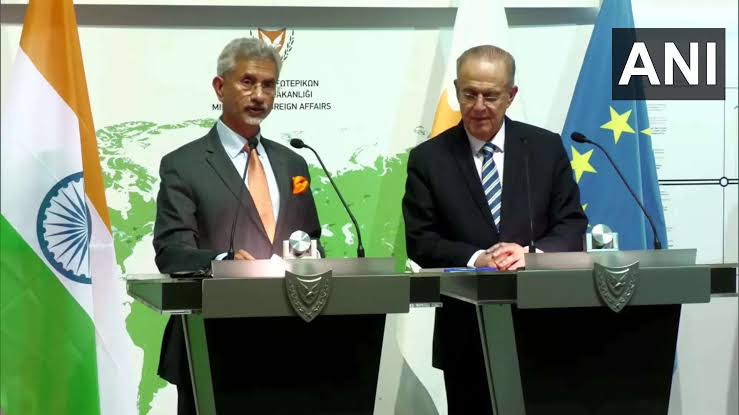 External Affairs Minister, S Jaishankar on Monday lambasted China for trying to unilaterally change the Line of Actual Control (LAC).
In an interview with an Austrian daily news magazine Jaishankar said, "We had an agreement not to unilaterally change the LAC, which they have tried to unilaterally do. So there is, I think, an issue, a perception that we have which derives directly from our experiences."
By 1960 Communist China had forcibly occupied entire Tibet. The whole world including India remained silent. It was a huge mistake on part of India, though it permitted the fleeing Tibetans to enter India and extended all help for their Rehabilitation.
Next the PLA of the Communist Party of China started occupying Indian territory in Ladakh. The Indian Prime Minister Nehru either chose to ignore it or remained oblivious.
Finally the PLA attacked in 1962 and an ill prepared Indian Army had to retreat a bit against the onslaught. After ceasefire a LAC was created in Ladakh. Thereafter there had been an uneasy peace which the Chinese violated by salami slicing into Indian territory from time to time.
In 1986, Indian Army Chief General Sunderji had taken strong measures and had made the PLA shiver a bit, though soon things got back to normal. Then from 2017 onwards the PLA started its nefarious activities once more.
However it had a majority back at Doklam and later in the Maldives. Seething with anger the Chinese once again tried major salami slicing on the LAC in the Galwan Valley and Pangong Lake in Ladakh. However India reacted in a manner which PLA had not expected.
In the bargain PLA received such a bloody nose that Xi Jinping was forced to Change his Western Theatre Commander four times in a span of 18 months. Galwan type flashpoints later took place in Naku LA near Nathu La near Sikkim and In Arunachal. Tawang has been the site of the latest PLA –IA scuffle.
"I think there's a larger concern based on our experiences. The concern is that we had agreements with China not to amass forces in our border areas, and they have not observed those agreements, which is why we have the currently tense situation that we do," he said. Chinese were outsmarted when in a flash India had outnumbered them in Ladakh after Galwan.
Recently, India and China held the 17th Round of Corps Commander Level Meeting at the Chushul-Moldo border meeting point on the Chinese side on December 20 and agreed to maintain security and stability on the ground in the Western Sector.
What is required is a demarcation of Firstly the Indo Tibetan Border on ground and secondly the Tibet China Border. After that trilateral talks can keep taking place to bring a lasting peace.
Speaking about China trying to change the status quo, he said that China may blame India for not following the agreements, however, the satellite pictures could clearly show who was at the fault.
"Now, where else the status quo may change or not change? I would hesitate as a foreign minister to predict publicly. I may have my own views and assessments, but I certainly can share my experience. And my experience is that written agreements were not observed and that we have seen levels of military pressure, which, in our view, has no justification. China would say the opposite. They would say that India had not obeyed different agreements. But obviously, no, I think it's difficult for China to say that. For this reason, the record is very clear, because today there's a lot of transparency. You have satellite pictures. If you see who moved the forces to the border areas first, I think the record is very clear. So it's very difficult for China to say what you suggested they could," said Jaishankar.
Commenting on India which is likely to overtake China as the most populous country, and its place in world politics, Jaishankar said, "India will probably overtake China as the world's most populous country within this year. Is this fact of any political significance to India, or is it just a mere statistic? You know, we'll know that when we reach there, won't we? Because we have never used numbers in that manner. Maybe other countries have. I would still say it is a statistic to a large extent,". He should have added that it is this young population that will make India both an economic and military super power.
He also highlighted the need for reforms in the United Nations, saying that the world's most populous country is not among the permanent members of the Security Council.
"What does it say about the state of the UN? If that is the case? So it's both a yes and a no. It's partly a statistic, but I think it's a statistic that means a lot. For several years, you have called for a permanent seat on the Security Council as if Brazil as Japan, or Germany. How long will it take, from your point of view, till this reform of the Council will actually become reality? Well, ideally, we'd liked it yesterday, of course, but the problem, I think, is that those who are today enjoying the benefits of permanent membership clearly are not in a hurry to see the reform. I think it's a very short-sighted view, in my opinion, because at the end of the day, the credibility of the UN, and frankly, their own interests and effectiveness, is at stake. So my sense is it will take some time, hopefully not too much time," said Jaishankar.
He also underscored that the UN is not represented evenly, he said, "I can see a growing body of opinion among UN members who believe that there must be change. It's not just us. You have entire Africa, entire Latin America left out developing countries vastly underrepresented, I think, the state of the world. This was an organization invented in 1945. It's 2023. And when you would have to guess for a year when this will happen, what would it be? No, I wouldn't guess, because I know the complexities of this process. It's a tough one. I would be honest with you. It's a tough one. But I don't think we should give up because it's a tough one. On the contrary, because it's a tough one, we should actually up the ante, increase the feeling in bad parts of the world that this reform is essential."