Chinese citizen among Monterey Park mass shooting victims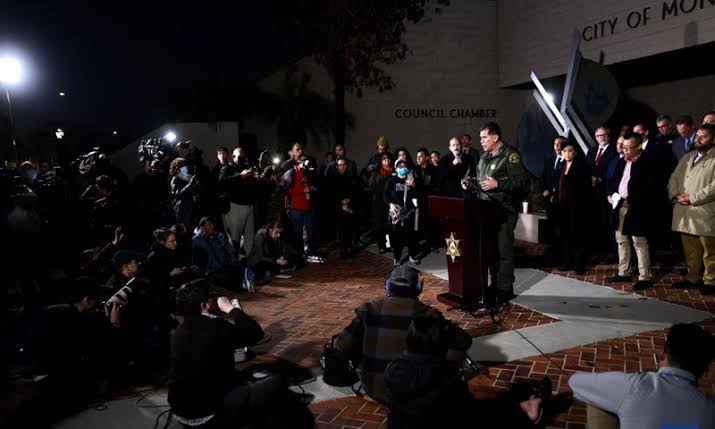 Los Angeles County Sheriff Robert Luna speaks at a press conference in front of the Civic Center in Monterey Park, California, the United States, Jan. 22, 2023.
By Global Times

Chinese Consulate General in Los Angeles has confirmed that at least one Chinese citizen was among victims in the deadly Lunar New Year mass shooting that has killed 11 in a dance studio in Monterey Park, California.

Spokesperson with the Chinese mission in Los Angeles said that they have kept close contacts with local police department and other authorities, and they are following closely the investigation and updates. "We are working with relevant domestic departments to assist in dealing with the aftermath."

The spokesperson did not specify the number of Chinese citizens killed in the deadly shooting.

The mass shooting left 11 dead and 9 wounded as of Monday, according to the authorities. All the victims are over 50.

The spokesperson said that the happening of such mass shooting on Saturday, the Lunar New Year Eve, at the Chinese community in Monterey Park was shocking and very regretful.

The Chinese embassy and consulates in the US flew Chinese flags at half-staff for the Saturday tragedy.

The US National Public Radio (NPR) updated on Tuesday that the death roll of the accident rose to 11 on Monday evening, local time. And after an hours-long manhunt, the suspect has been identified as Huu Can Tran, a 72-year-old Asian man by local authorities.

Tran later died of a self-inflicted gunshot wound in a strip mall parking lot, media reported.

In a separate case, seven people were shot to death on Monday afternoon in San Mateo County, California, the second mass shooting in California in three days.

So far, the US has seen 38 mass shootings in 2023 alone, according to data compiled by the Gun Violence Archive. The archive defines a mass shooting as one in which at least four people are injured or killed, other than the shooter.