Diwali Dhamaka by Indian Army in Pok…Instead by Pak terrorists in India… Very strategic great move by India….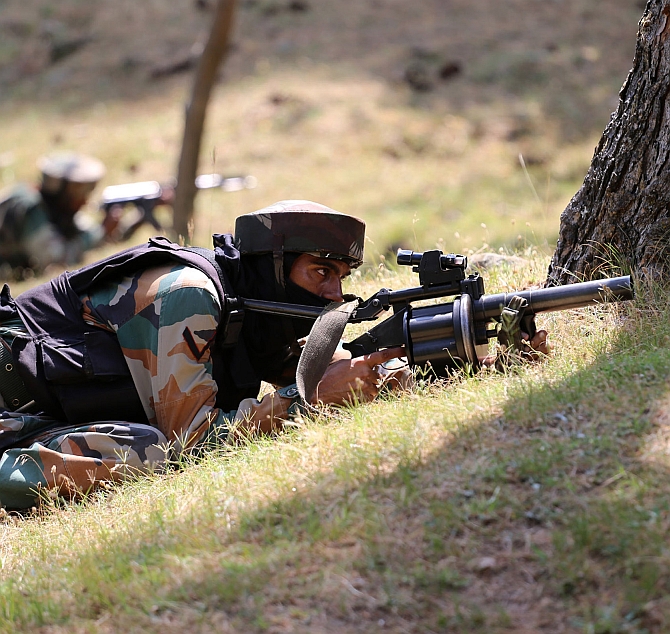 Emergency meeting was summoned ,Blood banks activated in many parts of Poj&k Casualties on Pak side are enormous.
Civillians complaining of Pakistan Army jawans abandoning them.
Surgical strikes was done in PoK.
Pak Army was shocked after Indian Army operations inside PoK. They lost more than 50 of their "strategic " assets (Terrorists). DGISPR ensured speech to hide casualties and blame Indian Army for targeting civilians. He never spoke about Mandal and Zabri post of PakArmy.
More than 50 terrorists were killed in these operations of Indian Army, A large number of Pakistani soldiers were also killed.7 Terrorist camps were targeted very accurately by Indian Army with Heavy artillery and MBRLs in which 2 camps were 30 kilometer inside the PoK.
Earlier a group of 7 Pakistani SSG commandos were trying to infiltrate in Tangdhar sector to carry out a BAT action.The vigilant Indian Army soldiers killed all seven commandos. Their Dead bodies are still lying 300 meters inside Pakistan side of LoC.
When more than 3000 shells of 155 mm Bofors Gun land around, a person loses his mental balance. Same thing is happening with Paki Generals right now. They are unable to understand what has happened.
Artillery positions near Pak Army bigade headquarter Muzaffarabad also destroyed by Indian Army. Few artillery shells also landed in brigade headquarter. The casualties may be more than 100 including terrorists and Pak Army personals. More details to follow.
Gate no. 3 of Neelum-Jhelum Hydropower project (Noseri Dam) in Pak occupied Kashmir is damaged when 2 artillery shell hit the gate. Emergency declared and leave of medical staffs cancelled by Pakistan authorities in all hospitals in Neelum Valley.
.Indian Army hereby begins the Diwali Celebrations..
How the above breakthrough happened for the Indian Army
Pakistan sought favour from Taliban as they are supporting the Taliban to take over Afghanistan once again. Recently Taliban provided around 250 seasoned talibani terrorists to help the Pakistanis in their battle for Kashmir. These warriors were best of best and brutal, they are cold blooded killers.
Pakistan wanted to send them in Kashmir to attack Indian army and train local youths in way of terrorism. In doing so they could hit India from in side, not only in Kashmir, but also in other areas.
Pakistani army assembled them at a few selected points near border in smaller groups and attempted to provide them covering fire to enter India. In that firing an Indian civilian and two Indian army personnel died.
Luck was not in favour of Pakistan, the civilian who was killed was relative of a person who was supposed to give those Taliban fighters shelter in Kashmir. The family was furious on Pakistan for killing their family member and they went and provided exact positions of a few areas where those terrorists were assembled.
Indian army was already planning to avenge the death of their comrades and so utilized this opportunity in the most excellent manner.
They started precision firing at those known points. Pakistani army was not expecting this attack as they were expecting their enemy to go on the defensive.
Within no time 8 Pakistani soldiers had died on spot and 34 got injured. 6 later died in hospital.
But the real damage was the death of those high quality Taliban terrorists on loan to Pakistan. As per a Pakistani eye witness 27 of them died while they were sleeping and 53 were injured. Taliban is now furious with Pakistani army for this.
Those Taliban guys attempted to interfere in affairs they should not have and got punished.