From HQ PARA Commando Task Force To AFSOD
By
Colonel Awadhesh Kumar, Special Forces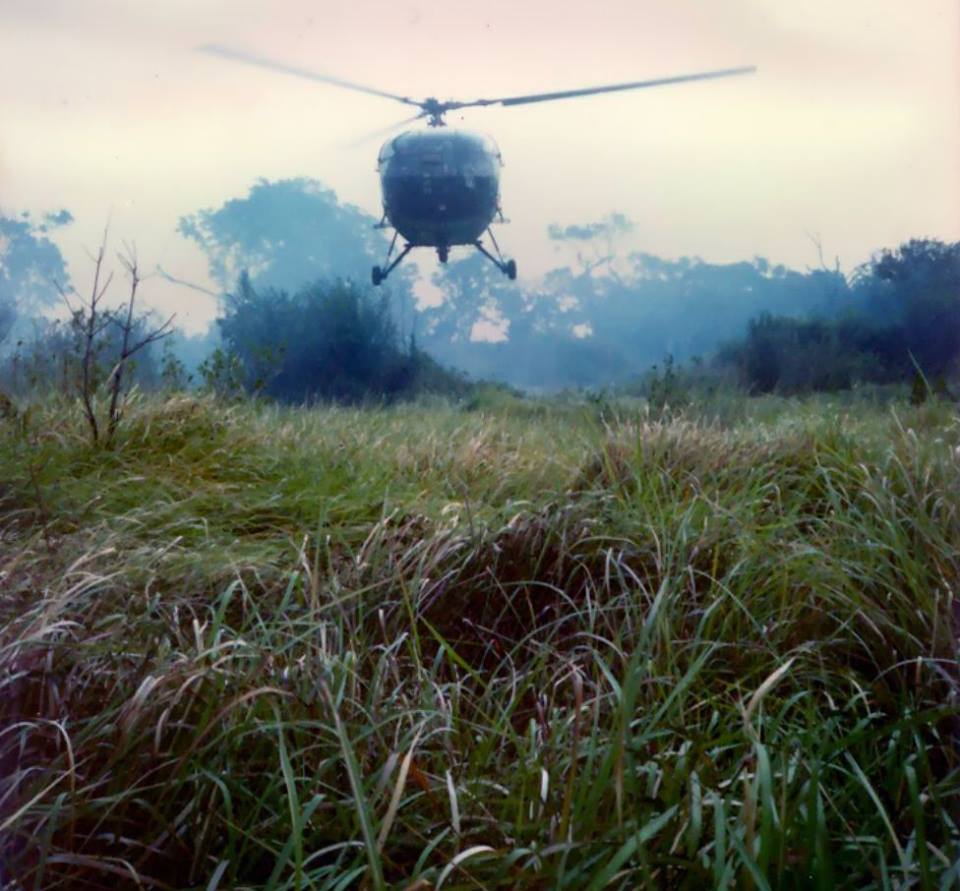 Special Forces Battle Field
1
By end Jul 65, Pakistani infiltrators inside J&K were successfully carrying out convoy ambushes, attacking isolated posts, cutting lines of communications and disrupting essential services. Our losses in terms of both men and material started climbing up on daily basis.
The mounting casualty rates so deeply anguished the Western Army Commander, that during a morning Operational Briefing some time in third week of August 65, in desperation he uttered loudly "can't we do something about this". When no one spoke out, Major Megh Singh, a General Staff Officer posted just a week back, with reputation of a maverick and under cloud, stood up and said "sir, I have the experience of operating behind the enemy lines during the World War, permit me to select few men and allow me to cross the ceasefire line into Occupied Kashmir. I will destroy their supply bases, rear dumps and mounting bases. Soon the infiltrators will be left with no logistic support and ultimately would be rendered ineffective."
Lt General Harbaksh Singh, Vir Chakra looked at Megh Singh and then and there gave his decision "Megh, if you succeed in your mission, I promise that I will myself pip you with the rank badges of a Lt Colonel." Rest is history but sadly not known to many even in the Armed Forces.
2
It was probably the first week of Nov1987, when around 0600 h we the BATS Team, 9 PARA COMMANDO reached Palaly Airbase,Jaffna, back from a 72 h mission. Even before we could finish our morning business, a fresh WARNING ORDERS were received for a likely mission with NO MOVE BEFORE 0800H. A Team of 10 SF got heliborne around 0645h.
Even while passing the new Orders to our Team, we immediately began exercising our only democratic right that is the RIGHT TO CURSE, every one and everything from Palaly to New Delhi and even beyond to Udhampur for the next 10 minutes, till we came to know the exact mission. We were to be standby for a Rescue Mission (1 SF and 10 SF version will say Reinforcement Mission) of a Team of 1 PARA CDO and a Team of 10 PARA CDO engaged in heavy close combat with the LTTE. All cursing stopped immediately, now we were really angry at the LTTE.
Shortly, 2x AKBARS or MI 24 attack helicopters took off to provide close fire support with the BATS leader Britto as the SF Liaison Officer on board. When they came back after 40 minutes, Heavy Machine Gun bullets hits could be made out on the armoured plating on the underbelly of the helicopters. Britto then gave us the details of the battle as seen from the air, the ether waves were thick with radio messages filling in the gaps. By now things were under control and the enemy had run away.
Many weapons had been captured including the rouge HMG mounted on a vehicle, ironically with Indian Ordinance Factory markings. However during the fierce battle at very close quarters, 1 PARA had half a dozen + casualties though with gods grace, non fatal, with even 10 PARA having a few minor ones.
As we began our STAND DOWN drills, the first of the Chetak helicopters arrived with the wounded. I still remember seeing Captain Ashok Dhingra, his one arm and shoulder swathed in Shell Dressing with blood marks. Though filled with pain, he had a weak smile on his face, was soon rushed to the Field Hospital located less than 300m away. On 26 January 88, he was awarded the Sena Medal.
Six years later Sometime in Nov 1993, Captain Dhingra reported to the Special Forces Training School as an Instructor, which had been raised along with and under the direct Control of HQ Special Forces at Nahan. In 1994, he moved out to Wellington, Otty for the Defence Services Staff College Course. Then in Jun 1995, Major Dhingra returned to Nahan as the General Staff Officer, responsible for Operations and Training at HQ Special Forces as my replacement. I had moved out on posting and with promotion to the rank of Lt Col.
Today, I am happy to see that Major General A K Dhingra has been appointed as the first Chief of the Armed Forces Special Purpose Division. Though it is a very heavily truncated version of what the Special Forces fraternity had begun dreaming since the 80s. We at HQ Special Forces had helped Brigadier Sukhdip Singh Mann to formally design the War Establishment for the expanded set up under a Major General and subsequently under a Lt General and finally a Special Forces Command. The first of the set backs had come in the form of untimely demise of General BC Joshi himself.
3
Major Megh Singh had left Shimla on 22 Aug 65 and reached HQ 25 Infantry Division on 24 Aug 65. With the blessings of Major General Amreek Singh, GOC 25 Infantry Division and help of Brigadier Zora Singh, Commander 93 Infantry Brigade and Commanding Officers of 3 RAJ RIF and 3 RAJPUT (both being his old friends) he selected his men out of volunteers from these two battalions. 2/Lt Mohinder Singh, Naib Subedar Hamid Khan and 30 Kayam Khane Muslims were selected from 3 RAJ RIF and same number of men were provided by 3 RAJPUT under 2/Lt N K Mukherjee and Naib Subedar Dil Jan. Just a few days of intensive training was followed by launching of the Force on their first mission, after last light on 01 September '65. By 03 Sep 65, the exploits of this small band had raised the morale of the entire 15 Corps covering J&K (there was no Northern Command then). The Poonch Brigade Situation Report had accorded the name of MEGHDOOT FORCE to this group of men who had dared and immortalized them.
GOC 15 Corps was so impressed with the results achieved by MEGHDOOT FORCE and its effectiveness behind the enemy line that he ordered the Force to shift its area of Operations to Chamb Sector, where after launching OP GRAND SLAM Pakistan was on Top. Accordingly on 13 Sep, Major Megh Singh reported to HQ 15 Corps and had a meeting with the GOC, where he received the good news that Govt of India had agreed to the idea of a Special Forces Battalion.
During a period of just 22 Days MEGHDOOT FORCE organised 7 Operations behind the enemy lines in Poonch and Chamb sectors and inflicted 600 casualties on the enemy against 10 on own side. During the battle for RAJA Post, it was attacked by two battalions 2 SIKH and 3 DOGRA. They suffered heavy casualties, whereas Nejapir was captured by Meghdoots with only one casualty.
Aridhok would have required at least a battalion with full fire support, whereas Meghdoots captured it in broad daylight. Kahuta was captured with 60 men which otherwise would have required a minimum of an infantry brigade. At Thil, 35 men of Meghdoot pushed out a battalion of the enemy and thereafter beat back three of their determined assaults. Had timely reinforcement been received, map of Chamb today would have been different.
On the Morning of 24 Sep65, Megh Singh had just been evacuated from Akhnoor to Udhampur, with a bullet in his thigh from one of his many escapades behind the enemy lines. In the presence of the Corps Commander, General Harbaksh Singh pinned the rank of a Lt Colonel on his Shoulders and thus the General Officer Commanding In Chief of our Western Army kept his promise.
At he was over and Lal Bahadur Shastri no more, things got back to "NORMAL" once again and it took 9 months for issue of implementation orders for raising of the Special Force battalion. It seems there was a bid by GUARDS to have the Special Forces within their fold. However para trooping being one of the basic skills for the Special Forces, the new force was given to Parachute Regiment. Implementation orders were issued in June 1966 and on 01 July 1966, NINE PARA came up at Gwalior and raising commenced.
4
The shedding of blood by Captain Ashok Dhingra and other SF troopers was an eye opener. The planning of this operation exposed the inability and limitations  of HQ 54 Infantry Division to handle such Special Forces operations involving all three Services.
This operation, thanks to some wrong reports initially, reaching General Sunderji at Army HQ, sealed the fate of a dedicated pioneer and true SF officer, Colonel Arjun Katoch the then Commanding Officer of 1 PARA CDO. Not only SF got deprived of one of its rising star, even the Army lost a future brilliant General.
The basis of launching this operation at an extremely short notice, was a message from some intelligence outfit direct to New Delhi that Prabhakaran and his top aids were having an operational meeting at a particular place.
Orders then came down for Arjun Katoch to personally lead a SF Team to capture the LTTE leadership. He was briefed with an extremely sketchy details at the Divisional HQ, very late in the evening, and given just a few hours to plan, coordinate with Navy including the Marcos, move to KKS harbour and embark on a LCU. After another two hours he with a Team of 1PARA CDO disembarked onto Gemini boats in pitch darkness and carried out an assault landing before first light.
Yes, probably the LTTE leadership was there, this could be deduced with hindsight from the fight which they had put up and from their radio intercepts. The SF was vastly outnumbered both numerically and firepower wise. Timely landing of another Team ex 10 PARA CDO as reinforcement probably saved the day. Also the close fire support provided by the MI24s, finally forced the LTTE to disengage and vanish.
Heavy Machine Gun and other captured weapons etc and detailed debriefings much later helped in piecing together the true picture. However the initial reports from Palaly to New Delhi (Major General Harkirat Singh was at New Delhi) had already done a perception damage in respect of Colonel Arjun Katoch in the eyes of Army Chief.
Still everything was not in vain, the COAS immediately ordered the raising of an Adhoc HQ Para Commando Task Force at Palaly. Colonel R K Nanavatty (already approved for Brigadier) was personally briefed by the VCOAS and ordered to proceed to Palaly forthwith. This officer was chosen to head the SF Force because he had keenly studied the British Special Forces, the SAS while being posted as the Indian Army Liaison Officer in UK. Later he had been part of the Study Group formed to recommended the set up for upgrading the existing Parachute Commandos into a versatile Special Forces.
Being a thorough Gurkha Officer from Sam Manekshaw Regiment and having the same acumen and other qualities, he was like Sam Bahadur in all respects, if not better (I am stating this after being at his side on 12×7 basis for over 3 months). As he was against any short cuts or fancy decision makings, he clearly stated to the VCOAS, that he was not in favour of establishing this HQ in a haste. So he would first visit the IPKF in Jaffna and give his recommendations after a careful study of the situation.
To cut the story short, not only the Parachute Commandos welcomed him as their saviour but even Navatty realized that this important asset needed immediate protection not from the LTTE but the Indian Army generalship. Accordingly orders were issued by an Army HQ signal to establish the Adhoc HQ Para Cdo Task Force. All resources required initially were to be pooled in from the three commando battalions.
5
On completion of raising, the role of 9 PARA was vetted in a major Corps level Ex BETWA, thereafter the Unit was moved to a place near Jammu. By 01 Aug 1967, the Unit was divided in virtually half to raise two light Commando battalions 9 PARA and 10 PARA. The new Unit 10 PARA moved to Rajasthan.
After surviving a near disbanding, 9 stabilized and finally was turned into a PARACHUTE COMMANDO Unit by another maverick Lt Col G P Tripathi.By 1969 we had two parachute commando battalions, who proved their worth in gold during 1971 war both in the deserts of Rajasthan and the mountains of J&K. After the war there was a yet another deep analysis and not only a need was felt for up gradation but the expanding requirements necessitated the addition of a third battalion. However instead of raising a new Unit, shortsightedness led to conversion in 1978 of the second oldest infantry unit 1 PARA into 1PARACHUTE COMMANDO and thus reducing the size of the conventional parachute forces.
1 PARA too went through an upheaval but stabilized soon and started functioning on an experimental basis for roles ranging from conventional Commando tasks, touching onto strategic SF roles and also for all anti terrorist / anti hijacking roles now delegated to the Special Action Group of NSG.
1 PARA came out with flying colours in various demonstrations and exercises so much so that it built up an image of a Super Commando unit and led to huge expectations. It was followed with baptism by fire in OP BLUE STAR. Towards end 1984, 9 PARA COMMANDO had moved to New Delhi for security of the Prime Minister and few highly myopic decision makers wanted to converted it into NSG. Thank God, both India and the Indian Army had better luck.
Finally, the commando experiment was deemed to be successful and all three Commando Units came on the new War Establishment in 1985. Next move was to create a Cell at the Army HQ level in the Operations Directorate to deal exclusively with things related with the Parachute Commandos. So suddenly I found myself rushing down from middle of No Where (somewhere in Zanskar), driving through Zozi La even when it was still to be opened for traffic and then reaching Udhampur by late evening. Then next day again driving to New Delhi.
All the haste was a waste, the only good thing was that I had nearly a whole week to myself in New Delhi. Finally reported the first Director of the Commando Cell, Colonel S S Mann. He was the 2IC and later the Commanding Officer of 1 PARA CDO, while the Unit was undergoing the initial conversion.
He had been associated with up gradation of Parachute Commandos into Special Forces right from his days as a General Staff 3 (Captain) in the Military Operations Directorate with GSO2 being one Major B C Joshi.
Now the DGMO, Lt General B C Joshi had picked him up as his first SF advisor.
Just a few days into the new task, I was asked to quickly write out a DRAFT GOVT LETTER authorizing the creation of a new Army Regiment …..the Army Special Forces Regiment. In my draft, The President was pleased in just 5 minutes and in the last paragraph he wished the SF battalions to be named as under:
1 PARACHUTE COMMANDO …….1 ARMY SPECIAL FORCES REGIMENT
9 PARACHUTE COMMANDO………2 ARMY SPECIAL FORCES REGIMENT
10 PARACHUTE COMMANDO…… 3 ARMY SPECIAL FORCES REGIMENT
While naming the new units, the only thought process had been that after 1 comes 2 and then comes 3, though much later one learnt that maths, physics and chemistry have not much of a relationship outside the class rooms. The DGL was taken immediately by Sukhi Mann, as he was called by everyone, to one of the Additional Secretary in the MoD. He came back and told me to just remove the word ARMY from everywhere in the draft. The new name would be just SPECIAL FORCES REGIMENT.
While the SF work was going on and nearly 45 days had passed, suddenly I could sense a flurry of activities concerning Siachen and Sri Lanka. Then 9 was asked to get ready to move to the 15 Corps Sector and my Tiger started pestering the Director to send me back to the Unit.
Then one sultry afternoon Colonel Mann came out of the Operations Room to the Cell (the room by measurement was actually like a prison cell) and announced that PM Rajiv Gandhi had approved the sending a Peace Keeping Force to Sri Lanka and a accord would be signed between the two countries during his visit to Colombo.
Then Sukhi added the prophetic sentence " there are so many scenarios for the IPKF, I hope we don't end up fighting the LTTE ". A week later he told me that even though the Pakis had lost steam, I should better move and rejoin the Unit.
So now I was with my Unit and all youngsters had a choice to either meet Musharraf in his HQ (yes, then Brig Musharraf had been tasked to dislodge the Indians from Bana Post) or keep facing our own Phantom Colonel everyday. We had placed our bet on Musharraf and were preparing in earnest to pay our regards. One evening in the place designated as officers Mess, when everyone was busy relaxing, arrived the Government letter announcing the creation of the SF Regiment.
Glowing with pride, just when I was about to open my mouth, came out the first of the outbursts as to how 1 PARA could dare to usurp the place of 9 the pioneer Commando unit and relegate us as 2 SF. Later I learnt that reactions in 9 were "very mild " in comparison to what was seen in 10 PARA.
Thank God, my lips had remained sealed and 1 PARA had become the Villain!! Of course it took a few more months for the President to get pleased to change the names to 1 SF, 9 SF and 10 SF respectively. Though probably others had the last laugh when by 1998 the names were re fixed as 1 PARA SF, 9 PARA SF, 10 PARA SF and 21 PARA SF.
Sometime in october 87, the Unit was back to DENKALI as our meeting with Musharraf was cancelled. Though on 26 Oct instead of heading to Devlali on my first posting out of the Unit, I was heading in a AN32 to Palaly airbase, Jaffna as part of BATS Team.
6
Britto,The Brevet Major Who was complemented by  General Nanavatty with "It was my Privilege of having served with you"
By end Nov 87, rest of 9 was also in Palaly, lock stock and barrel. In the first week of Dec 87, HQ Para Commando Task Force was in place with Rustam K Nanavatty as commander, Major Roshan Lal, Major Jassani, Major Nair and Captain Awadhesh Kumar as Staff Officers along with 2x JCOs and 18 personnel.
Slowly but surely, the centralized Command, Control, Planning and Coordination started producing results. In an encounter between troops of 9 and a group of LTTE, for the first time LTTE chaps ran away leaving behind 7x Ak47, 1xRocket Launcher with loads of rockets and ammunition. One of their Officer who was wounded " Captain Shukla" was also taken prisoner. This episode really boosted the morale of the entire IPKF.
Few weeks later the name of the HQ was changed to Adhoc HQ Special Forces. Also I was elevated to the post of CHIEF OF STAFF !!. The Commander decided to send back the three Majors to the Units as they were required there and retained just one staff officer. In lighter vain he introduced me to a visiting General Officer as " my COS ".
Impact of this HQ could be judged from the fact that HQ IPKF asked both HQ 54 Infantry Division and Adhoc HQ SF to prepare a plan for a major IPKF operation in Vadamarachi district involving regular troops combined with SF. The SF plan was selected and it produced results. Though this success led to a set of inevitable problems with some of the other Formation HQ on the Island which was sorted out by HQ IPKF firmly.
Each and every operation by 1 SF, 9 SF and 10 SF were meticulously documented by our HQ and it clearly displayed the professionalism of the Parachute Commandos with respect to the rest of the IPKF. Nanavatty was the catalyst responsible for commencement of the process of up gradation of the parachute commandos into versatile Special Forces. He deeply impressed our minds, including our Tiger the Phantom. The Operational ethos of 9 SF was absolutely Rustomized and the results that followed one by one completely proved it.
Then just when things were gathering momentum, the Commander was moved back to New Delhi as Director of now what was SF Cell and Colonel SS Mann came to the island as the new commander Adhoc HQ SF.
Subsequently this HQ moved to Trincomallee and finally in Jun1988 to Vavunniya. I was then back to my Unit and then later posted out to Army Airborne Training School where I joined sometime in Oct '88.
7
It was Udhampur again,that is back to Unit in Jun91 after a year at the Staff College. Now I was the Alpha Team Commander. Life was busy and the Kashmir Valley though just across Banihal was no concern of ours, till one day the Command HQ sent an Intelligence Corps Officer to give a lecture.
In less than two months came the orders for move of a Team ex 9 to the Valley. However what was moved on ground was less than 1/3 of the envisaged force, comprising all Havildars only ……actually the dream force for even the SAS or Delta. Alas there was no HQ SF to exploit the potential of such a force.
There had been a delay in our move because of inclement weather and a major landslide blocking the highway NH-1A. Still the large number of frantic messages exchanged among GHQ, Command and 15 Corps HQ and with the Unit, indicated that the entire Kashmir problem was remaining unresolved because of delay in dispatch of our force to the Valley. When we arrived there, as usual 15 Corps had no plans. When Brig Naseeb Katoch, Sub Area Commander, the saviour of Srinagar from becoming another Beirut, came back from two weeks leave, he summoned me me to his office. What was expected by me as 2 minutes meet lasted for two hours, with him giving the entire brief from virtually day one of the chaos. Then were started the first steps of SF employment in the Valley.
We moved around extensively both in the built up areas and the outskirts, both for Shikar Operations and interacting with the locals. We knew we were under observation but the Anti National Elements were still in the Boy Scouts mode. The first wave of separatism or Azadi had dissipated and any kind of merger with Pakistan was far from their mind. JKLF was a spent force and ISI was out to decimate and replace them with HM. The aim was now to turn the anti nationals elements into militants and then boost their activities by inducting large number of fully trained terrorists into Kashmir from Pakistan. This phase was still to start.
However by June 92, when summer activities started picking up, albeit still quite slowly, we were rotated back to base. Then in March 1993 was issued the Government orders for raising of HQ Special Forces and another establishment under its direct command, the Special Forces Training wing.
The raising of HQ Special Forces commenced with effect 31 March 1993 with me reporting to the Station Commander Nahan, military station. The raising of Special Forces Training Wing (later changed to School) Commenced on 01 Apr when a Signals Corps topper from IIT Roorke, youngster with 3 years service reported to HQ Special Forces. He was to head the Communications Skills Section of the Training Wing. The SFTW was to become a deemed Category A Training Establishment functioning on a War Establishment instead of a Peace Establishment.
For next five months raising remained my responsibility as made clear by Director SF in the Military Operations. He was none other than Brig J L Cruz (then still a LT Col) from whom I had taken over the Alpha Team in 9 SF.
Then arrived the first Commandant of Special Forces Training Wing, Colonel R S Jamwal in Aug 93, after completion of his tenure as Commanding Officer of 10 SF. It was a big relief, as apart from problems of a new raising, numerous administrative nightmares were there for a small military station where from the normal strength of 10 to 15 Officers, now the numbers had increased to more than 30+.
The Commander was still not in sight, till General B C Joshi was named as Army Chief designate. Finally Brig S S Mann took over as the Commander Special Forces in first week of December 93 after completion of his National Defence College Course. By then more than 80 % raising of both the establishment had been carried out. The inaugural SF conference was held in Jan94 which formulated the detailed Road Map for SF. All visible indicators show that it has been followed till date with fits, jerks, hiccups all combined. Nothing new or notable seems to be have been added ….. even the creation of AFSOD was there.
I still remember, that after the three days conference was over, we had a grand party. Right after the party, in true John Masters style I had worked for the rest of the night. The first in the morning, in the office was placed the draft of the Minutes of the Conference, on Commander's table. He just opened it and after a cursory glance just wrote RE DO with red ink. When the final draft was approved, I too placed it with the original in front of him. They were near identical. He just looked at me and said that he had done it knowingly as being originally from GURKHAS he too had read all the books of John Master !!!
8
Around 1998, one of the most retrograde decision and against the National Interest, taken was the disbandment of HQ Special Forces. It was broken down, with General Staff component going to Military Operations and forming the DDG Para & SF and subsequently upgraded to ADG Para & SF. The administrative and logistic component went to the DG Infantry.
The HQ SF raised after procrastination cum deliberations ever since the aftermaths of 1971, was thousand times more effective and potent than the ADG SF. In fact apart  from being a HQ,  it had been also accorded the status of a Army HQ Directorate for certain things in 1994 itself. Had HQ SF continued then as on date our area of interest would have moved to Sharistan and Malistan( both in Afghanistan) instead of areas of just POK and Pakistan.
A lasting legacy of the erstwhile HQ SF remains the naming game in the Parachute Regiment. When HQ SF received the orders for conversion of 21 MARATHA LI to a SF Unit, then again there was a Command vacuum.
Brig Mann had been moved out temporarily and before him, Col Jamwal had moved to Army HQ to take charge of Project HIMEX. The new Commandant of SFTS was yet to report.
So after a brief discussion with others, in the first signal initiated on the subject the name given to the then youngest SF unit was 21 SF instead of 11 SF the other logical choice.
Thank God, the Officiating Commander had still not reported (new boss of SFTS) because then any decision on this subject would have not come from him but only from Army HQ. The chap always pretended to be wise but was otherwise. Much later 2 PARA, 3 PARA and 4 PARA just added SF to their names on being converted into Special Forces. Totally new raisings of course became 11 PARA  SF and 12 PARA  SF. Even new conversions from infantry (RAJ RIF and RAJPUT) to paras retained their original names to become 23 PARA and 29PARA.
Finally AFSOD has been created vindicating the Indian saying " देर आए दुरुस्त आए ". The new division will work under the tri-services Integrated Defence Staff. Maj. Gen. Dhingra will have the responsibility to set up the structure of the new division. Maj. Gen. Dhingra a Special Forces veteran has seen real combat from close quarters. The government has approved the raising of the Armed Forces Special Operations Division comprising the Special Forces of the Army, Navy and the Air Force.
As recommended in the Minutes of the Inaugural Conference in 1993 that SF also needs to be treated akin to a separate specialized Arms / Service has now been realized. Its training also has to be highly specialized and similarly its tasking.
Certain tasks will be in direct support to the Operational Commands up to Corps level tasks. Here tactical advice and certain logistic support may have to be provided by a centralized set up. Some tasks of strategic nature may be at GHQ level for which there has to be a fully functional and capable higher set up. Thus rose the need of an independent controlling HQ for SF.
In 1993, the actual HQ SF was raised under a Brigadier and it started functioning to first consolidate and then expand to provide both operational and advisory SF support to all the existing Army Commands including Chief and finally the CCS itself. The commander of the expanded Force with out of area capabilities would be first a Major General and then a Lt General.
Nowadays war per force is a tri service matter and against a asymmetrical type of Warfare the country may have to orchestrate its entire resources as one. So just like the need of a Chief of Defence Staff, we also need a tri service Special Operations Command at par with other single service/ tri services Commands.
However, CDS is still pending, though HQ Integrated Defence Staff is in place. In a similar manner it seems the Government has approved a truncated structure with name of Armed Forces Special Operations Division under a two star Officer. Once the Command, Control, training, administrative and logistics structure comes then it may first be upgraded to three star and finally to a full tri service Command under a C-In -C.
This AFSOD should have all the 9xSF Units, Naval Marcos Units, IAF Garud Units and training establishments under its Command &Control but providing direct SF support to their respective geographical Service commands on the line of Artillery Fire Support. Apart from these, AFSOPD will have a few units for centralized operations in/ out of India. These may be manned by more specialised and more highly trained manpower selected from within the SF fraternity on lines of tier 1 SF of USA/ Russians.