George Soros's Remarks on PM is certainly an Attack on India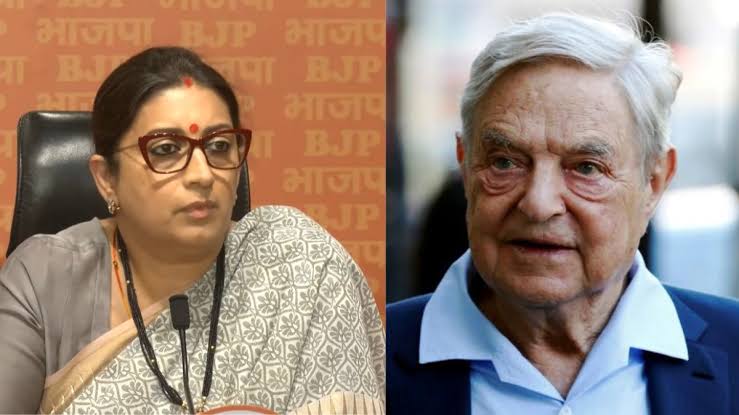 92 years old American business tycoon is filthy rich but now seems to have become quite senile too. This old man has made a direct attack on people of India by making a statement that Indian business billionaire Gautam Adani's recent troubles in the stock market would spur 'democratic revival in India' and Prime Minister Narendra Modi will 'have to answer questions'.
This Soros is the wealthiest man in the world probably because wealth is still measured in USA dollar terms. He was born into a prosperous Jewish family that left Hungary (when he was 17) and studied philosophy at the London School of Economics. He likes to be called a philanthropist but how did he make his billions ?
Mr Soros made his mark in the financial world by "making bold investment decisions " after establishing a hedge fund in 1973. He " managed" client money from 1969 to 2011. Mr Soros " shorted" the British pound and reportedly made a profit of $1 billion. He became known as the man who broke the Bank of England, as per Forbes magazine. No wonder he thinks that others too make money using his methodology. And now this person has the temerity to comment on India's democracy and he thinks India will start cowering and shivering.
Soon after billionaire investor George Soros made his dirty statement, Union Minister Smriti Irani called upon Indians to unitedly respond to 'foreign powers who try to intervene in India's democratic processes'.
Rightly calling Mr Soros's remark a 'declaration to destroy India's democratic processes', she said Indians have defeated such 'foreign powers' who tried to meddle with our internal affairs earlier as well, and will do so again. "I urge every Indian to give a fitting reply to George Soros," she said.
Launching a scathing attack on the billionaire, the Union Minister said he is a designated 'economic war criminal' who has declared his ill-intention towards India.
"The man who broke the Bank of England, and is designated by the nation an economic war criminal, has now pronounced his desire to break Indian democracy. George Soros, an international entrepreneur, has declared his ill-intention to intervene in democratic processes of India," the fiery BJP leader said.
Senior Congress leader Jairam Ramesh, referring to Mr Soros's remark, said it had 'nothing to do with George Soros', and whether the Adani controversy would 'spark a democratic revival' depended on Congress, Opposition parties, and India's electoral process.
"Whether the PM-linked Adani scam sparks a democratic revival in India depends entirely on the Congress, Opposition parties & our electoral process. It has NOTHING to do with George Soros. Our Nehruvian legacy ensures people like Soros cannot determine our electoral outcomes," he tweeted.
People like Soros try to bring down governments in small countries to ensure 'their hand-picked people' are in power. However they cannot do the same to India. We will hit back.
"It is evident from his statements that he has pronounced funding over one billion dollars particularly to target leaders like PM Modi is significant," she said, referring to the billionaire investor known for breaking the Bank of England in 1992.
"PM Modi has repeatedly said that he can take criticism, but an attempt on India will not be tolerated," Smriti Irani further said, adding that this is a 'war' and PM modi is the only one who stands between the foreign powers and the citizen.
The Union Minister also warned political organisations that may support the billionaire for his 'attack' on the PM.
"Any political organisation that matches steps with George Soros will stand exposed in front of the Indian electorate," she said.
George Soros, while delivering a speech at the 2023 Munich Security Conference on Thursday, had predicted that PM Modi will be weakened by the business troubles of Gautam Adani, whose companies faced a massive stock market rout after US-based short seller Hindenburg released a report accusing the Adani group companies of stock manipulation, "opening the door" to a democratic revival in the country.
PM Modi would "have to answer questions" from foreign investors and parliament on allegations of fraud and stock manipulation at Mr Adani's industrial empire, Mr Soros said, noting that PM Modi had been "silent" on the topic.

Well Mr Soros, why will Indian PM have to answer to any Foreign investor in any company in India ? India has enough laws and rules and regulations to govern and regulate the Market. Investors have to follow those rules and make profit or go bust.


This Hungarian-American businessman, established the Open Society Foundations not to "promote democratic governance" but rather to make money. He has said PM Modi "is no democrat", alleging that "inciting violence against Muslims was an important factor in his meteoric rise".
He added that India "buys a lot of Russian oil at a steep discount and makes a lot of money on it".
Well we Indians will buy oil from the cheapest source available and for that we will not seek permission from Soros. Also we will not ditch our close friend Russia because of people like Soros.
Hindenburg accused the Adani group of engaging in "brazen stock manipulation and accounting fraud" over decades. The Adani Group has dismissed the allegations as baseless.
The ports-to-energy Adani Group – controlled by billionaire Gautam Adani, one of the world's richest people – has seen shares in its seven companies lose billions in market value since the January 24 report by US-based short-seller Hindenburg Research, which accused it of improper use of offshore tax havens and stock manipulation. Mr Adani has strongly denied the charges, calling it a "maliciously mischievous" reputational attack.
Adani group which had lost $125 billion in market capitalisation since the release of the manipulative Hindenburg report on January 24 has bounced back. Shri Soros ji and all the Jis of Hindenberg group should know that it is akin to a kick delivered on their posterior by Indian investors.