Ground Station for South Asia Satellite inaugurated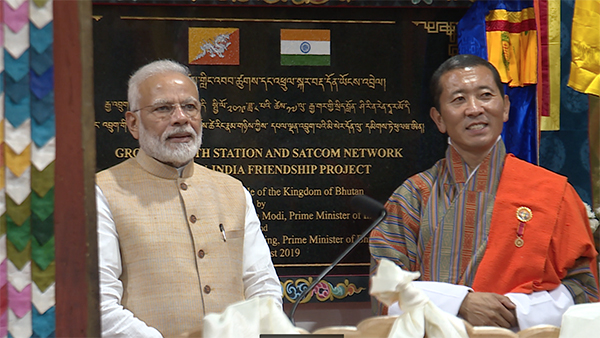 Prime Ministers of Bhutan and India inaugurated the ground station for the South Asian Satellite (SAS) in Semtokha Dzong today.
Bhutan's journey into space has taken off as a result of the vision of His Majesty The King. It is to harness space resources and technologies for the benefit of the country and people. The South Asia Satellite project in Bhutan is one among many.
The South Asia Satellite is a gift from the government of India to its neighbouring countries. India provided one transponder to Bhutan with 36 megawatts. Together with a free transponder, India also provides equipment for the Ground Station and SatCom network for Bhutan. Following the launch of South Asia Satellite and establishment of Ground Station in Bhutan, the project will cater around five services.
"The first one that will have a very huge impact will be the broadcasting BBS channels 1 and 2. As of now, the coverage of BBS 1 and 2 is there but with this, South Asia Satellite, we can expand that to the remotest villages and on top of that we have four radio channels' broadcast through this network. And in addition to that, we have the disaster communications' network. During times of disaster, the communication services will be provided through this satellite and on top of that we have three off-grid gewogs that will be connected through this satellite to provide the internet," said Sonam Phuntsho, Chief ICT Officer, Division of Telecom and Space, DITT, MoIC.
'Very Small Aperture Terminals' (VSAT) have been installed in the three off-grid gewogs of Soe, Naro and Lingzhi under Thimphu Dzongkhag to provide internet. The satellite which is placed at about 35,000 kilometres above the sea level will also help to reach and cover television and radio signals in every nook and corner of the country.
"Some of the services are already rolled out and tested and are being used by the people and there are some services that are pending and that will be rolled out in the coming months and we expect that all the services that are supposed to be provided through this satellite will be done by the end of November of this year," he added.
The satellite technology will also enable Bhutan to venture into new areas such as Navigation and Geographic Information Systems, earth observation, and help overcome the challenges to progress in the scientific field.