How Narendra Modi Honoured India In China?
PM Narendra Modi during his three days visit to China in May 2015 wrote a message in the Guest Book of the Daxingshan Temple in XI'an, Shaanxi Province.
The Indian Prime Minister had written in praise of a Monk in that temple who had contributed immensely to World Peace and spread of Buddhism in China.
The monk DharmaGupta was an Indian monk who had lived at the temple during the Sui Dynast from 581 AD to 618 AD. This was known to all in China but what they did not realize was that the Monk was also a Gujarati.
So PM Modi instead of writing in English or Hindi wrote the tribute in his native language( and that of the Monk too) that is Gujarati during a visit to a Chinese temple.
The Chinese were foxed by this Indian language spoken by 46 million people that has few speakers in China, said Li Li'an, a professor from Xi'an's Northwest University.
Thus the insight of the message was just not understood. It was then sent to Li by the temple's abbot to decipher the dedication. Li then sent it to his doctoral student Guan Xiujie, a native of India.
Recognizing it as Gujarati, Guan sent the text to an Indian friend who translated it to Hindi. Guan then translated it into English, which Li finally presented in Chinese.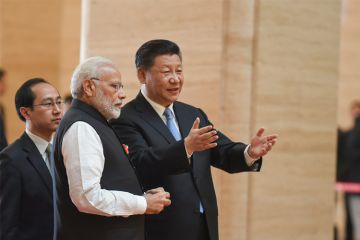 The message went through three rounds of translation before it could be understood by monks. Since Chinese like to talk in puzzles even when practicing International Diplomacy, so even PM Modi did the same.
So apart from praising the temple for contribution to World Peace also in a way told the Chinese that Gujaratis were quite familiar with Chinese way of thinking.
China better start dealing with India in a proper manner, we are not Europeans or Americans. They must not try to equate Pakistan with India, they are just a few wayward provinces of India.