'I am a big donkey': Mamata on Adhikaris switching loyalties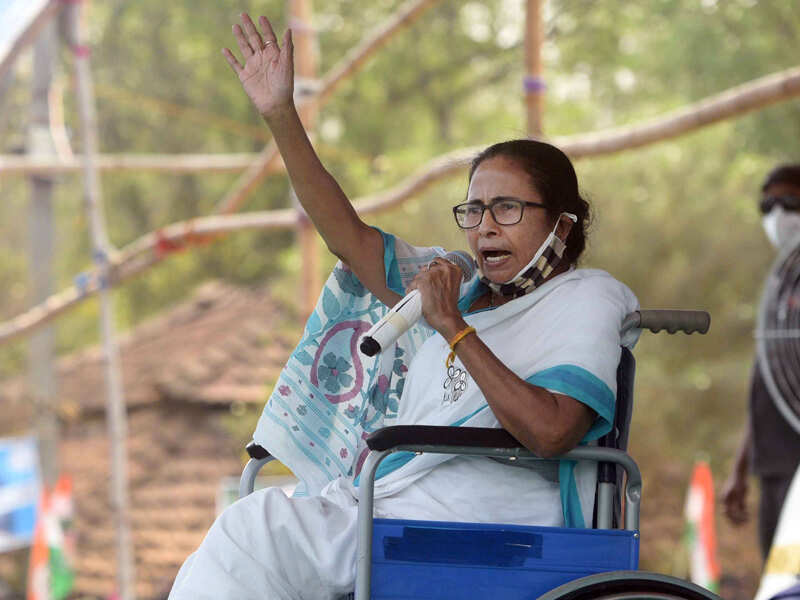 With several members of the influential Adhikari family switching loyalties to the BJP, West Bengal chief minister Mamata Banerjee on Sunday called herself a "big donkey" for not recognising their "true face" earlier.
Describing her aide-turned-rival Adhikari as a "traitor", Mamata claimed that she has heard rumours about the Adhikari family amassing an empire worth Rs 5,000 crore.
"I say I am a 'big donkey' (Ami ekta boro gadha) for having failed to recognise them. I dont know (about it), but people say their 'empire' is worth Rs 5,000 crore and they will use money to buy votes. But don't vote for them," Banerjee said at a rally.
Mamata and Suvendu will face each other in a high-stakes battle in Nandigram during the coming assembly polls in the state.
The chief minister, who has been engaged in a bitter war of words with Adhikari since he jumped ship to BJP, vowed to probe the wealth of the family if she is voted to power again.
"I used to have a lot of respect. Loved them so much. I drew a picture of Goddess Maa Tara myself and gave it to them (Suvendu Adhikari) and today, they are traitors. Remember there can be no greater traitor than these. The people of Medinipur have to liberate themselves from such people," said said.
The Trinamool chief's remarks came after Suvendu's father Sisir Adhikari became the latest member of the family to join the BJP in Egra in the presence of Union home minister Amit Shah.
The patriarch of the Adhikari family – which wields considerable influence in Bengal's Purba Medinipur district – said that he had to work really hard to rise through the ranks in the TMC
, but the treatment meted out to him and his sons, of late, forced him to switch camp.
"The way our family was driven out (of TMC) will be forever written in history. We will rise against all political attacks and atrocities in Bengal. We will work under Modiji and Amit Shahji," the Lok Sabha MP said, chanting 'Jai Shri Ram' and 'Bharat Mata ki Jai'.https://12bb8d562340b27b9f7e3a8afe25d0dc.safeframe.googlesyndication.com/safeframe/1-0-37/html/container.html?n=0
Mamata has been comparing the Adhikaris to "Mir Jafars" (traitors) and said te people of the region will give them a befitting reply in the elections.
Mir Jafar, the military general of Bengal's last indepedent nawab Siraj-ud-Daulah, is considered a traitor for deceiving the besieged Nawab during the Battle of Plassey in 1757 which paved the way for British rule in India.
The TMC chief also described the BJP as a party of "rogues and goons".
She blamed the Adhikari family for ruling the district as "zamindars" (landlords) by taking full control of the area, claiming that even she was not allowed to hold public meetings there.
West Bengal will go to polls in eight phases from March 27 to April 29. The counting of votes will take place on May 2.