India Africa defence conclave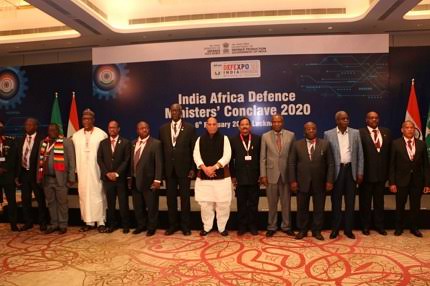 The inaugural Africa-India Field Training Exercise-2019 was also held in March in Pune wherein 20 African Nations had participated.
For further build up on this strengthening of the defence ties, a similar conclave was held on the side-lines of the DefExpo 2020 in Lucknow.
At Lucknow a Declaration was issued that laid down the future path of cooperation between India and African nations in the defence sphere. Continuing on the Lucknow declaration, the India- Africa defence dialogue wasn3xt held at Gandhinagar on the side-lines of DefExpo 2022.
Now India is set to host the first nine-day India-African Chiefs Conclave in Pune (Maharashtra) beginning March 21 in which chiefs of over 20 African armies will be participating.
Already 10 African countries have confirmed of their Army Chiefs participation at the conclave while military heads of 12 nations will be sending their deputies. The army chiefs of Congo, Niger, Zambia, Zimbabwe, Malawi, Uganda, Seychelles, Gambia, Tanzania and Kenya are attending the conclave. The conclave will be held along with the second iteration of the Africa-India Field Training Exercise (AfIndEx).
Indian participants will include senior officials from the Ministries of Defence and External Affairs besides the Service HQ. Senior veterans will also attend the conclave. Contingents from over 20 countries will be participating in AfIndEx.
It will surely be a landmark event, which will provide a fillip to cooperation between the Indian Army and the armies of African nations while simultaneously addressing the capacity enhancement requirements of African armies.
The first session will explore the main areas of the India-Africa defence partnership. Chief of Army Staff Gen Manoj Pande will host the 'India-Africa Chiefs Conclave' on March 28. The second session will focus on the Indian defence industry's outreach to Africa.
Eminent speakers from both India and Africa will form a part of the panel discussions. Shri Rajnath Singh, Raksha Mantri will also attend the conclave. The conclave will run into four phases.
The objective of the conclave is to continue to build upon the initiatives taken to strengthen India-Africa relations, with a focus on enhancing peace and security. It is also meant to learn from the African experience in cooperative security and management of security crisis situations.
There will also be a 'Broad Program AfIndEx' which will commence from March 21 at Pune and will culminate on March 30. Initially, the trainers will be trained. This will be followed by a 'humanitarian mine action and a peace-keeping operations phase. Finally, a validation exercise will be conducted to assess the results of the training conducted.
India will also showcase its indigenous defence equipment manufacturing capabilities at the conclave on March 29. The countries which are sending their personnel are Ethiopia (5), Ghana (10), Kenya (5), Lesotho (10), Niger (12), Seychelles (10), Tanzania (6), Uganda (10), and Zambia (10).