Indians celebrated Chhath Puja in America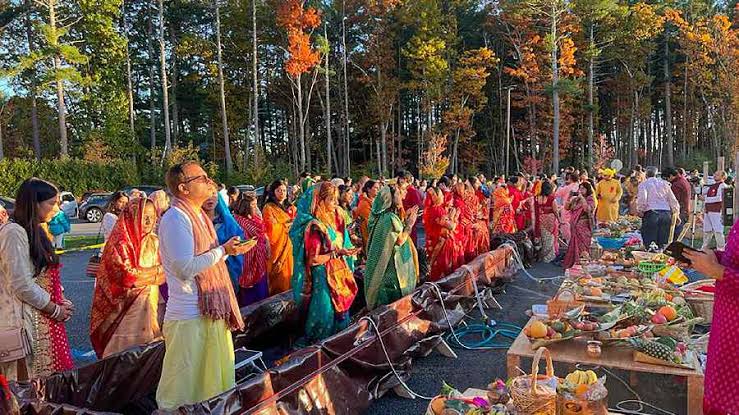 Chhath Puja, a four-day festival, was celebrated with fervour and joy by Indian-Americans in the USA, with devotees gathering at river banks and lakes to make offerings to the Sun.
The four-day long festival of Chhath Puja is celebrated with huge fervour and joy not only in Bihar and western UP, but also in other parts of the country. The festival is also being celebrated by the large Indian diaspora living abroad.
Hundreds of Indian-Americans gathered at river banks, lakes and makeshift water bodies across the United States to celebrate the festival on Sunday.
From singing folk songs to observing fasts, the Indian American community celebrated the festival in several states across the US including Bentonville, California, New Jersey, Texas, and Washington DC.
In California, USA, several Indians of the Bihari community came together to perform Chhath Puja rituals. News agency PTI, shared the visuals of devotees standing in water bodies and worshipping the Sun and offering fruits.
"The four-day festival is celebrated in the honour of the Sun. During this festival, people observe strict fast without water, and also make offerings to the light of the rising and the setting sun. During the celebrations, ladies stand in a water body throughout the day," wrote Bihar Foundation on its social media account on X, formerly Twitter.
Bihar Foundation, is a diaspora cell managed by the Bihar government to connect the global communities of the natives of the state at a larger scale.
In Bentonville, US, the Bihari community organised a programme to collectively perform Chhath rituals and celebrate the festival. The Bihar Foundation shared the visuals of the celebration held on the second day of Chhath Puja festival.
Meanwhile in India, people were immersed in the spirit of Chhath Puja festival in Bihar, UP, Delhi, Jharkhand, Chhattisgarh, and many other states. In Bihar, lakhs of men and women across the state paid tributes to the setting sun on Sunday as part of the celebration of the festival. Chhath is the most popular festival of the state.
During the celebrations, devotees witnessed a gruelling 36-hour fast and stood in waist-deep water. Some chose deep vessels atop roofs to perform this rituals. Whereas, many others walked long distances to reach ghats of rivers, lakes or ponds.
These ladies, were accompanied by men carrying wicker baskets on their heads, heavy with items used in the ritual worship. Some even chose to cover the distance prostrating on their bare chests.