Jharkhand : The Way Forward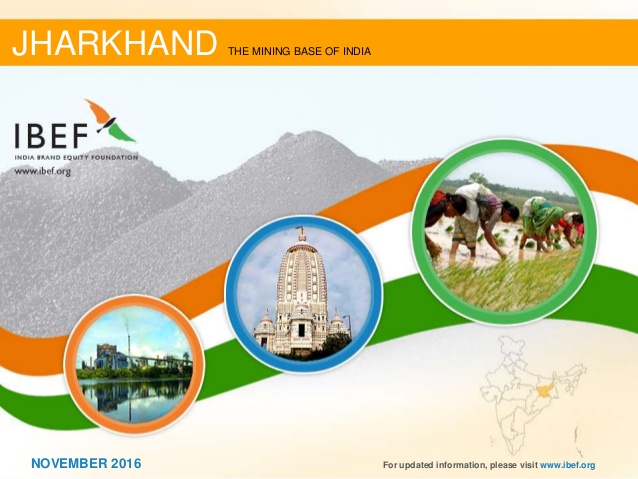 Growth pre-requisites
Growth and success of the State depends upon several factors. Increase in productive capacity, adaptive utilization of technology, enhancement in employment and income, improvement in health and medical facilities, innovation in all spheres of socio-economic life, creating a disciplined society under the umbrella of law & order and above all, achieving a harmony between economic and social environment of the people denotes higher satisfaction and all-round development of the State. Jharkhand has had a clear mandate for social harmony and ushering in a new era of trust, bonhomie and growth with equity and social justice, not to forget the socio-cultural rights and expectations of the local inhabitants.
As far as pure economic growth is concerned, there cannot be two opinions about the fact that increase in production and productivity to provide goods and services to the population is an absolute must for the satisfaction of basic human wants and needs. This presupposes creation of basic infrastructure and setting up of new industries to fill up the glaring gaps in the economy. Enhancement of productive capacity through investment in key areas, hence, is a basic need of growing economies. Many economies that do not build their own economic base and focus on getting doles and grants from abroad have to pay a heavy price when these supplies are cut. The logic behind self-sufficiency is hence a sound one and shields the economy from collapse in times of emergency.
Use of innovation and technology to solve human problem is virtually the saga of how the human race has overcome challenges and vexatious problems that stared it in its face. Technology gave us the lever to unlock and master the problems that confronted us. A century and half ago, all the current facilities would seem like a dream. But humans dreamt it, planned for solving the problem and made it happen.
Nonetheless, all growth is meaningless if the poor people remain deprived of the basic necessities of life and if the fruits of technology development and economic growth do not reach them. The concept of sustainable development and selection of 17 sustainable Development Goals (SDGs) by the UN clearly points out that economic progress per se is futile if the basic development of human-folk around the globe is neglected.
"Saving our planet, lifting people out of poverty, advancing economic growth… these are one and the same fight. We must connect the dots between climate change, water scarcity, energy shortages, global health, food security and women's empowerment. Solutions to one problem must be solutions for all." – Ban Ki-Moon, Former UN Secretary General.
The Case for Sustainable Development and Inclusive Growth
'Sustainable Development' is the ability to meet the needs of the present while contributing to the future generations' needs. There is an additional focus on the present generations' responsibility to improve the future generations' life by restoring the previous ecosystem damage and resisting to contribute to further ecosystem damage. The relevance of sustainable development line of thought can never be overemphasized for the newly carved State of Jharkhand. Hence the planners must never lose sight of holistic development needs of the State while making the blueprint for the growth and development in the State.
Growth from the perspective of Developed countries takes into account pure economic growth considerations. The focus changes considerably if a holistic view of development i.e. sustainable development is taken. Focusing merely on fast trajectory of growth may overlook the growth and priorities of less developed economies which are still grappling with the problems of fulfilling basic human needs and infrastructure. United Nations' (UN) studies and many others have underlined the fact that humankind is using up and depleting natural resources at a faster rate than they are being replaced. If this continues, future generations will not have the resources they need for their development. In this sense, much of current development is unsustainable—it can't be continued for both practical and moral reasons. Related issues include the need for greater attention to poverty alleviation and respect for human rights. A useful articulation of the values and principles of sustainability can be found in the Earth Charter. It offers an integrated vision and definition of strong sustainability. The document, an ethical framework for a sustainable world, was developed over several years after the Rio Earth Summit in 1992 and launched officially in 2000. The 2030 Agenda for Sustainable Development, adopted by all United Nations Member States in 2015, provides a shared blueprint for peace and prosperity for people and the planet, now and into the future. At its heart are the 17 Sustainable Development Goals (SDGs), which are an urgent call for action by all countries – developed and developing – in a global partnership. They recognize that ending poverty and other deprivations must go hand-in-hand with strategies that improve health and education, reduce inequality, and spur economic growth – all while tackling climate change and working to preserve our oceans and forests.
Jharkhand's Paradox
When Jharkhand's boundaries took shape as the 28th State on the Indian map, with the passing of the Bihar Reorganization Bill, on November 15th 2000, a dream got converted into reality. Jharkhand has it all to be a winner: a prodigious child of the Indian Nation now entering the 18th year of its existence has much to boast. Look at it from the point of view of topography, flora or fauna, industries, or mineral wealth, the State of Jharkhand does have a distinct laudable character of its own. With 40 % mineral resources of the country comprising, inter alia, coal, iron ore, copper ore, kyanite, graphite, mica, uranium and gold, a good industrial base comprising Iron & Steel, aluminum, Iron –ore and Coal Mining, Motor vehicles, coke-oven products, basic ferrous and non-ferrous metals, machinery etc., nearly 1400 mm of annual rainfall, a good network of rivers like Subernarekha, Damodar, Barakar, Koel, Shankh, Mayurakshi, Kharkai etc., the State does carve for itself a niche among the States of India. Given the picturesque beauty of the state with all its water falls and forests, flora & fauna, leave alone all other endowments, the state has potential enough to attract tourists and launch a tourism inspired economic growth path.
Nonetheless, with all the bounties of nature notwithstanding, the State is indeed a study in paradox.
Paradox 1: Despite Jharkhand being rich in natural resources, including forests, minerals, rivers, with abundant rainfall and fertile soil, yet a good proportion of its people live in abject poverty. Jharkhand has 40 per cent of India's total mineral reserves but accounts for only 10 per cent of the country's total mineral production in terms of value.
Paradox 2: A second paradox is that the state (then a part of Bihar) started industrializing and urbanizing as early as 1907 with the establishment of a steel plant in Jamshedpur by the Tatas, and development of Dhanbad as the country's coal capital (over a century ago). Yet, 112 years later, Jharkhand has one of the largest rural populations in the country. The urban population of 24 per cent (2011 census) is much below the national average (31 per cent).
Even with all the gifts of God, it still reels under the curse of poverty with nearly 40% of its population under the poverty line, net irrigated area being less than 10% of the net sown area (to understand the contrast :Punjab has a percentage of 97% and the neighboring State of Bihar is above 60%). It has been around nineteen years of the formation of Jharkhand State and several development initiatives have also been launched during this period but the problems remain largely the same : poverty, unemployment, poor infrastructure (The State is below the national average in basic infrastructure, such as irrigation, electricity, road and rail transport), corruption, low productivity, poor law & order and above all lack of opportunities for the youth of the State who comprise a good majority of the population. All these compound to prevent Jharkhand from attaining the heights it can with ease and facility. At 6 % GSDP rate of growth, it certainly has to cover a lot of ground to catch up with the other leading States. With a potential to reach 15% GSDP rate of growth, the State has to work out the nittygritties for achieving a higher productivity, growth and sustainable development.
The Strategy Question
Before we delve into the strategy particulars for Jharkhand, let us examine a general definition of strategy given by Quinn:
"A strategy is a pattern or plan that integrates an organization's major goals, policies and action sequences into a cohesive whole. A well-formulated strategy helps marshal and allocate an organization's resources into a unique and viable posture based on its relative internal competencies and shortcomings, anticipated changes in the environment, and contingent moves by intelligent opponents."
If we discount the aspect relating to 'contingent moves by intelligent opponents' since the definition was written in reference to a competitive business environment, Jharkhand can learn a few important points from this:
+ Declaring of major goals and sustainable policies to achieve those goals
+ Integration of major goals and policies
+ Unique strategy formulation for Jharkhand keeping in view its inherent strengths
+ Defining the internal competencies and shortcomings
+ Environmental assessment and its impact on the plan and policies
Recommended Strategy for Jharkhand decision makers
In view of the above the following factors should be accorded importance while deciding the strategy mix for Jharkhand:
+ Long-Range/Perspective Plan – The State should work upon a Long Range / Perspective Plan along with road map for at least ten years. If the State has to leap-frog from its present state to the desired state, the same cannot be possible without meticulous planning. This planning should not be a political agenda or manifesto but rather a blue-print for the States' progress on a firm footing. It should be prepared by a select group of competent bureaucrats, economists, academicians and practicing managers from leading business houses. The plan should be a comprehensive growth plan with specific mention of the basic growth items to cater to the continuously burgeoning population such as drinking water, 24 x 7 electricity provision, housing, sewerage and drainage system, parks, municipal amenities, public toilets, garbage removal and disposal system, primary health and sanitation, town hall, library etc.
+ Health & Sanitation – Jharkhand lacks miserably in health and sanitation facilities. There has to be a proper focus on medical facilities, basic health-care and sanitation. It also lacks super-specialty facilities and many patients have to travel to other locations for treatment. Jharkhand has to make all efforts to improve doctor to population ratio and get good specialists/ surgeons and give a fillip to medical facilities, health and sanitation in the State. Introduction of people-friendly systems and institutions are required to let the medical benefits percolate to the needy masses.
+ Education & Learning – Jharkhand has some leading institutes in the country for primary and higher education area. There are some distinguished schools, Technical Institutes and IIM identified as Centres of Excellence. To cater to the education needs of the brilliant children of the State there is ample scope for proliferation of such Centres of excellence. The gap between demand and supply is huge making the children opt for other states for technical or professional education. Such potential can be tapped in Jharkhand to a large extent. Besides this, the basic and primary education also needs a boost. The main issue, however, is providing education for the poor, illiterate masses, ensuring the three Rs (Reading, Writing and Arithmetic) for the people who never had access to this and teaching the girl child. This is a major challenge.
+ Infrastructure strategy – the State should invest on providing best possible infrastructure of roads, bridges, energy generation, transmission and distribution, civic amenities, water, housing, canals & waterways, public buildings, tourism infrastructure. Infrastructure is the first aspect that catches the eye. Good road & railway network and air connectivity go a long way in improving the accessibility, image and economy of a place.
+ Exploitation of mineral wealth – Jharkhand is the mineral destination having nearly 40% of the country's mineral wealth. Hence, all efforts should be made to make proper utilization and exploitation of minerals like coal, iron-ore, copper, bauxite, uranium, kyanite, mica, etc. Govt. bodies like Jharkhand State Mineral Development Corporation (JSMDC) who have good mines including those of ironore and coal have ample scope to generate revenue for the State by opting for joint-ventures with the private sector and expert Mines Developers to exploit the mineral reserves for the benefit of the State. Despite coal and other mineral deposits in abundance, there has not been a push to extract and utilize the minerals. New thinking should go in this area for the development of the State.
+ Metal based industry- Considerable scope exists in Jharkhand to start new metal based industry or expand the already existing ones. The incentive schemes of the State government need to be relooked and implemented vigorously to instil confidence in the industry. Many industries which were closed should be restarted for increasing employment in the State.
+ Water and Environment Management – Jharkhand receives an annual rainfall of about 1400 mm which can fulfil the needs of the State if the same is properly harnessed, stored and distributed. Water is an area of concern since the hilly terrain of Chhotanagpur plateau makes a large part of the rain evacuate quickly into the Bay of Bengal leaving irrigation potential unexplored in the absence of adequate water harnessing structures, dams and canals. Conservation of ground water has to be taken up in a big way. Aggressive and properly planned management of water resources and water harvesting is required for providing water and arresting depletion of water table in the State. Along with this strict Forest Conservation must be implemented so that the environment is not endangered with the increased accent on growth and industrialization.
+ Employment generation and skill–development – The need to develop skills has already been recognized by the Government of India. Skill development has been identified as a focus area by the Govt. of India. Jharkhand should capitalize on this opportunity and must work on employment generation in the traditional areas as well new technology areas. Considerable training is to be provided for the new industries being set-up in the State.
+ Storage and marketing of local produce – Fruits and vegetables are grown in abundance in Jharkhand but in absence of proper cold-storage facilities, the shelflife being limited, many of the perishable items do not see the light of day. The farmers are unable to find a buyer or tap the opportunities that exist in the metrocities where people are prepared to spend lavishly to consume such high-quality variety of fruits and vegetables. Pisci-culture (fishery) has been a success in Jharkhand. The same needs to be stepped up with cold storage and transportation improvement.
+ Tourism Industry – Jharkhand has tremendous potential in the tourism sector but has not tapped this potential adequately. It has a host of scenic spots, religious destinations, healthy resorts, lakes, ancient temples, wild-life, water-falls which are popular tourist attractions. Providing safe and comfortable tourist destinations with good transportation, food and beverage facilities will boost the tourism industry manifold and generate employment and income.
The top priorities for the government should be education, health, irrigation & agriculture, infrastructure development, reviving mining and manufacturing, providing social justice, preserving ecology and Jharkhand Culture and giving a fillip to services sector for maximum value creation.
Jharkhand is at cross-roads today having completed nearly nineteen years of existence and formation. It should bench-mark against Chhattisgarh and Uttarakhand who have commenced their developmental journey simultaneously and have already made their mark. India Today magazine in its special issue did not rate Jharkhand very highly in the ranking of the Indian States. To reverse this perception and enhance its image in consonance with the potential that it enjoys, Jharkhand decision makers need to think seriously for forging a single minded plan for the betterment of the State. It is time to embark upon a new well-considered and surefooted journey to vindicate the aspirations of the people of the State.