K4 The 4000km Range Submarine Launched Missile Tested Successfully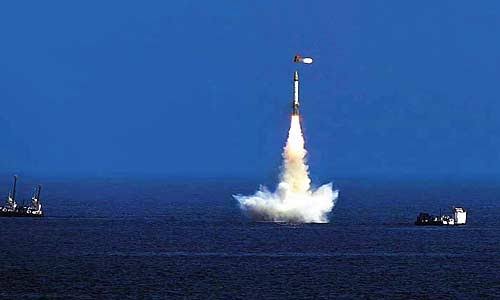 India has carried out the full range test for its K-4 submarine-launched ballistic missile capable of carrying a nuclear warhead.
The test has been Carried out most probably from the INS ARIHANT itself off the Coast of Vishakhapatnam. Had it been otherwise, then firstly the test would have taken place from Odisha Coast and the missile would have flown for a much shorter range. Reportedly the missile has flown over 2200 km.
The launch went of smoothly, and seems to have been totally successful on all accounts.
This K4 missile, is set to equip INS ARIHANT,the first indigenously built nuclear-powered submarine. This missile which is as advanced as that of any other Country capable of producing such weapons is set to boost India's nuclear deterrent. Once the missile is declared operational, and it has already gone through several tests before, then India will have a confirmed Second strike capability even from the Sea.
Although there has been no statement from New Delhi from either the political bosses, the Chief of Defence Staff or the MoD or DRDO, official sources confirm that the Sunday test apparently went off without a hitch and "met all desired parameters."
Currently, the INS ARIHANT is armed with 12 x K-15 ballistic missiles armed with nuclear weapons. However the range is very limited with just 750 km ie it is just Pakistan specific.
Now with operational deployment of K-4 the submarine will be carrying four of these missile with strike range of 4000 km ie strategic targets in China will be well within the strike range.
With these indigenous ballistic missiles Indian SSBNs will be able to provide the Second Strike capability. Such capability raises the stakes for the adversary and thus makes deterrence more effective.
The follow on to ARIHANT are likely to carry 12 x K4 missiles. Most probably ARIGHAT and ARDHIMAN have been delayed because of the modifications in design required for carrying 12x K4 missiles.
The next stage should be testing of the K5 submarine launched ballistic missile with 5000 to 8000 km range.